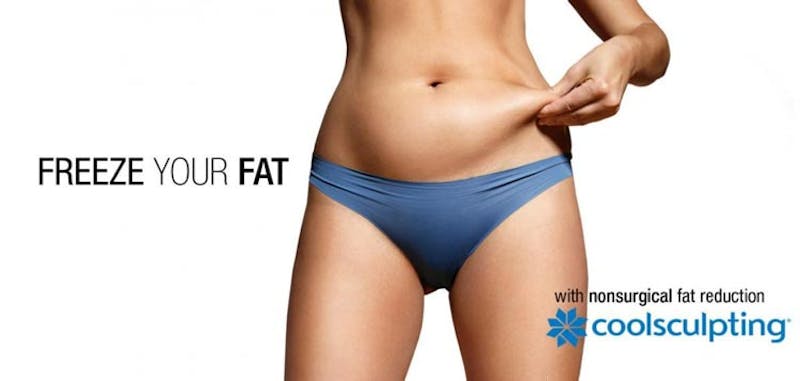 Unwanted fat is something we all struggle with at one point or another. If you maintain a healthy lifestyle complete with diet and exercise, you may notice that some areas of fat just won't go away. This stubborn fat may not melt off like it used to, even though you've made tremendous efforts. If this sounds familiar, it may be time to try CoolSculpting.
CoolSculpting is an effective fat reduction procedure. It is noninvasive and non-surgical. CoolSculpting helps to remove extra fat cells from beneath the skin and has several benefits over traditional surgical fat removal procedures. Perhaps that's why it's so popular among celebrities who don't want to go under the knife to remove fat that won't go away with diet and exercise.
Did you know? As of 2010, Coolsculpting is FDA approved. Since then, treatments have increased by over 800 percent.
Orange County CoolSculpting: How Does It Work?
CoolSculpting uses cryolipolysis, a procedure that works by placing pinchable fat into two panels that cool the fat to a freezing temperature. CoolSculpting in Orange County can reduce the treated fat by as much as 25 percent. The frozen, dead fat cells are excreted out of the body naturally through the liver within several weeks after treatment to reveal results.
A CoolSculpting treatment session typically takes an hour to treat each targeted area. Treating more than one area requires more treatments in order to see results. Larger body parts may also require additional treatments.
Who Is CoolSculpting Ideal For?
CoolSculpting may not be for everyone. It is not a treatment for obesity. The technique is only used for helping to remove small amounts of extra fat that are resistant to other weight loss attempts, such as diet and exercise.
In order to be an ideal candidate for CoolSculpting, you must have pinchable fat in the areas you wish you treat. If you have any less, you probably are not a good fit for CoolSculpting. However, it's always important to discuss it with your board-certified plastic surgeon to determine which fat removing method is right for you.
CoolSculpting is a safe method for reducing body fat in many people. However, there are some who should not try CoolSculpting. Those with the following conditions should avoid CoolSculpting because of the risk of complications:
Cryoglobulinemia Cold agglutinin disease Paroxysmal cold hemoglobinuria (PCH)
It's important to talk to your doctor to make sure that you are an ideal fit for the procedure. Any questions or concerns you have should be voiced at the initial consultation with your board-certified plastic surgeon in Orange County.
Read more: CoolSculpting vs Liposuction vs Tummy Tuck – Best Body Contouring
How Long Do the Results Last?
The number of treatments you need will depend on the amount of fat that is being treated. Treatment sessions range from 35 to 60 minutes. The final results will manifest about the months after the CoolSculpting treatment.
Your results should last indefinitely. Once the fat cells are killed and excreted, they do not come back. However, it's important to take care of yourself after the CoolSculpting procedure because you can still gain weight in the treated areas.
CoolSculpting Benefits
The reason why CoolSculpting is so popular is because of its benefits. Typically, patients may choose CoolSculpting over surgical fat reduction, like liposuction for fear of going under the knife. This procedure is:
Non-surgical:
This means that there are no incisions necessary to freeze and remove fat cells. Instead, you'll be fully awake and have the ability to read, play on your cell phone, or stream your favorite show during the procedure. Noninvasive: Because the procedure is non-surgical, it is also noninvasive. All you do is sit on the chair while the machine works its magic. Requires no recovery time: Many of our patients come in for their CoolSculpting procedure on their lunch break and return to work right after completion. There is no downtime and no recovery! You can drive home or return to your regular daily activities immediately. Area Targeting: CoolSculpting can target your problem areas like bra and back fat, making it one of the best fat reducing treatments without the need for plastic surgery.
What Areas Can CoolSculpting Treat?
Some patients opt to treat several parts of the body at once. CoolSculpting can treat the following areas:
Chin and Jawline
Chin fat is tricky to target with diet and exercise. However, CoolSculpting can target this area to freeze and kill those stubborn fat cells. All you have to do is sit back, relax, and let the applicator do its job.
Much like the chin, the jawline and neck are tricky to treat with other methods because of their small size and shape. CoolSculpting utilizes a range of applicators that come in different sizes so that it can treat even the tiniest of areas.
Thighs
Fat cells like to gather in the thighs, causing many people to turn to liposuction. Surgery doesn't have to be your first option when it comes to removing these stubborn fat cells. CoolSculpting can give you that body contouring effect without invasive surgery.
Stomach
The stomach is one of the biggest problem areas our patients face. Often, a strict diet and exercise regime isn't enough to get rid of this stubborn fat. CoolSculpting is the safe and painless method to treat these areas with pinchable fat.
Flanks (Love Handles)
Love handles are a few of the most different areas to target fat with simple diet and exercise. However, these regions are no match for the cold temperature of the CoolSculpting applicator and are ruptured and excreted from the body.
Bra Bulge and Back Fat
Fat around the bra line is another common reason why people use CoolSculpting. These fat cells can be targeted and removed for a body sculpting appearance that makes wearing a t-shirt look and feel better.
Like the bra line, back fat is also difficult to get rid of on your own. CoolSculpting isn't just great for targeting small areas, but it can also treat larger areas, like the back with noticeable fat bulges
Cellulite
CoolSculpting is also effective in reducing the appearance of cellulite on the legs, buttocks, and arms.
Schedule your CoolSculpting consultation today!