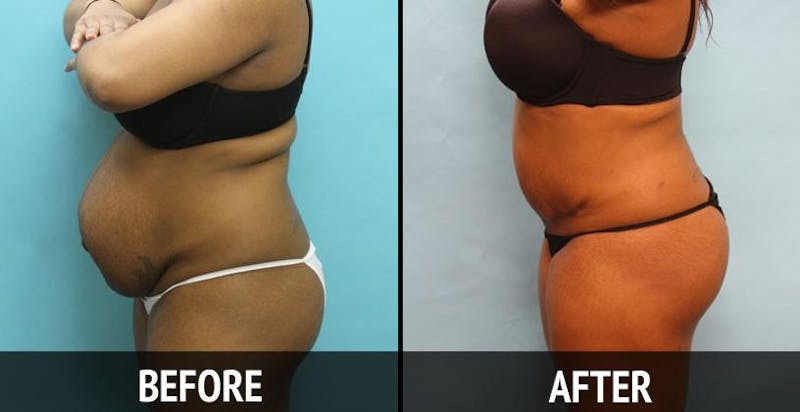 CoolSculpting vs Liposuction vs Tummy Tuck – Best Body Contouring
CoolSculpting vs Liposuction vs Tummy Tuck for Stubborn Fat and Pesky Problem Areas
Recent innovations in body contouring technology have opened up several new doors leading to the perfect you. So which door should you choose to walk through? It's a tough decision to make and the reason why we're always being asked about the differences between CoolSculpting vs Liposuction vs Tummy Tuck procedures. All three options can offer incredible results, however, they certainly aren't "one-size-fits-all" treatments. That's why we're here to help you choose the appropriate path for your unique body shaping needs.
To Freeze, Vacuum, or Suck? That is the Question
Let's face it, you can spend seemingly endless hours performing all sorts of abdominal exercises and still have to deal with stubborn rolls, bulges, and pockets of fat. At a certain point those extra crunches are likely only going to cause back pain and disappointment. Sure, adopting a proper diet and exercising regularly is the first step toward acquiring your ideal body shape. Unfortunately, however, there always comes a time when you've exhausted your typical body sculpting options and it feels like you've reached the end of your rope. That's the moment when you could use a little extra help, a physical and mental push toward reaching your ideal self. And luckily for you, there's plenty of body contouring options to choose from. The only problem lies in deciding which one is right for you.
So, to help you make the best decision, we've decided to set the record straight and determine the most appropriate solution for your belly burden. CoolSculpting vs Liposuction vs Tummy Tuck: which body contouring treatment will help you achieve the look that you've always dreamed of?
What Are Your Unique Body Contouring Needs?
Let's start with you. Understanding the uniqueness of your body and the "problem areas" that you want to focus on is vital to choosing the right treatment plan. For the purpose of this post, we'll be specifically discussing the removal and sculpting of belly fat. However, the same rules can generally be applied to other "problem areas" throughout your body.
CoolSculpting (fat freezing):
First, let's consider what a CoolSculpt treatment entails. A CoolSculpting device is a state-of-the-art machine that uses a combination of rapid cooling (freezing) and suction to freeze and consequently destroy fat cells in a given "problem area". This is a non-surgical and non-invasive procedure that takes roughly one hour to complete and requires virtually no recovery downtime. In fact, CoolSculpting is so quick, painless, and easy that patients are able to undergo the treatment during a lunch break on a work day and return to work immediately afterward.
This makes cooling sculpting machine the ideal body contouring solution for patients who do not want to be anesthetized, cannot afford to take time off for recovery, and desire as rapid of treatment as possible. Another added plus is that CoolSculpting is relatively inexpensive when compared to other more intensive surgical alternatives. Unfortunately, while the CoolSculpting device might seem like a "magical" fat reduction wand, it does not work for everyone. Every person and their respective "problem areas" are unique. The CoolSculpt method requires a specific type of stubborn fat in order to see the best results.
The best candidates for CoolSculpting are those with a roll or pocket of stubborn fat that is sizable enough to pinch, but that does not include loose or baggy skin. Due to the less-intensive nature of the CoolSculpt procedure, patients who fit this criteria can expect to see a roughly 20-30% reduction in fat from that specific treatment area in about 4-8 weeks from the time of the treatment. This extended waiting period is when your body will start to rid itself of your frozen and dead fat cells. The results can be incredible, however, if a reduction of more than 20-30% of fat is needed then liposuction might be a better solution for you.
CoolSculpting vs Liposuction
Liposuction is a more in-depth surgical procedure that involves "vacuuming" out fat cells from larger, more dominate "problem areas". The downtime for this procedure is roughly 5-6 days and it does require you to be anesthetized. In comparison to CoolSculpt, liposuction has a much more noticeable effect and is more of a "one-and-done" treatment. Results are more instantaneous as the fat cells are actually removed during the procedure, rather than left to be eliminated naturally through your body. Patients still experience initial swelling but are able to see the outcome directly after the surgery. This is often a major selling point for individuals looking for rapid and thorough fat reduction.
If you have a larger amount of fat to get rid of and are comfortable with the extra downtime that accompanies a surgical procedure, liposuction might be your best bet. Many patients deciding to undergo liposuction take the opportunity to add other minor treatments to their surgery plans. A common pairing involves having a fat transfer during your liposuction treatment, allowing you to accomplish two body contouring processes while only being anesthetized once. You can learn more about fat transfer treatments here.
(image courtesy of premierplasticsurgeryarts.com)
Liposuction vs Tummy Tuck
As is the case with CoolSculpt, liposuction isn't for everyone. If you have an excess of baggy, loose, or hanging skin that accompanies the fat in your "problem area", liposuction could actually leave your body looking worse. If you're experiencing saggy skin problems, then a skin lift or "tummy tuck" might be a better body contouring solution. When comparing CoolSculpting vs Liposuction vs Tummy Tuck treatments, the latter is certainly the most intensive, invasive, and surgically complex. However, a skin lift also has the most noticeable and lasting results of the three procedures.
During a tummy tuck, or abdominoplasty, a surgeon actually uses a combination of liposuction, muscle tissue repair, and excess skin removal to radically alter the look and feel of your abdominal region. Common candidates for a tummy tuck are women who've recently given birth or patients who have stretched their stomach skin through rapid weight gain and subsequent loss. Many times, pregnancy and rapid weight fluctuation can cause unsightly damage to the abdominal muscles, resulting in incredibly stubborn flaps or rolls along with loose belly skin. For these types of issues, CoolSculpting is not able to help repair muscle tissue or loose skin, and liposuction on its own will often leave the area with more bagginess than before. In these cases, a tummy tuck is a dramatically beneficial procedure and possibly the only solution for your body contouring needs.
A tummy tuck requires more recovery time and will typically cost more than a standalone liposuction treatment. However, more often than not this procedure delivers outstanding and long-lasting results. If you desire a radical, life-changing treatment that cannot be replicated with alternate solutions then a skin lift or tummy tuck is likely the best option for you. It's worth the required downtime if you truly want to feel your best and get the look of your dreams.
(image courtesy of tummytucksurgeonny.com)
New Look Now Can Show You How!
Want to know how you'll look after your body contouring treatment? Visit our partners at New Look Now to get a completely free and remarkably accurate simulation of the results. New Look Now utilizes cosmetic experts to show you how you will look post-procedure through real-time image editing. Simply submit a photo of any area on your body that you'd like to alter and the technicians at New Look Now will deliver a precisely edited version back to you within minutes. Try New Look Now for free today!
CosmetiCare Treatment Options At Orange County best liposuction method own CosmetiCare Plastic Surgery Center and MedSpa, patients are provided with expert consultations in order to determine the best solution for them. Our medical staff understands that no "one treatment" will work for every body type or unique "problem area." We work with you to create an individual treatment plan that fits your specific needs, ensuring that you get the best results in the most efficient way possible. As a CosmetiCare patient, you can rest assured that you are getting the treatment that's right for you. Nothing more, nothing less.
Give us a call to schedule a consultation at our Newport Beach location. Or, click here to learn more about the CoolSculpting vs Liposuction vs Tummy Tuck procedures that we offer.