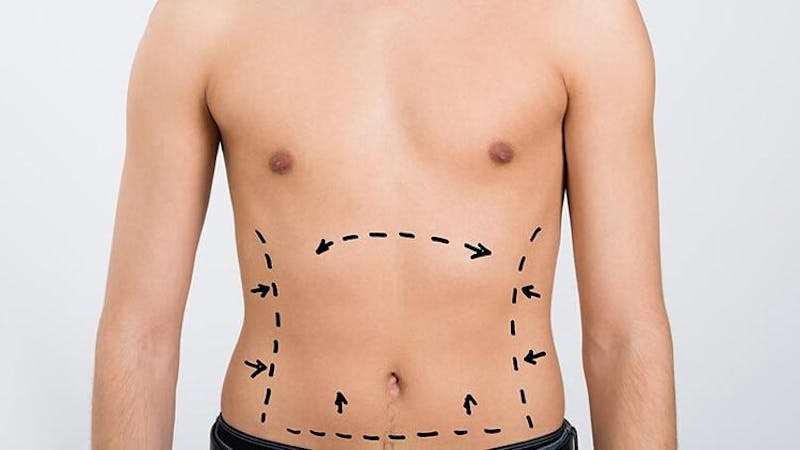 Liposuction is one of the most common cosmetic surgery procedures done today. The fat removing technique is popular among both men and women seeking to improve their body contours and feel better about their overall appearance.
Many patients, both male and female, opt for liposuction when traditional diet and exercise is no longer able to target and contour specific areas of their body. There are a few differences in how it may be performed for men versus women. Here are the differences between liposuction for men compared to women.
Orange County Liposuction: Men vs. Women
Fat Density
Fat is far more dense in men than in women. The fat is thick and fibrous and sticks closely to the layer over the muscle. This means that separation and removal of fat are more difficult.
Women typically have less dense fat, making removal easier and done more quickly. Because of these added challenges, male liposuction should be done by a body contouring, board-certified cosmetic surgeon skilled in liposuction for men.
Amount of Fat Removed
Men typically aren't as interested in looking thin as women. They do, however, want to look toned. This requires less fat removal to achieve the desired effect. Often only small amounts of fat overlying muscles or obscuring contours need to be sculpted in order to highlight the male figure.
Women, on the other hand, want to remove more fat in order to maintain a different type of contour and enhance their womanly figure.
Read more: Do guys get liposuction?
Target Areas
The target areas of men and women are the primary difference between male and female liposuction. Also, liposuction can be performed almost anywhere on the body; women tend to focus on specific areas, like the hips, while men want to target other areas. Liposuction performed in some areas that women target, such as the hips, is rarer in men.
Here are the areas women tend to have liposuction:
Hips
Thighs
Love Handles
Stomach
Here are the areas men tend to have liposuction:
Back
Chest
Face
Stomach and love handles
The chest is a special area for men because of gynecomastia. This is a condition in which a man's breasts are larger than usual due to any number of reasons, such as glandular growth caused by a hormonal imbalance or the accumulation of excess fatty tissue. A board-certified plastic surgeon will be able to determine whether the condition is caused by glandular growth or fat. If it is fat, chest liposuction can be an effective solution.
Differences in Cost
The cost of Orange County liposuction depends on many different factors. However, male liposuction is generally higher in cost than comparable treatments for female patients.
Men are typically larger in size than females, so the treatment areas are larger.
The fat cells in the male body are more difficult to remove than those in the female body.
These two factors increase the amount of time and effort required of a plastic surgeon, which will increase the price.
Also, the areas that are treated with liposuction for men are also the areas of the body that contain tough fat cells. Male liposuction simply costs more because men choose the areas that contain these difficult, fibrous fat cells that are hard to eliminate.
On the other hand, women might have treatment in areas like the arms or legs where fat is easily removed, making their treatments cheaper because they simply take less time.
When it comes to price, the rule that men's liposuction is more expensive than female liposuction may not always be true. It depends on each individual patient and the areas in which they wish to target.
The cost will also depend if the individual is having more than one cosmetic procedure performed. When it comes to price, make sure to talk to your plastic surgeon to determine your treatment options and financing abilities so that you understand every aspect of your procedure.
The Recovery Process
The recovery process after liposuction typically differs slightly in men than in women, depending on the type of strenuous work. For men who may have more strenuous jobs, it is recommended that they take up to four weeks to recover. Women may see similar recovery recommendations if their job requires demanding physical activity, so it's important to understand what the recovery will look like no matter the gender.
For both men and women, recovery from any liposuction surgery will vary with the individual. To get an idea of how much time off from work you'll need, you should discuss healing and recovery time with your plastic surgeon during the initial consultation. They will also provide you with rules and guidelines after your liposuction so that you can heal safely.
Male and Female Liposuction
Many people think that cosmetic surgery is just for women. However, liposuction can produce outstanding results in males as well. Although there may be differences in how some procedures are carried out on men compared to women, the results will prove just how effective liposuction can be. Both male and female patients will get the sculpted and contoured body they can't get from regular diet and exercise.
Whether you are a male or female, your eligibility for liposuction will depend on your individual circumstances. If you're thinking about liposuction, schedule a free consultation today!