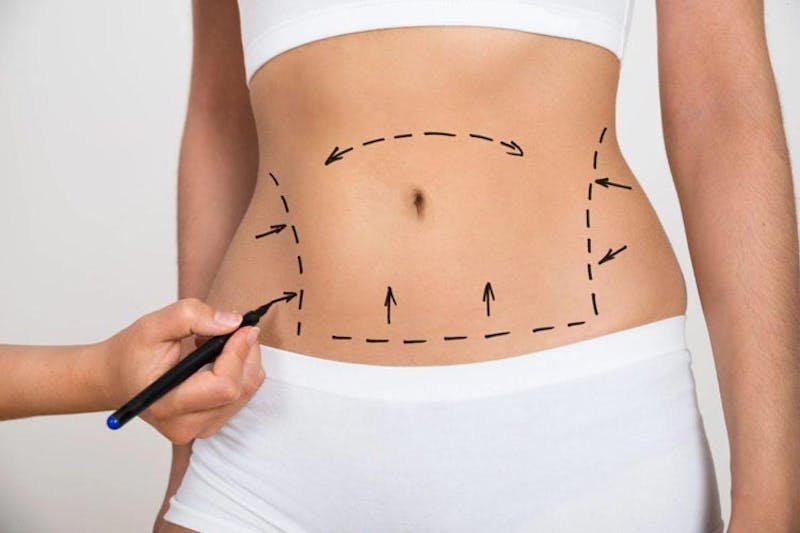 CoolSculpting is an FDA-approved treatment for removing stubborn fat. It is a revolutionary, non-invasive, non-surgical cosmetic procedure that freezes fat cells. Those fat cells eventually die and are removed through the body's natural process. The end result of CoolSculpting is a more contoured look.
Many people struggle to eliminate stubborn fat. They call them problem areas and get frustrated when diet and exercise can't help. With CoolSculpting, you can achieve the slim, contoured body you want, with none of the fat bulges.
CoolSculpting can treat areas like:
AbdomenLove HandlesUnder the ChinBack/Bra BulgeThighsArmsUnder Buttocks
One of the most significant advantages of CoolSculpting is that there is no recovery time because it is not a surgical fat reduction procedure. This makes it a more efficient alternative to liposuction. Patients can resume their normal activities immediately after treatment.
CoolSculpting works using a gel pad and handheld applicator. Both of these tools are placed on the areas of stubborn fat, freezing the unwanted fat cells, which will eventually die off and be removed naturally from your body.
Patients describe the procedure as painless, although some do say that they had mild discomfort because it is cold. However, you can distract yourself easily as you sit in the chair by reading, napping, or playing games on your phone.
The treatment only lasts one hour, so you can go back to your daily life immediately after. In fact, many of our patients go right back to work.
Read more: My Coolsculpting Results with Before and After Photos
How Many Treatments Will I Need?
Our Master CoolSculpting Specialist will come up with your complete treatment plan. Each treatment will typically remove 22 to 25% of the targeted fat. With multiple treatments, it can remove up to 50% of that stubborn fat.
The number of treatments required varies from person to person and depends on the areas that are being targeted, your unique body, and your desired results.
CoolSculpting is not a weight-loss procedure. It is meant to serve as a method for reducing fat in areas that traditional diet and exercise can't. Therefore, we encourage all patients to maintain a healthy lifestyle, before, during, and after treatment.
It's important to note that you can still gain weight after treatment. While the fat cells in the treatment areas are dead and gone, you can still gain weight from unhealthy habits in other areas of the body.
Typical Number of Treatment Sessions
Most patients receive one to three treatment sessions in each area treated. The number of treatments and the results will depend on which areas you are targeting and how many areas are being treated.
You May Need Only One Treatment
Because CoolSculpting can get rid of 22 to 25% of the fat cells in the area treated, you may not need more than one treatment. CoolSculpting will not help you lose weight, but it can improve the shape of your body, which will give the appearance of weight loss.
That 22% fat reduction can make a difference in the appearance of stubborn bulges, like back fat and bra bulge. CoolSculpting procedures can make a visible difference no matter your body type, but it is not effective for targeting large pockets of fat or surrounding tissues.
CoolSculpting is most effective when patients are close to their ideal weight. A patient should only need to have an extra few pounds to lose. Those at the ideal weight for the procedure may only need to have one treatment to achieve their goals.
Multiple Treatments May Be Required for Stubborn Fat
While one round of CoolSculpting may be effective for a small amount of stubborn fat, you may need multiple treatments if:
You want to slim a larger areaYou have more fat on your body
Patients typically reach their ideal results after just two rounds of treatment. However, after two to three treatments, a patient can drastically improve their physical appearance. There is no limit to how many CoolSculpting procedures you can have because CoolSculpting is a safe method of fat elimination. Patients can treat multiple areas at the same time, in one session.
Treatments are performed months apart because the body needs time to react and dispose of the fat cells naturally. It's recommended that patients wait a minimum of 30 days before having another treatment, although four months is the ideal wait-time.
Results Are Not Immediate
Unlike traditional plastic surgery methods for removing stubborn fat deposits, the results of CoolSculpting are not immediate. Your body will naturally eliminate the fat cells on its own until you see results.
Results may take just a few days to begin to appear, but it may take three weeks for you to see the full and final results of a CoolSculpting treatment. After it has been four months since your last treatment, you may go for another.
Visit Us to Learn More About CoolSculpting
CoolSculpting is not a weight-loss procedure and should not be used as such. Your fat cells enlarge and shrink as you gain weight, and CoolSculpting removes stubborn fat cells that don't drink with proper diet and exercise. You likely won't lose any weight from the procedure, but you can expect to have a slimmer appearance and a more contoured body. Make sure to discuss your goals with your CoolSculpting specialist so that they can determine if this procedure is right for you and your body.
Interested in seeing how CoolSculpting can help you achieve the body contours you want and boost your self-confidence? Schedule a consultation with our Master CoolSculping specialist to see how many treatments you'll need.