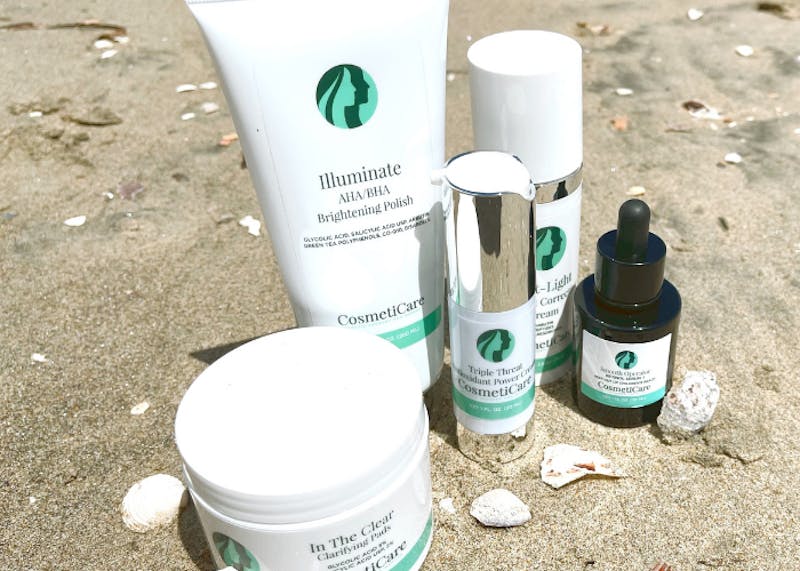 Home » Articles » Why Skin Care is Important
Why Skin Care is Important
by Courtney Clements | Nov 17, 2021 | Articles, TV Appearances
Why is skin care important
Skin care is essential for a healthy complexion throughout your life. Here's why you should prioritize a skin care routine:
With age, we begin to learn just how critical it is to take care of our bodies. Following a regular exercise regimen is a practice that's encouraged throughout life — and so is incorporating a well-balanced diet into your daily routine. Both healthy habits encourage healthy weight maintenance, stronger bones ,and muscles, and can even improve mood and mental wellness. But what about skin care?
Often overlooked — but just as crucial — is the act of skin care. Without a solid skin care routine in your life, you may find yourself dealing with adult acne, as well as harsh texture and tone in your complexion. By incorporating a morning and night skin care routine, you can combat skin issues that keep you from looking and feeling your most confident self.
In this article, we'll dive into the importance of skin care, touching on the benefits of following a healthy skin care routine and laying out our picture-perfect example of what a good skin care regimen looks like.
The benefits of a top-notch skin care routine
A quality skin care regime can help you address all the issues related to your skin type. Whether you deal with dry skin, sensitive skin, oily skin, or a combination of multiple issues, taking care of your complexion based on your skin type can lead to the following benefits:
Address your personal skin concern
Whether you're dealing with sun damage, clogged pores, uneven skin texture, skin irritation, skin discoloration, premature aging, acne-prone skin, or acne scarring, an optimal skin care routine can help you combat some of the issues you've been experiencing and can provide a safeguard against breakouts in the future. Of course, based on your skin type and the severity of your skin issues, you may need to see a dermatologist or care provider for further assistance, but implementing a skin care regimen is your best first step towards an improved complexion.
Boost your confidence
When you look good, you feel good about yourself. Establishing — and maintaining — a solid skin care routine can make it easier for your skin to breathe, making it look and feel better than ever.
Establish a healthy habit
As addressed earlier, taking care of your skin is just as important as prioritizing a workout routine and following a healthy diet. By incorporating another healthy habit into your lifestyle, like maintaining a skin care routine, you can build an all-around healthier lifestyle and feel better about your choices along the way.
What does a good skin care routine look like?
Are you in need of a skin care routine revamp? Are you starting from scratch and have no idea what steps you need to follow when taking care of your complexion? Here's an example of a standard skin care routine you can consider to reap anti-aging benefits:
Wash with cleanser
Cleansing once in the morning and once at night daily is the best way to remove dead skin cells and dirt accumulated throughout the day and while you sleep. Choose a cleanser that will work for your complexion based on your skin type.
Slough away dead skin cells with exfoliant
Exfoliating is an optimal option for deep cleaning the skin, working deep into your pores to remove dead skin cells that your cleanser may have missed. Exfoliating is a bit rougher on the skin, so incorporating this step into your regimen once a week can suffice.
Don't forget about eye cream
The skin around the eyes can be considered one of the most sensitive areas on the body, so it is a must to take care of it. Fine lines, wrinkles, puffiness, and dark circles tend to form around the eyes as we age. Eye cream can be used to rejuvenate the skin and produce a more youthful glow. You can apply your eye cream once in the morning and again at night for optimal results.
Use moisturizer
Once you've treated your skin, you need to lock the moisture in place with a moisturizing cream. This step is essential for strengthening your skin barrier and ensures that your other products are locked in place. We recommend applying moisturizer with ceramides and hyaluronic acid after every face wash.
Apply sunscreen regularly
Did you ever consider sunscreen to be one of the most essential and effective staples of your skin care products? Dr. Ashley Magovern, board-certified dermatologist and owner and founder of a Manhattan-based dermatologist office told Good Housekeeping magazine that without sunscreen in your skin care routine, the rest of the steps in your regimen become irrelevant.
"If you don't wear sunscreen, it's like you might as well not do any of those other steps," shared Dr. Magovern. "The sun is the number one reason why people's skin will age prematurely." Applying a broad-spectrum sunscreen with at least SPF 30 is recommended as the last step of your morning skin care routine.
Visit a dermatologist for spot treatment, severe acne and any other major skin concern
A regular skin care routine will improve the overall appearance of your skin over time. Still, you may need assistance from a professional to address major concerns. Meeting with a skin care professional can give you a better understanding of what type of attention your skin needs based on your skin type and ultimate complexion goals.
Reasons to consider hyaluronic acid for skin care
If you're looking for assistance addressing fine lines and wrinkles in your complexion, but your current skin care routine isn't getting the job done, hyaluronic acid may be worth your consideration.
CosmetiCare's Amplify serum is a hyaluronic acid-boosting serum that is designed to provide moisture retention and repair the lipid barrier of the complexion, ultimately reducing the appearance of lines and other premature signs of aging in the face. With this protection, you can ensure your skin is protected and hydrated, which ultimately increases skin cell production leading to a smoother, plumper complexion.
Purchase your bottle of Amplify today and reach out to us for more information and tips on skin care.
Check out some of our favorite skin care products!