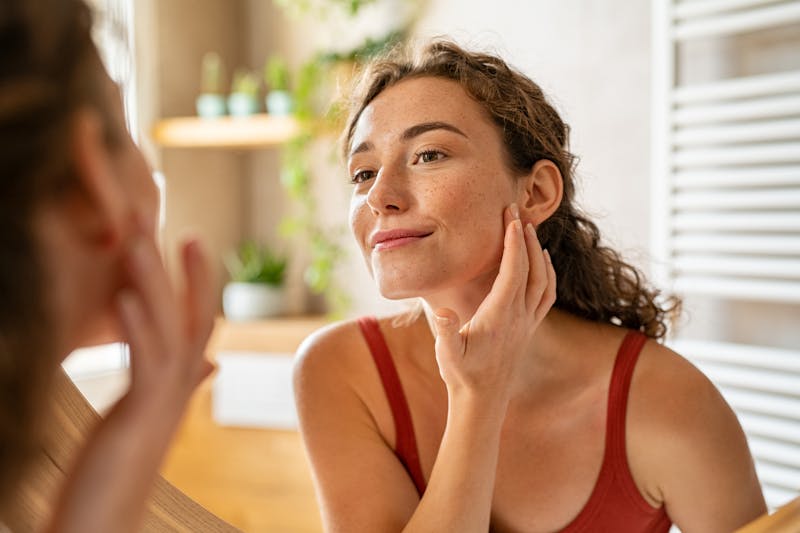 The master Esthetician at the MedSpa has just applied a Cosmelan Peel to my face to help erase the damage caused by acne. That beautiful pigment (melanin) in my skin which helps to keep me looking younger than my age, can also form deposits in the skin called hyperpigmentation. By Caryn Bailey
What You Need To Know About the Cosmelan Peel
I catch a glimpse of myself in the mirror as I am leaving CosmetiCare in Newport Beach, and I quickly realize that any attempts at running errands will likely be met with stares. The master Esthetician at the MedSpa has just applied a Cosmelan Peel to my face to help erase the damage caused by acne. That beautiful pigment (melanin) in my skin which helps to keep me looking younger than my age, can also form deposits in the skin called hyperpigmentation. While there are multiple treatment options for hyperpigmentation, I opted for the Cosmelan Peel which is the world's leading professional depigmenting method. This post is part of a sponsored campaign with CosmetiCare.
Cosmelan Peel
With origins in Spain, Cosmelan is the world's leading professional depigmenting method. The peel involves a two-step process which begins at a MedSpa like CosmetiCare. The first step involves the application of a thick, mud-like mask by a professional. This mask contains Azelaic Acid, Kojic Acid, Phytic Acid, Ascorbic Acid, Arbutine, and Titanium Dioxide. The mask should remain on the face for 6-10 hours, but the total amount of time depends on your skin type and the amount of hyperpigmentation being treated. I was instructed to leave the mask on for 10 hours. I then washed my face with a gentle cleanser to remove the mask. Since the Cosmelan Peel is a two-step process, you will be instructed to apply a second topical anti-spot cream daily. Cosmelan 2 helps to maintain the results achieved with the Cosmelan Peel applied by a professional while preventing the appearance of new dark spots and areas of hyperpigmentation. This maintenance cream is comprised of similar ingredients and should be used up to one year after a Cosmelan Peel.
How Does Cosmelan Work?
Cosmelan works to correct hyperpigmentation while regulating the overproduction of melanin in the melanocytes. It inhibits tyrosinase activation within the melanosome and lowers the oxidative stress, which reduces the production of melanin. The result is to inhibit and control the development of new dark spots. Cosmelan is unique in that it is both corrective and preventive for immediate and long-term results. When the mask is applied and left on for the prescribed amount of time, you may see up to 95% reduction in the skin's pigmentation on the surface of the skin within 30 days. A continued reduction in the skin's pigment may be seen with daily application of Cosmelan 2. Hyperpigmentation is a common concern and can have a negative psychological and emotional impact. It is caused by an abnormal production of melanin by the melanocytes (the cells that produce melanin) and results in irregular skin discoloration and dark spots. While treatment options vary, Cosmelan is ideal because it is safe for all skin types and provides results in as few as one to two weeks.
Am I a Candidate for a Cosmelan Peel
Cosmelan is ideal for anyone who suffers from hyperpigmentation. This includes melasma, post-inflammatory hyperpigmentation, solar and senile lentigo (dark spots from sun exposure), and freckles. The peel is innovative in that it can be used by those with very light skin tones and very dark skin tones. I suffered with acne as a teenager, and the resultant dark spots have plagued me for years. Over-the-counter creams did nothing to lighten those spots, and I was forced to cover my face daily with makeup. When I first learned about the Cosmelan Peel, I had to try it. With quick results, minimal downtime, and the potential for flawless skin, I consulted with CosmetiCare and scheduled my Cosmelan Peel. If you suffer from hyperpigmentation, CosmetiCare can provide an initial consultation online or at their MedSpa.
Find out how beautiful your skin can be and if a Cosmelan Peel is right for you! Request a complimentary Virtual Consultation.
What is the Process For Getting a Cosmelan Peel
While the photos can appear daunting, getting a Cosmelan Peel is relatively quick and painless. There is no prep, which is appealing, since many peels require the application of lotions, creams, and even bleaching agents prior to application. If you have been using any skin treatments such as those that include glycolic acid, your skin care professional may recommend stopping them for a week prior to the application of the peel. I walked into CosmetiCare's Orange County practice and spent a few minutes speaking with the Esthetician before she began prepping my skin for the Cosmelan Peel. This included a simple cleanse and then the application of a degreasing solution. If your appointment is in the morning, you do not need to worry about applying makeup as it will be removed before the application of the peel. The Cosmelan mask is applied in two separate visits with a majority of the mask applied initially. Three weeks later, the remaining mask is applied as a spot treatment. It is important to leave the mask on for the full recommended duration, which is dependent upon skin type.
I decided to schedule my chemical peel for a day when I would not have to run errands or be out, much since my mask was to be left on for 10 hours. The mask is thick and has a mud-like texture to it. Towards the end of the day, my skin felt tight and some pieces of the mask were flaking off, which is to be expected. Once the mask had time to work its depigmenting magic, I simply washed it off with a gentle cleanser. CosmetiCare introduced me to Alastin's Gentle Cleanser and I have never looked back. This cleanser is absolutely soothing to the skin and felt amazing on my face after having the Cosmelan Mask on for 10 hours. The line is sulfate-free and ideal for sensitive skin or skin that has been treated with peels or other procedures. CosmetiCare sells Alastin products at their MedSpa which makes it convenient to pick up after your service.
Call 949-386-2773 to learn more about Alastin Skincare Products available at CosmetiCare in Newport Beach!
After a thorough cleanse (I washed my face twice), I applied the included mesoestetic® Hydra Vital Factor K Cream to my entire face, which was the soothing relief I needed. If you happen to be going out after you remove the mask, be sure to wear sunscreen with an SPF 30+. In the days following the administration of the Cosmelan peel, I used Alastin's HydraTint Pro Mineral Broad Spectrum Sunscreen SPF 36. This lightweight sunscreen protects delicate post-peel skin from UVA/UVB rays and includes a natural tint to enhance skin tone. I really like using this sunscreen because in those first few days when my skin was bright red, it helped neutralize the appearance of some of that redness. Unlike many sunscreens, this one does not have a scent, goes on smooth, and leaves no visible or tactile residue.
Does the Cosmelan Peel Hurt?
Admittedly, pain was my number one question (followed by how much downtime was involved) when I was considering a Cosmelan Peel. During the application, my face felt warm. This was at most, mildly uncomfortable but definitely manageable. The Esthetician provided a fan that helped cool my skin. In the hours following application, my skin did begin to feel tight. By the second day, my skin was noticeably red (which is to be expected) and slightly itchy and irritated. Again, the discomfort was manageable and mesoestetic® Hydra-vital factor K was seriously my best friend. It helped calm my skin when I felt the uncontrollable urge to scratch my face. Other than mild burning, itching, and an overall feeling of tightness, there was no pain per se involved with the procedure.
Can I Wear Makeup After a Peel?
As a busy, working mom, I don't have a lot of room in my schedule for "downtime." Since I had to go out the day after my peel, I really wanted to wear some type of makeup to cover up the redness. Unfortunately, this is not advisable and I imagine makeup would feel uncomfortable after the Cosmelan Peel. The Esthetician's recommendation was to use a BB or CC cream with sunscreen and I found that this was the ideal solution for my face. She also recommended a powder sunscreen such as Brush on Block or Colorscience. I actually found a CC+ cream and a powder from IT Cosmetics that I LOVE. Both products are designed to provide coverage while also providing protection from the sun and anti-aging.
What are the Side Effects From a Cosmelan Peel?
The side effects from a Cosmelan peel include redness, skin irritation and tightness. While scarring is possible, this side effect is minimized when the peel is applied by a professional. It is also imperative that skin be protected from the sun. I use a sunscreen daily and have been wearing a hat when my face may be exposed to bright sunlight.
Before and After Cosmelan Peel
I documented my experience with the Cosmelan Peel through daily photos until the peeling had subsided and my skin looked rejuvenated. The photos are unedited to show both the color of my skin during the process and the extent of the peeling. By day 7, I was able to wear BB/CC cream with a powder sunblock, which helped even out both the color of my skin and any remaining peeling.
Do you suffer from hyperpigmentation? Find out how CosmetiCare can help you achieve the flawless skin you are looking for with a Cosmelan Peel. Contact their team and request a complimentary consultation. Mention this blog and receive $50 off!
You can also follow CosmetiCare on social media to get the latest information on monthly specials and upcoming events, plus see more before and after photos!