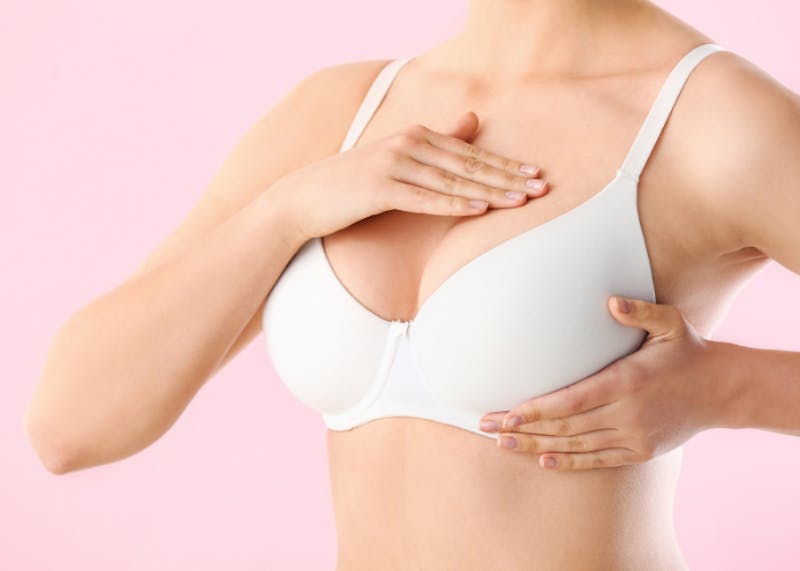 Home » Articles » What Is a Capsular Contracture, and How Can It Be Treated?
What Is a Capsular Contracture, and How Can It Be Treated?
by Courtney Clements | May 25, 2022 | Articles, Breast Augmentation
A capsular contracture, as defined by plasticsurgery.org is "the formation of a "capsule" of scar tissue around any kind of implant (medical or cosmetic)." Any time a foreign substance enters the body, you can risk infection, rejection, or in the case of a capsular contracture, scar tissue forming. In some cases, this can be beneficial to your breast implants because it can help to prevent things such as implant slipping.
How do I know if I have a capsular contracture?
When you notice that your implant is becoming stiff, painful, or misshapen, that is when you will want to make an appointment with your Board-Certified plastic surgeon in Orange County so he can give you a proper examination. They may also recommend you receive an MRI or ultrasound using our Butterfly device to detect the extent of breast implant health better.
How can I check the health of my breast implants?
There are many different ways to check the health of your breast implants. You can start with an ultrasound using our Butterfly device, and if further screening is recommended, we will suggest that you receive an MRI.
Butterfly: At CosmetiCare, we offer our patients a complimentary breast ultrasound screening using our butterfly device during their consultation with one of our Board-Certified plastic surgeons. The butterfly ultrasound is a handheld device connected to an iPad. It allows our doctors to screen your breast implants for any ruptures or complications that can be corrected during an implant exchange procedure. This ultrasound is a suggestive tool for ruptures and does not screen for cancers.
MRI: Magnetic resonance imaging or "MRI" is performed to further detect breast cancer or breast implant issues if your mammogram results have come back as suspicious. The images presented from an MRI allow medical professionals to distinguish normal vs. diseased breast tissues or implants that have ruptured or need replacement.
Are there different types of capsular contracture?
The severity of capsular contracture can be measured using a one through four grading scale.
Grade one: The first grade of a capsular contracture shows no symptoms. The scar tissue formed around the breast implant is not causing any change in the breast's shape, size, or texture.
Grade two: The second grade of a capsular contracture presents minor cosmetic symptoms. The shape of the breast itself will look normal, but it will begin to feel more firm to the touch.
Grade three: The third grade of a capsular contracture will show obvious cosmetic symptoms to the eye. The breasts will be hard to the touch, they may appear overly round and stiff, and the nipples may be misshapen. This grade may cause little or no pain to the patient.
Grade four: The fourth grade of capsular contracture is similar to a grade three, but it will be more painful to the patient. The breasts will appear distorted and hard but will also be tender and sore to the touch.
How long should I want to swap out implants so I don't get a capsular contracture?
Unfortunately, no time frame can prevent capsular contracture. Typically, it will begin to occur during the healing process, and about 75% of all contracture will form within two years of the patient's breast augmentation surgery. This may not always be the case, as it can happen sooner or later, and no age factor comes into play, either. It simply can just happen to anybody who receives breast implants.
As far as swapping out your breast implants, the market recommends every ten years; however, there is no actual magic number. Your implants should be replaced if there are any ruptures, capsular contracture, health issues, concerns, or if you would like new ones for a variety of aesthetic reasons.
Is a capsular contracture dangerous?
It is imperative to understand that a capsular contracture does not mean that breast implants are toxic or dangerous to a breast augmentation patient. Capsular contracture can occur when any foreign implant is put into the body; it is more troubling to the breasts due to the patients' aesthetic goals. Capsular contracture is also not usually dangerous to a patient's health unless they are also dealing with a ruptured implant. The possibility of an implant rupture is why we recommend staying on top of your breast health and seeing a doctor if you notice anything changes, pain, redness, or irritation to your breasts.
What type of surgery is performed to remove a capsular contracture?
We perform three types of breast implant exchange procedures at CosmetiCare in Orange County, depending on the severity of your capsular contracture- a capsulotomy, a capsulectomy, and a capsulorrhaphy.
A capsulotomy is performed when just a piece of the capsule is removed. You don't need to redo anything completely; you only need a little remodel.
A capsulectomy is performed to remove all scar tissue found around the breast implant.
A capsulorrhaphy is performed when the implant is too large for your body and you are looking to exchange your old implants for smaller ones. The surgeon will tack the implant itself down and make it smaller so that the implant will not move into the armpit. A capsulorrhaphy closes off the pocket where it may have been torn, stretched, or made too big for the implants themselves.
If you believe that you may be experiencing capsular contracture or are looking to exchange your old implants, visit us online to schedule your consultation with one of our Board-Certified plastic surgeons.
Curious to learn more about a breast implant exchange?
Learn More