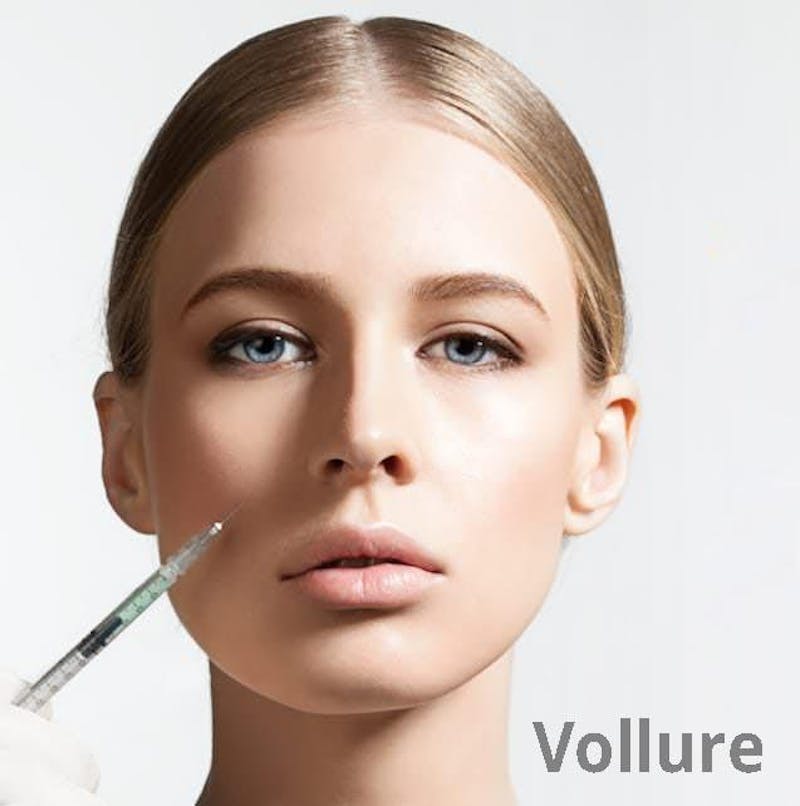 Vollure, or JUVEDERM Vollure XC, is an injectable gel that is a part of the JUVEDERM dermal filler line. It is the only FDA approved Hyaluronic acid based filler designed to smooth out moderate to severe facial wrinkles and folds that lasts for up to 18 months. Vollure is primarily designed to help with nasolabial folds, however it can be applied to other areas of the face for improved volume and smoothness.
How Does it Work?
Like other JUVEDERM dermal fillers, Vollure utilizes a solution primarily consisting of Hyaluronic acid (HA). HA is a type of sugar that is naturally present in our bodies and helps to provide nutrients, hydration, and cushioning support to the skin. As time goes on, our bodies begin to lose this essential acid and our skin starts to look more tired, sunken, wrinkled, and worn.
As an injectable gel, Vollure works by replenishing specific areas of the facial skin with much needed HA while providing wrinkle-smoothing volume and youthful vibrancy. It is one of the only HA-based injectables that can last for 18 months while maintaining a subtle yet effective outcome. Using JUVEDERM's patented VYCROSS technology, Vollure gel includes varying molecular weights of HA that contribute to the solutions longevity and flexibility.
Is it Right for Me?
Vollure is an excellent option for patients that desire long term yet subtler results. It is most suitable for those who want to diminish nasolabial lines which are most prevalent when smiling or laughing. However, Vollure can also be used to add natural looking volume to specific target areas. Anyone with a generally clean bill of health and reasonable expectations for treatment outcomes is a good candidate for this procedure.
While the initial treatment is designed to last for up to 18 months, repeat and touch-up injections might be required to ensure optimal and lasting results. Minor side effects such as swelling, redness, and soreness can occasionally occur immediately following the injection, however these symptoms should subside within 1 week.
Like most dermal fillers, Vollure treatments can be easily combined with other injectables or cosmetic enhancement procedures for a greater impact. You should always consult with a licensed professional in order to properly devise a treatment plan that's right for you.
Call 949-386-2773 or request a consultation at our Orange County offices so that you can learn more about Vollure and determine if this dermal filler is right for you.