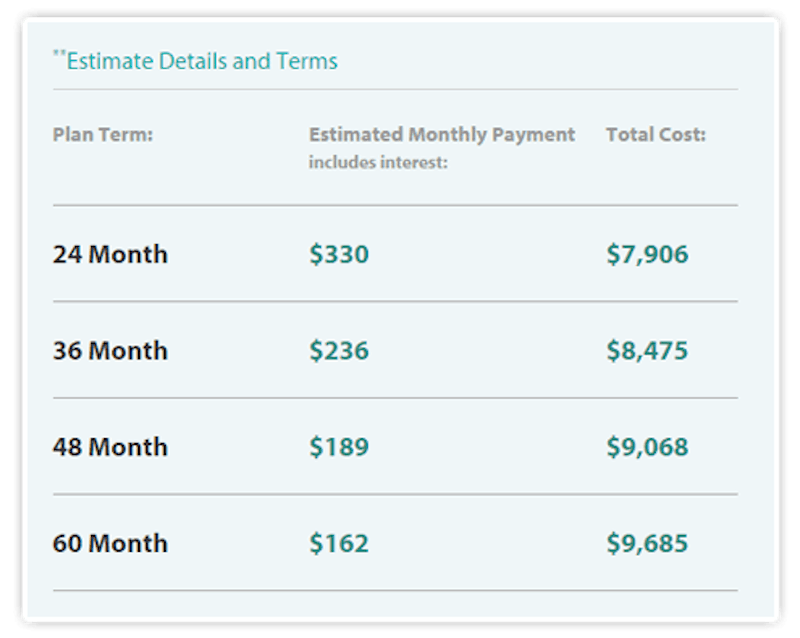 Understanding the cost of a breast augmentation procedure is one of the most common questions we receive. We can understand that! When you begin thinking about having a surgery, the first thing many people do is wonder, "Can I afford it?"
Understanding the cost of breast implants and augmentation procedure is one of the most common questions we receive. We can understand that! When you begin thinking about having a surgery, the first thing many people do is wonder, "Can I afford it?"
In this post we're going to talk about the most common components that make up the cost of breast augmentation and talk about what you should look for on your quote when meeting with a doctor. And also discuss some of the ways we help make this popular procedure more affordable and in reach that you may think.
Typical Breast Augmentation Cost Components:
Breast augmentation procedures are typically priced to include three or four main components, and it's important when you're considering surgery and getting quotes from surgeons that you understand what's included and, potentially what is not included in those quotes.
Professional Fees
This is the fee that is paid to the surgeon for his or her services Implant Costs In most cases the cost of the implants are included separately. Silicone implants are typically more expensive than saline. And the newer, popular anatomical implants like Allergan's Natrelle Style 410 are the most expensive of the group Surgery Center Fees Surgery center fees are paid toward the surgery center or hospital where your physician chooses to conduct your procedure. These fees may or may not include: Anesthesia Nurse technicians Additional surgical supplies Additional Possible Expenses Medical clearances Pathology/labs Blood work Medication Post surgical garments
What is the Average Cost
We really love what the group at RealSelf has done. By collecting information from actual patients they've put together a really nice scale of average cost for breast augmentation in Southern California. Here in Orange County and LA, based on (as of this writing) 227 reviews, the average cost reported is $6,900. Nationally that average drops to $6,400 across 5,902 total reviews.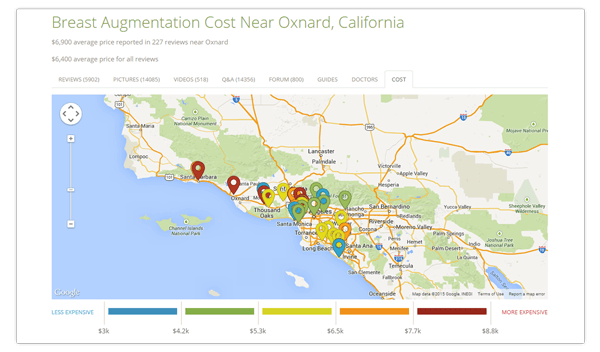 The typical price we quote here at CosmetiCare will vary somewhere between $5,000 and $8,000 depending on factors including:
Choice of physicianChoice of implant typePromotions and/or available rebates
How can I pay for Breast Surgery?
Most cosmetic practices including CosmetiCare offer some different options for payment plans, putting the procedure in reach for those of us without an extra $7k laying around!
We really love CareCredit here at CosmetiCare for the variety of payment plan options they have available that definitely help make a breast augmentation surgery affordable for our clients. The most popular programs are based on their "No Interest" financing options. And we're proud to say we're one of the only practices in Southern California that has access to CareCredit's special 24 month 'No Interest' program. Here are some sample payment options we got by using CareCredit's online payment calculator, calculating payments for a $6,800 procedure:
No Interest Options:
Longer Term Options: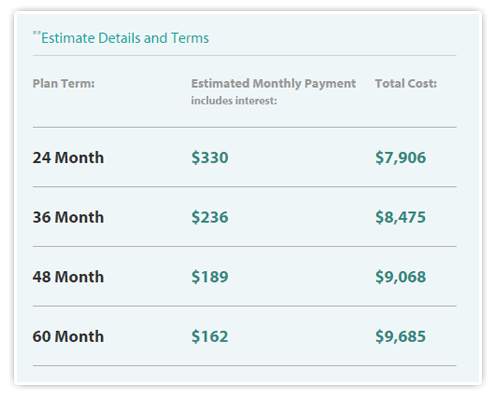 We also know it can be challenging if you have less than awesome, or even bad credit and you're trying get approved. Our number one biggest suggestion if this is your case–find a co-signer. Adding a co-signer with better credit to your application will significantly increase your chances for approval and approvals for a larger credit limit.
Outside of the explicit cosmetic surgery financing options, there's always good old-fashioned credit cards, many of which have really great no interest payment options. The team at NerdWallet keep a nicely organized running list of excellent credit card offers: www.nerdwallet.com/the-best-credit-cards
Other Factors That Can Affect the Cost of Breast Augmentation
What we didn't cover here are some common variations of breast augmentation surgery including:
Breast Implant Exchange

Capsulectomy
Which involves the removal of scar tissue from a previous augmentation procedure and is often required with an implant exchange Capsulorrhaphy The process of re-suturing the pocket where existing implants are set Breast Lift or Mastopexy Breast Reduction
Both breast lift and breast reductions are entirely different discussions and are in most cases more expensive, and both are often combined with an augmentation.
Will Insurance Pay for My Procedure?
Typically aesthetic breast aug surgeries will not be covered by your insurance, with two notable exceptions. The cases we've seen insurance pay involved either a deformity or absence of a breast or breasts entirely. Typically this is something resulting from birth, but not necessarily and it's also different than procedures conducted after a mastectomy, which are usually referred to as
breast lift without implants orange county and may be covered by insurance.
In all cases for CosmetiCare, and most other aesthetic practices, we will require payment for services at the time of treatment. However we can help you gather the documentation necessary to submit a claim for reimbursement to your insurance company. Clients that are considering a treatment and wondering about insurance reimbursement are advised to contact their insurance company directly for more information.
For More Information…
If you have questions we'd love to help! We offer complimentary consultations Monday through Friday and one Saturday per month at our Newport Beach location. For more information or to schedule an appointment, please give us a call or fill out our online contact form.
About CosmetiCare
CosmetiCare was founded in 1982 by double Board Certified cosmetic surgeon, Dr. Michael Niccole. The practice has had a thriving 30+ year history in Orange County and in that time Dr. Niccole and his partners have performed thousands of breast augmentation procedures. It's definitely the most popular treatment we do every year.
CosmetiCare and Dr. Niccole are recognized leaders in the industry, winning multiple awards including "People's Choice: Best Cosmetic Surgeon" by the OC Weekly, "Best of Orange County" twice by the Orange County Register, and "People's Choice: Favorite Medspa" by the Long Beach Press Telegram. And we're proud to say we've earned Double Black Diamond status with Allergan (the makers of Natrelle breast implants and the new Natrelle Style 410 anatomical implant, Botox, and Juvederm). Black Diamond status means that we're in the top 50 cosmetic practices nationally out of all of Allergan's clients. Essentially it means we do tons of treatments every year!