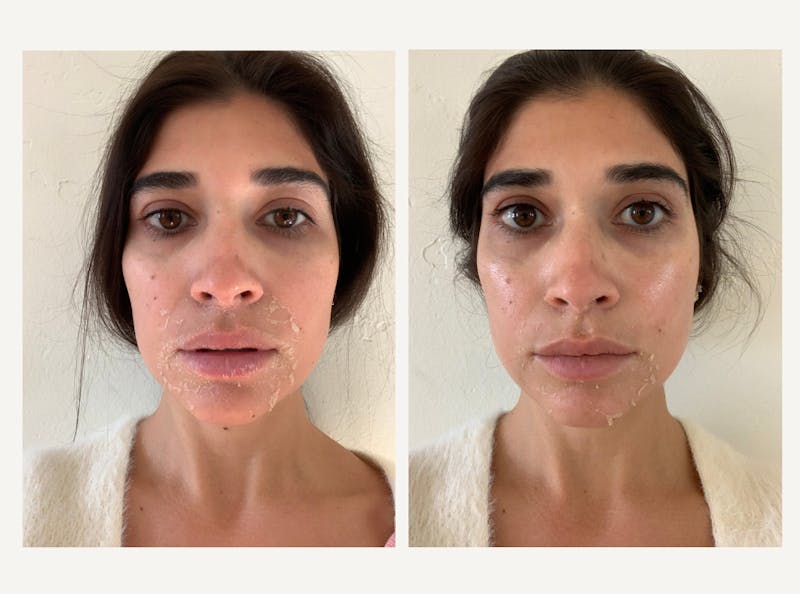 If you are looking for clear skin with a youthful glow, you may want to consider getting one of the CosmetiCare chemical peels. A chemical peel is a restorative cosmetic treatment performed by our aesthetician, where she applies a chemical solution to your skin that works to peel away damaged skin, allowing fresh new skin to grow in its place.
Here are the top 5 reasons you could benefit from a chemical peel:
1. Reduces sun damage
Frequent exposure to harmful UV rays from the sun can accelerate the aging process, resulting in unwanted wrinkles and sunspots. A chemical peel is one of the most effective ways to remove your skin of sunspots during the peeling process.
2. Reduces wrinkles
One of the most common concerns of our patients is unwanted fine lines and wrinkles due to aging. A chemical peel can be applied to the face, neck, and even hands to remove dull skin during peeling, allowing smooth more youthful skin to appear in its place.
3. Minimize acne and acne scars
If you suffer from acne or acne scars, a chemical peel can act as an exfoliation treatment by removing dead skin cells and bacteria. When removing the dirt, oil, and debris on and below the surface of the skin, not only will pores become unclogged, but your skin will also begin to produce collagen and protein to fill in acne scars.
4. Give your skin an even tone
A chemical peel can be a solution to several issues that cause your skin to have an uneven tone. If your skin is blotchy, has dark spots or patches, hyperpigmentation, and even melasma, a chemical peel can help to remove all this discoloration. Once the old skin is peeled, the new skin will appear even, smooth, and have that youthful glow
5. Allow your skincare products to work better
Once you've completed your chemical peel, you may feel like you splurged and bought all new skincare products because they are working so much better than before. This is because, after the peeling process, your skin is no longer clogged with dead skin cells and other buildups, allowing your products to penetrate deeper into your skin!
If you're ready to see how a chemical peel can change the game of your skin, come in and try out one of our amazing peels! Now until the end of April, enjoy our Resurface Package- 3 VI peels and 3 free dermaplaning treatments, a total savings of 40% off!