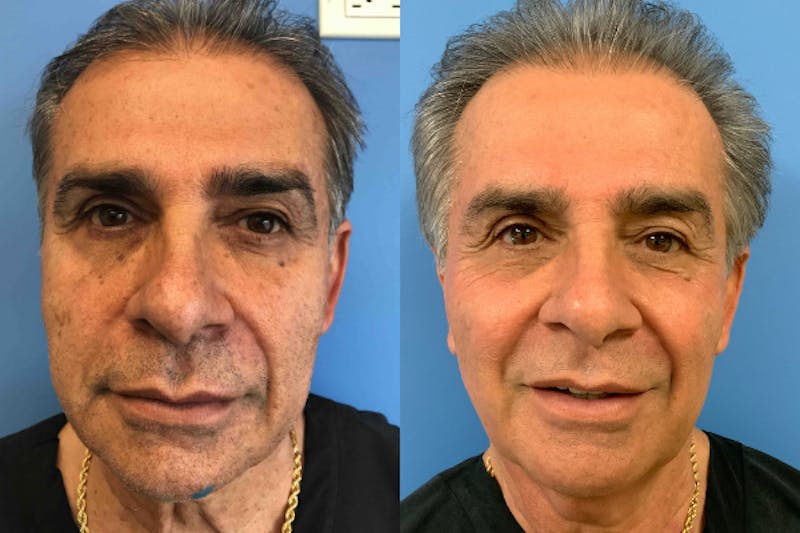 Home » Articles » The Non-Surgical Face Lift at CosmetiCare in Newport Beach
The Non-Surgical Face Lift at CosmetiCare in Newport Beach
by Courtney Clements | Jul 27, 2021 | Articles
What would you say if we told you that you could get surgical level face-lift results without ever having to go under the knife? At CosmetiCare, our laser guru, Nurse Tannaz can offer you a non-surgical solution to the unwanted effects of aging with her signature Laser Lift treatment. The Laser Lift is a combination of three to five lasers and modalities that are layered on top of each other and treat laxity, texture, tone, fine lines, pore size, wrinkles, neck tightness, and sun damage.
With a face-lift, you get that pull that assists in tightening things back up, but the "tablecloth" aka the epidermis of your skin will not be ironed out. Not only does a Laser Lift aim to tighten the skin, but it also works to smooth out wrinkles, eliminate sun damage, correct broken vessels, smooth pores, and even out skin tone. The effects of this treatment force the body to stimulate collagen, giving you long lasting permanent results as your own body begins to heal itself!
Here's a breakdown of what to expect with a Laser Lift treatment:
Consultation
When a patient comes in for a consultation with Nurse Tannaz, their biggest complaints on their appearance are loose neck, skin laxity, and jowling. They are searching for a solution to these pesky issues without having to deal with the downtime and price tag of a surgical face-lift. During your individual consultation, Tannaz will breakdown the components of a Laser Lift and will create a treatment plan that is completely customized to you. Each Laser Lift treatment is a combination of different lasers and modalities which can include:
Microneedling with radio frequency which targets laxity issues including the jowls, neck, and decolletage Fractional ablative Erbium or CO2 laser specific to your skin type to target texture issues including heavy brows and eyelids, lines around the mouth, fine lines throughout the face, and wrinkles Pulse dye laser to pick up broken blood vessels and redness Chemical peels for pigmented skin for darker skin tones
Your consultation is your time to ask any questions you may have, and to have a complete understanding of this treatment and how it can help you to look and feel your best.
Appointment
When you arrive for your Laser Lift treatment, Tannaz will begin by taking photos, and will provide you with an oral pain medication and topical numbing which will sit on your skin for an hour and a half. Once you are numbed and relaxed, she will begin treating you! The Laser Lift treatment itself takes only one hour and consists of the lasers and modalities that were discussed and decided on during your consultation. Once your treatment is completed, you will be scheduled for a follow up appointment in four to six weeks (at this point your collagen is only 60-80% stimulated) to check your progress and to see how you are healing. Tannaz will also go over your after-care instructions with you to ensure you have a clear understanding of what to expect on your healing journey.
After-Care
After your Laser Lift, Tannaz will provide you with the necessary tools and instructions to ensure you have a successful healing process. This will consist of oral medication and a special post laser product kit, as well as you staying out of the sun for four weeks. If you expose your skin to the sun before you are healed, you will risk burning the skin, scaring, and hyperpigmentation. It is also extremely important that you complete your follow up appointment so Tannaz can see how you are healing and if there is anything else you need for your treatment to ensure you receive optimal results.
Your skin is going to age no matter which treatments or surgeries you have done, so maintenance is always key. We recommend having a Laser Lift once every six months for a year, then once every year to keep those amazing results intact.
The Laser Lift is good for any age and any skin type so what are you waiting for? Call 📞 to book your complimentary consultation and mention this blog for $500 off your treatment!
Mention this blog for $500 off your Laser Lift!
Learn More
Related Articles
All the Details on Shannon Storms Beador's $2,500 Pre-Reunion CO2 Laser Facial
By CosmetiCare | July 27, 2021
Learn More