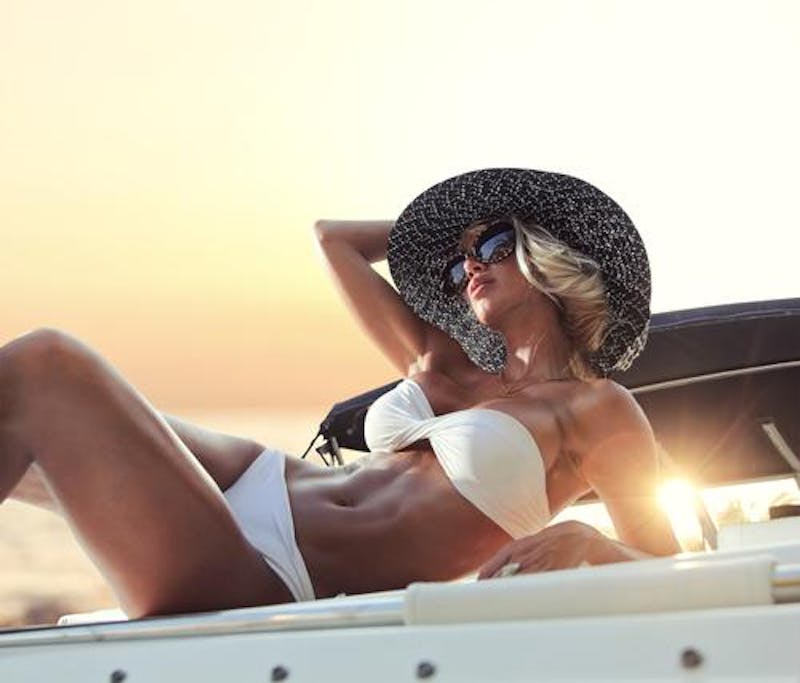 Breaking the Taboo Around Cosmetic Enhancements
It's no secret that many models, actresses, and celebrities undergo plastic and cosmetic procedures to stay looking young and gorgeous forever. Although these procedures used to be done under the radar, more and more celebs are coming forward and sharing their favorite treatments and regimes for youthful looking skin. Part of this shift is due to the fact that our culture is allowing women to be sexy and youthful in their 40s, 50s, and 60s without judgment.
Christie Brinkley, 63, has been an outspoken fan of fillers, laser treatments, and skin-tightening devices. In addition to following a strict vegetarian diet and exercise routine, Brinkley swears by two anti-aging non-invasive procedures: The injectable Xeomin for her frown lines and the skin-lifting Ultherapy for her neck and décolletage.
Popular Non-Invasive Procedures
Celebrities, actresses, and all other types of people have been much more comfortable opening up about their non-surgical procedures. For some reason, the thought process of "going under the knife" carries more of a stigma than similar non-surgical procedures. People from all over California travel to CosmetiCare to keep their skin and bodies in tip-top shape. CosmetiCare offers a wide variety of non-invasive treatments to keep our clients looking and feeling their best.
Our experienced surgeons can tailor treatments to your specific needs and desires to maintain your Southern California glow all year around. Some of the most popular treatments include CoolSculpting, injectables, and skin rejuvenation laser therapy.
What is CoolSculpting?
CoolSculpting is a non-surgical, clinically proven treatment that selectively reduces unwanted fat using a patented cooling technology. This revolutionary treatment works by gently cooling targeted fat cells in the body to induce a natural, controlled elimination of fat. This permanently treats the fat cells without affecting the surrounding tissue. Cleared by the FDA, CoolSculpting is suitable for treatment of visible fat in a variety of areas: thigh, abdomen and flank, bra fat, back fat, and underneath the buttocks and double chin.
What Kinds of Fillers Does CosmetiCare Offer?
CosmetiCare has a plethora of injectables available, which include but are not limited to Botox, Dysport, Juvederm, Restylane, and Volbella. Certain fillers last longer than others, so it's important to understand the risks and benefits involved. Consulting with your surgeon beforehand to decide what formula is best for you.
BOTOX® Cosmetic is frequently injected into muscles and used to improve the look of the moderate-to-severe frown lines between the eyebrows. It works by blocking nerve impulses to the injected muscles. This reduces muscle activity that causes moderate to severe lines to form between the brows. Within days, you may see a marked improvement in the moderate-to-severe frown lines between your brows. Lines continue to improve for up to 30 days, and results can last for up to four months.
JUVEDERM Ultra Plus XC is specifically formulated to smooth wrinkles and folds around the nose and mouth. While all JUVEDERM fillers make use of hyaluronic acid, JUVEDERM Ultra Plus XC is a thicker solution that provides more drastic results through added volume.
JUVEDERM Ultra XC is comprised of a slightly less viscous solution than that of JUVEDERM Ultra Plus XC. This makes JUVEDERM Ultra XC better suited for volumizing and reshaping lips. Volbella, or JUVEDERM Volbella XC, is a member of the JUVEDERM dermal filler family that is specifically designed to add volume and smoothness to the lips. In comparison to JUVEDERM Ultra XC, Volbella is meant to add subtler volume with more emphasis placed on decreasing vertical lip lines.
Restylane is a family of dermal fillers that work to repair, rejuvenate, and augment your facial skin, lips, and cheek areas. Restylane Defyne is specifically designed to correct and smooth out moderate to severe deep facial wrinkles and folds. Restylane Refyne is carefully crafted to improve the look of laugh lines (nasolabial folds and marionette lines) that often frame the nose and mouth during muscle movements. Restylane Silk is a specially formulated member of the Restylane family designed to provide volume and smoothness to the lips. Restylane-L is injected into target areas and immediately begins to replenish the skin's supply of hyaluronic acid, adding subtle volume to help smooth away wrinkles and relieve a sunken or tired face.
Contact Us
Stay looking fresh-faced and youthful with all of the amazing non-invasive procedures that CosmetiCare has to offer. Give us a call or click here to schedule a consultation now!