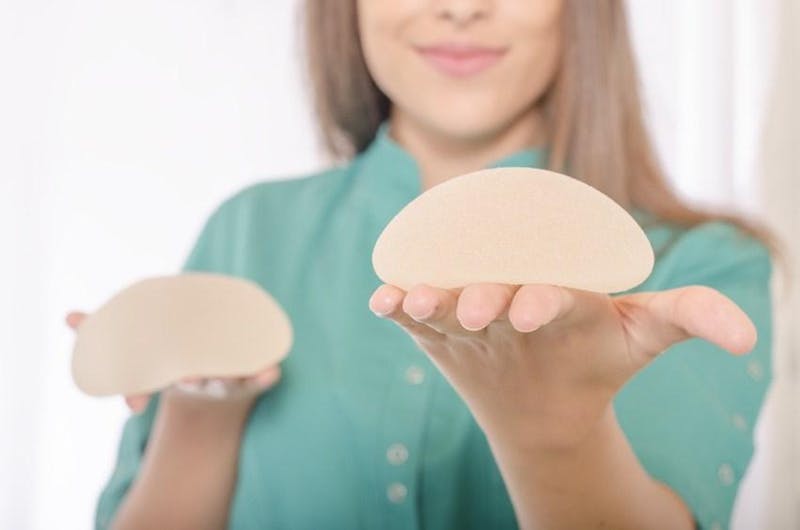 Silicone vs. Saline Breast Implants
One of the biggest decisions when getting my Mastopexy (breast lift) was whether or not to get an implant put in at the same time. I already had decent sized breasts, but I decided to get a small implant put in during one of my consultations with Dr. Niccole. Why get an implant with your breast lift? By Shelby Barone
Try it On!
One of the biggest decisions when getting my mastopexy (breast lift) was whether or not to get an implant put in at the same time. I already had decent sized breasts, but I decided to get a small implant put in during one of my consultations with Dr. Niccole. Why get an implant with your breast lift? The way that my breasts were shaped and the amount of lifting that I needed, the Dr. advised me that my breasts would have a pear shape without the implant. He showed me a rough estimate of what it would look like with and without the implant, and I decided that having the implant would give my breasts the nice round shape that I was wanting.
What's the Best Fit for You?
The next big question was whether to silicone or saline implants. I quickly learned that there are many options when it comes to picking out your implants. Dr. Niccole asked me a lot of questions about what I wanted my breasts to look like, and he recommended that I go with the Natrelle INSPIRA® silicone breast implant. The thing that I liked the most about this implant is that it has a natural feel and would be able to create the full round look and soft feel that I wanted.
The Perfect Look and Feel
The best part of the Natrelle INSPIRA® Breast Implants is that they are gummy inside. There is a shell that helps to keep all the gel inside the implant where it belongs. Natrelle has three different degrees of gumminess with the Inspira being the smallest amount of "gummy." Dr. Niccole was also able to order my two implants in different sizes because one of my breasts was slightly larger than the other, and now they are both the same size! There are many choices when it comes to selecting the perfect implant. Every woman is different and wants to achieve a different look. The doctors at CosmetiCare are the best in the breast implants in Orange County industry and will help guide you through the entire process so that you'll have the perfect look and feel. Make an appointment today at CosmetiCare center in Orange County by calling 949.386.2773 and save 10% on your surgery by using the discount code: Shelby100. Discount cannot be combined with any other offer.