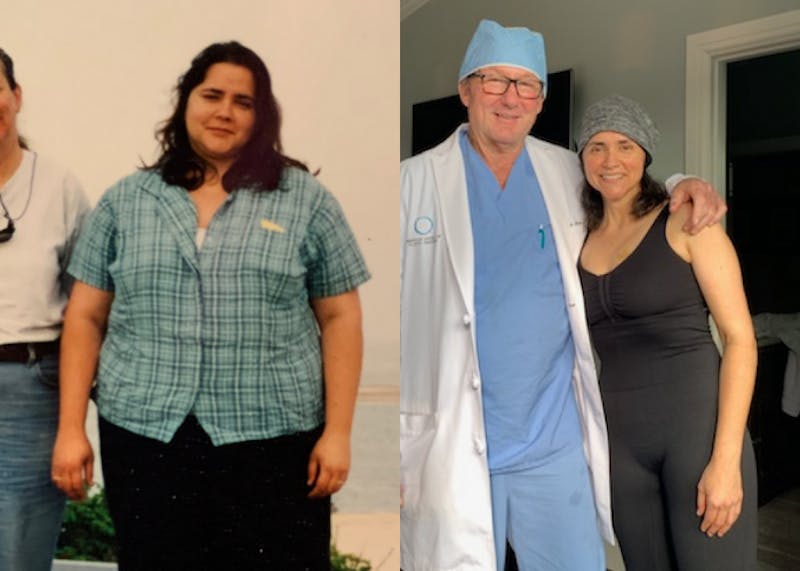 Home » Articles » Our Best Patient Transformation of 2021
Our Best Patient Transformation of 2021
by Courtney Clements | Dec 29, 2021 | Articles
At CosmetiCare, patient transformation stories are what we live and breathe, and in 2021, this is our proudest one yet! Our patient Rebecca came in with the goal in mind to get back to her best self, and with our team of Board-Certified plastic surgeons, she indeed has become our masterpiece.
Rebecca had been dealing with a failing marriage and a lack of self-esteem that led to emotional overeating and, in turn, a vast amount of weight gain. She was extremely self-conscious and hid behind baggy clothing when she realized she was ready to turn her life around. Instead of relying on gastric bypass to shed the weight, Rebecca leaned on the extensive knowledge of her close friend Chef AJ- the host of the hit television series "Healthy living with Chef AJ" who has helped thousands of individuals lose extensive amounts of weight with her plant-exclusive diet program.
After meticulously following Chef AJ's vegan way of living, Rebecca had successfully dropped over 150 pounds and had the excess skin to prove it. When she began researching plastic surgery groups, a long-time friend who has personally experienced the magic of Dr. Niccole and his team referred Rebecca to CosmetiCare. Over the course of a year, Rebecca received a complete makeover including a breast lift, Brachioplasty, thigh lift, and tummy tuck. She has now completely restored her confidence, and is loving the way she looks!
If you are looking to turn your life around in 2022 just like Rebecca did, enjoy this recipe sample you can try out to see if Chef AJ's plan could be for you! To learn more about Chef AJ and her vegan lifestyle, check out her YouTube channel by clicking here.
MEXICAN STUFFED POTATO
Ingredients:
2 potatoes (any kind, she prefers large Russet potatoes)1 x 15 oz. can of salt-free Pinto beans (or 1.5 cups of your favorite beans)
8 oz. frozen corn defrosted (she prefers the fire roasted organic corn)Pico de Gallo (see below)
Preparation:
Cook potatoes however you normally would (bake, steam, pressure cook, microwave). Heat up the corn and beans and stuff the potato with them and top with Pico de Gallo salsa. Add jalapenos and cilantro if desired.
Pico de Gallo
Ingredients:3 firm Roma tomatoes1 jalapeno pepper1 shallot2 cloves garlic1 limeChopped cilantro, to taste
Preparation:Cut tomatoes in half, squeeze out extra juice and seeds, and then dice. Place in a bowl and add the lime juice. Dice the shallots and garlic and add to the tomatoes. Finely dice the jalapeno, removing the seeds if you want it to be less hot. Add to the tomatoes. Season with chopped cilantro and stir.
Chef's Note:Sometimes, she will add a finely diced red bell pepper.
Learn more about the surgical procedures we offer, and how they can help to restore your confidence!
Learn More