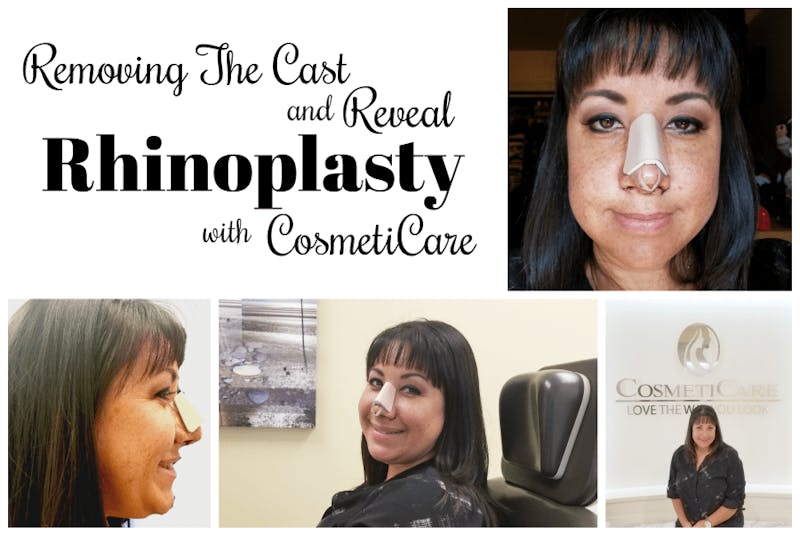 I had a Rhinoplasty surgery with Dr. Niccole at CosmetiCare, in Newport Beach, and after a week, I felt pretty good. During my pre-op appointment, I joked about hibernating at home for the first few weeks with Dr. Niccole, because I had expected major bruising and swelling. However, a week post surgery and my swelling had already decreased significantly
A Happy Surprise
I had a Rhinoplasty surgery with Dr. Niccole at CosmetiCare, in Newport Beach, and after a week, I felt pretty good. During my pre-op appointment, I joked about hibernating at home for the first few weeks with Dr. Niccole, because I had expected major bruising and swelling. However, a week post surgery and my swelling had already decreased significantly and the bruising was minimal, in fact, it was a yellowish tint that could easily be covered my a little foundation or cover up. My recovery from Rhinoplasty surgery had progressed better than expected and I was ready to get my cast off.
Removing The Cast
I went to CosmetiCare with my darling daughter to finally see what my nose looked like a week after my Rhinoplasty surgery. At this point, the pain was gone, and the bruising was minimal. I had already noticed that the base of my nose was smaller due to the wedge section Dr. Niccole had performed, I just couldn't wait for them to take out the stitches. Typically, the removal of the cast and stitches happens after approximately 7 to 10 days after operation. My mini-me videographer captured this appointment by video (sorry, it's a bit shaky).
Mission Accomplished
You got it! The cast was removed and I was so excited! The bump on my nose between my eyes had been removed, the base of my nose was slightly smaller and the tip was a little higher. Dr. Niccole was spot on. The results after the cast and stitch removal was exactly what we were both hoping to accomplish.
Patience is Key
Once the cast was removed,
dr nicole newport beach told me that my nose was going to swell a little bit more. The "after" pictures in the photos above were taken the day after the cast was removed so that I could provide a comparison. As with any Rhinoplasty surgery, the swelling will take 6 months to a year to go away completely. One of the nurses also told me to take monthly photos so that I will be able to see the gradual changes through the year. Stay tuned…
Thinking about the
cost of rhinoplasty and getting a Rhinoplasty yourself? Contact my friends at CosmetiCare and tell them about my personal discount code: JEN100 and receive a free consultation plus 10% off a Rhinoplasty procedure. Just share the code when you book an appointment online or via phone at 949-438-5578.
Discount cannot be combined with any other offer.
Stay tuned for the next steps….