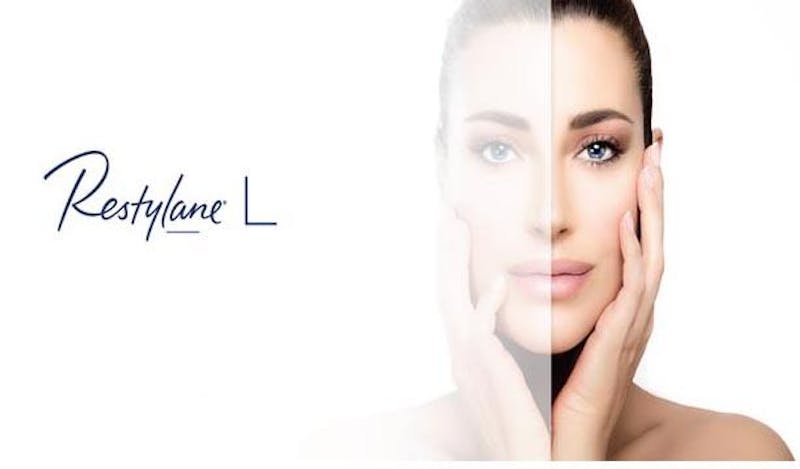 Restylane-L
What is Restylane-L?
Restylane is a family of dermal filler gels that work to smooth out wrinkles, laugh lines, and folds, while also providing volume and lift to lips and cheeks. Restylane-L is a simple variation of the original Restylane gel with an added amount of lidocaine. Lidocaine is a local anesthetic that helps alleviate any discomfort that might be felt at the injection site. Restylane is meant to add volume and lift to lips, smooth out wrinkles, furrows, folds, and lines, and provide an overall healthier look to your facial skin.
How Does it Work?
Restylane-L uses an injectable gel solution primarily consisting of Hyaluronic acid (HA) with a small amount of lidocaine. HA is a skin savior that is already naturally present in our bodies. As a type of sugar found in the skin, HA works to deliver vital nutrients, provide hydration, and create cushioning support. Unfortunately, as time passes, our natural HA reserves become depleted from aging, sun damage, and other factors. As a result, our skin starts to dry out, lose nutrients, and diminish in shape and suppleness. This is one of the primary causes of the formation of wrinkles, folds, and lines.
Restylane-L is injected into target areas and immediately begins to replenish the skin's stocks of HA, adding subtle volume to help smooth away wrinkles and relieve a sunken or tired face. Restylane-L can help with laugh lines, furrows, fine lines and wrinkles, and skin folds by boosting the overall volume of specific areas of the face. The small amount of lidocaine in the gel ensures that no pain is felt during the injection, making it as easy and comfortable as possible.
Is it Right for Me?
Restylane-L can only be used on those over the age of 21 and patients should ideally be in generally good health prior to receiving the treatment. Other than that, Restylane-L is a great solution for anyone hoping to add smoothness, volume, and an overall rejuvenated glow to their face or lips.
The results are almost immediate and patients can expect to be relieved of any swelling or discomfort within seven days after the treatment. Your skin's ability to heal properly is mostly dependent on your overall health and lifestyle. Many patients see results that last for up to 18 months.
Like most dermal fillers, Restylane-L is commonly used in conjunction with other similar treatments such as Botox or even a facelift surgery to maximize your results. You should always consult with a licensed professional in order to properly devise a treatment plan that's right for you.
Call 949-386-2773 or request a consultation at our Orange County offices so that you can learn more about Restylane Silk and determine if this dermal filler is right for you.