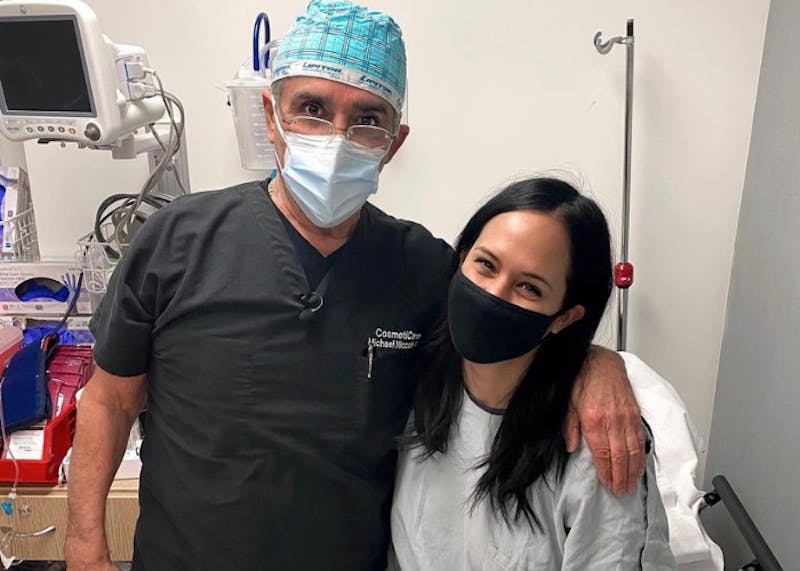 Home » Articles » Real Housewife Alum Receives Rhinoplasty (Nose Job) with Dr. Niccole of CosmetiCare in Newport Beach
Real Housewife Alum Receives Rhinoplasty (Nose Job) with Dr. Niccole of CosmetiCare in Newport Beach
by Courtney Clements | Sep 8, 2021 | Articles
Earlier this year, a personal favorite and longtime patient of CosmetiCare's Jo De La Rosa decided to gift herself a birthday makeover including a rhinoplasty and fat transfer with Double Board-Certified plastic surgeon and ENT Dr. Michael Niccole.
I sat down with Jo and asked the Real Housewives alum the questions we were all dying to know about her procedure! Check out the video below for her full journey!
You've had a rhinoplasty in the past, why did you decide you wanted to do another?
Jo: I had my first rhinoplasty procedure done when I was 23, and I noticed that over the years from wearing sunglasses there was a little dip starting to form in the middle of my nose. I also noticed as I've aged, the shape of my nose has changed and it was beginning to bother me. Another reason I decided to do this for myself was that I had gone away from the entertainment industry for a while, but now that I'm back working in the industry, I've been seeing myself in photos and videos and those HD cameras can be really unflattering! I've also always wanted a nose transformation like Blake Lively (shoutout to Gossip Girl!) where her "After" results looked very feminine yet natural so I knew this was something I wanted to do for myself.
Why did you decide to add on fat transfer to your rhinoplasty procedure?
Jo: As I began to enter a new chapter in my life and had so much fun and exciting things going on career wise, I decided I wanted to give myself a birthday treat. With age, I noticed that the skin underneath my eyes was starting to appear darker and hollower. It is something that was really starting to stick out to me in all my photos and videos, especially in different beauty campaigns I was doing. I really was looking to have a facial refresh, and since I was going under the knife anyways for my rhinoplasty, I figured might as well take care of another area of my concern at the same time!
Why did you choose CosmetiCare to have your procedure?
Jo: I have been a patient of CosmetiCare for years and I truly do not trust anybody more with my body and face than Dr. Niccole as well as his staff. Dr. Niccole did my first rhinoplasty over fifteen years ago, and I was so happy with my results that it was a no-brainer to have him perform this surgery as well. I remember my experience from my first surgery – how Dr. Niccole and his staff prepped me before surgery, calling me after to see how I was doing, and just all around helping to calm all my nerves. He's incredibly talented at what he does and his staff is so full of knowledge that they really make you feel at ease during your surgical journey.
How did you feel leading up to surgery?
Jo: Before surgery, I felt nervous and anxious because I knew I was going to look very different after. I also knew that with any surgery there would be a recovery process and I would have a good amount of bruising and swelling but I was concerned about how much downtime I would need to take off from work. Dr. Niccole and his team were really great in talking me through everything to help calm my nerves and any other concerns I had so that definitely helped with my level of confidence throughout my surgical journey.
How did you feel the day of your surgery?
Jo: The morning of my surgery, I still felt super anxious and nervous, but I also was super excited! I definitely had nervous butterflies in my stomach but Dr. Niccole told me that was totally normal. Right before surgery, he went over everything we had discussed during my pre-op appointment just so I knew what to expect and to make sure we were all on the same page. Just him discussing my surgery with me made me feel so at ease and I was so excited to see what I would look like after.
How was your recovery from your rhinoplasty and fat transfer procedure?
Jo: My recovery was a little painful, but the medication that was prescribed to me truly helped a lot. All my aftercare instructions helped a lot and made me feel more comfortable. I did however have a little bit of a unexpected portion of my healing process due to my olive skin tone, and I experienced some hyperpigmentation issues. Being that CosmetiCare also has a fabulous Medical Spa, I worked with laser Nurse Tannaz who totally helped eliminate the hyperpigmentation issue. With a combination of v-beam treatments and bleaching pads, I was able to get my skin tone even again as I continued along with my recovery. CosmetiCare is truly an in house full rounded business, and if there are any type of issues, they will find a solution for you without you having to deal with going anywhere else.
How do you feel after your surgery?
Jo: After surgery I feel GREAT! I am so much more confident and overall happier with my appearance. I love my new nose, and the volume restored underneath my under eyes allows me to look younger and brighter. As you get older, things start to get a bit looser, and it is totally ok to give yourself some love and take care of the things that are bothering you. Beauty should be celebrated, and you should do whatever makes yourself feel confident, fresh, and beautiful!
What would you tell somebody who is looking to have plastic surgery about CosmetiCare?
Jo: I would tell them to book a consultation so they can go through all their options and really get an idea of what they will look like after surgery. CosmetiCare offers a technology called New Look Now which actually allows you to try on your results before you even commit to a surgery! Aside from a consult, they should know how truly amazing Dr. Niccole and his staff are. I felt so comfortable during this process and that's such an important thing you want from your plastic surgeon and his team when you're going through a cosmetic change like this. If you are thinking about having plastic surgery, this is definitely the place you want to go to!
It has now been about six months since Jo's procedures with us here at CosmetiCare and we are truly loving her results just as much as she does! To take a peek into her journey with Dr. Niccole, click the video below!
We truly believe that the nose is the centerpiece of the face, and that the slightest change can completely alter a patient's life. As our gift to you, we are currently offering $1,000 off a rhinoplasty procedure. Come see us for a consultation and let's get you started on the journey to looking and feel your best. Click here to learn more!
Learn More
Related Articles
Jennifer Willey's Rhinoplasty Results at CosmetiCare
By CosmetiCare | July 27, 2021
Learn More