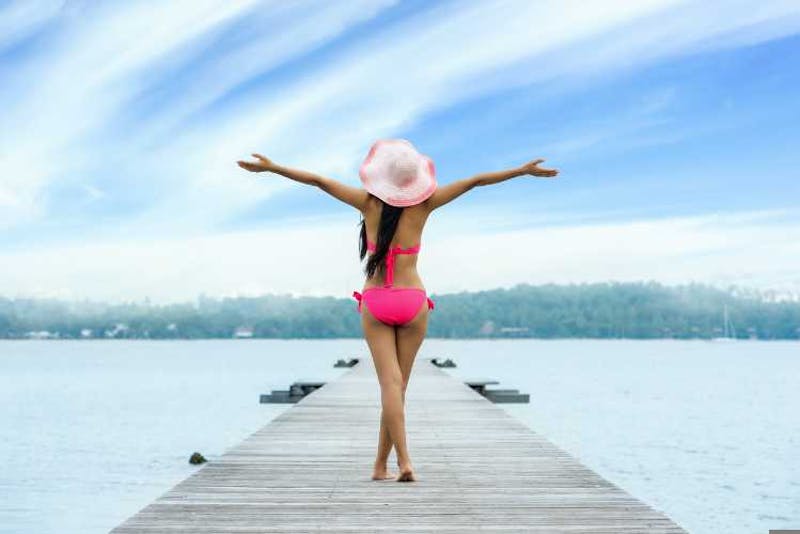 Orange County cosmetic surgery after divorce is a popular option because it provides the divorcee with a confidence and self-esteem boost when they need it most. A divorce can make you feel all kinds of negative emotions, and people tend to direct those feelings inward, which can create a host of self-esteem problems. No matter the reason your marriage ended, an Orange County plastic surgeon can help you get back to looking and feeling your best.
According to a survey conducted by the National Women's Health Resource Center, more than 40% of women chose to improve their physical appearance after a divorce or significant life change, like childbirth or significant weight loss. Let's talk about the top five most common plastic surgeries performed after a divorce so that you can consider which may be right for you.
5 Most Common Orange County Plastic Surgeries After a Divorce
Breast Augmentation
Breast augmentation remains the most common cosmetic surgery performed. When you're preparing to enter the dating pool again, your breasts may be one area of your body that you begin paying more attention to. And for women who have already considered breast augmentation before divorce, the decision to move forward with surgery may be further prompted by the life change.
A divorce may provide the necessary push to finally schedule a consultation with an Orange County cosmetic surgeon and schedule enhancement surgery.
Mommy Makeover
A mommy makeover is a combination procedure often comprised of a tummy tuck, breast surgery, and maybe liposuction, depending on the patient and their concerns. Vaginal rejuvenation is often considered by many women as well. In general, it is recommended that women be finished bearing children before undergoing a mommy makeover.
It's worth noting that the procedure could take place a year after childbirth or decades later and still be called a mommy makeover. This procedure targets the problem areas that many women have following pregnancy and motherhood. It can provide a huge confidence booster, especially if a woman going through a divorce is looking to get her pre-baby body back.
While diet and exercise are crucial, breastfeeding and childbirth stretch the skin and can change the shape of a woman's breasts and abdomen. The combination of procedures involved in a mommy makeover can provide a dramatically beneficial change that may boost self-esteem after a divorce.
Liposuction
Women who have gone through a rigorous diet and exercise plan often seek liposuction because they're having problems getting rid of fat in certain areas of the body. While diet and exercise are crucial for weight loss and building muscle, stubborn fat can stick around no matter what.
Liposuction is not a weight-loss tool, and optimal results can only be obtained from the procedure after diet and exercise are embraced. This procedure can only make a huge difference in someone's life if they've utilized diet and exercise in their weight-loss plan and still have pockets of fat.
Eyelid Lift or Facelift
If you feel you have a fatigued look around the eyes and find yourself battling with eyelid bags, you may want to consider an eyelid lift, also known as blepharoplasty. This procedure appears subtle, but you'll have noticeable improvements around your eyes, whether you choose upper blepharoplasty, lower blepharoplasty or both. Most people won't even be able to tell that you've had surgery; they'll simply think you look well-rested and rejuvenated.
An eyelid lift is often combined with a regular or mini facelift. These procedures can give you a refreshed look that takes years off of your face so that you can re-enter the dating pool with your best face forward.
Abdominoplasty
A tummy tuck, or abdominoplasty, aims to get rid of stubborn fat and excess skin on the abdomen. This procedure is ideal for those who have worked hard to shed pounds but have loose, hanging skin.
After a divorce, you may find your body changing due to stress levels. Stress can cause you to gain or lose weight. You'll want to turn to diet and exercise to help keep your stress levels at bay and your body in shape. However, if weight loss is extreme, it may be necessary to trim the excess skin over your lower abdomen and tighten the abdominal wall and muscles.
Time to Love Yourself
Cosmetic surgery may give you the confidence boost you need to move on with your life after a massive upheaval like divorce. Still, it's important to note that plastic surgery will not repair your marriage or heal your emotional wounds overnight.
What it can do, however, is support your self-esteem and give you more confidence during the transition from married life to single life. You must have reasonable expectations and the appropriate motives in order to achieve successful plastic surgery results. Psychological readiness is crucial; it's important not to take any rash, life-changing actions during a time of emotional duress.
During your initial consultation, make sure to address why you're interested in a certain procedure with your cosmetic surgeon in Orange County. Together, you can determine whether or not you're a good candidate, and if now is the right time.
Take the first step to schedule your free consultation by calling us today!
Before & Afters
See before & after photos of actual patients
View Gallery