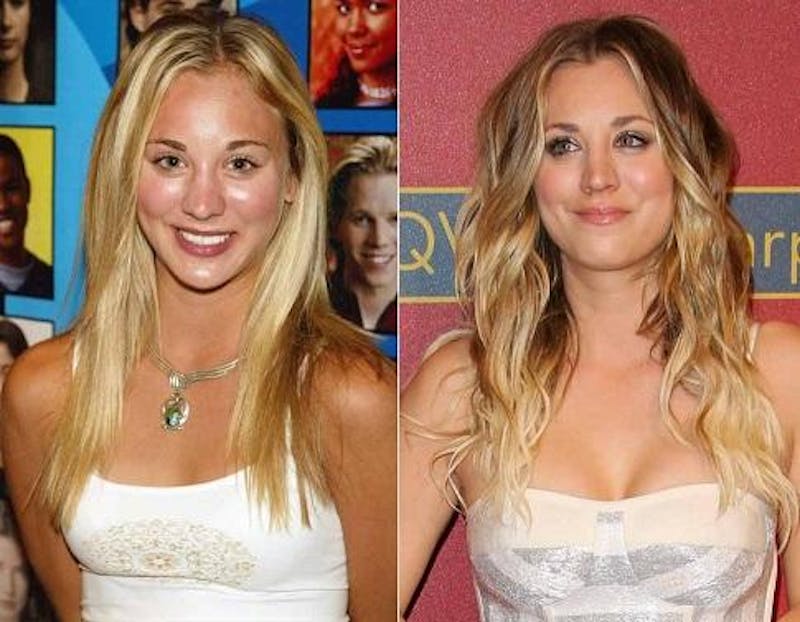 Patients are increasingly asking for surgeries styled after celebrity nose jobs as more stars discuss their enhancements openly
Most celebrity nose jobs have been publicly announced under the pretext of fixing a deviated septum or correcting the results of a pre-fame injury. While these are completely valid reasons for receiving nose surgery, the outcome usually isn't entirely altered by the celebrity's intentions. At the end of the day, celebrity nose jobs, like all cosmetic nose surgeries, are meant to aesthetically enhance the look and feel of the patient's nasal area. And because of the increasing number of celebrities talking openly about their nose jobs, there is a rise of patients who desire to undergo the same exact treatment.
Celebrity as Pedagogical Tool for Self Discovery
At the risk of providing too granular or extreme of an analysis of this desire to look like celebrities, it is worth taking a closer look at the psychology behind this phenomenon. The idea of "the self" is an ever-shifting amalgamation of inner-feelings and outer-experiences that develops individually and communally. When you add the celebrity variable to this amalgamation, the outcome is even more difficult to grasp. And, this already complex concept has only been further muddled and expanded by the advent of social media and digital representation.
In his essay, "The promotion and presentation of the self: celebrity as marker of presentational media", P. David Marshall explains that since its birth as a concept, 'celebrity' has been a growing "pedagogical aid in the discourse of self". To put that in laymen's terms, celebrities are increasingly being looked at as mirrors for people to see themselves. In an age of digital self-representation where we are all able to have the same type of public profiles as celebrities, there is an obviously expanding desire to emulate these stars in every way possible.
This is by no means a bad thing. We all have heroes or idols that we look up to throughout our lives. The danger comes when the lines between the idol and the self start to dissolve. It's one thing for patients to ask for celebrity nose jobs in order to feel better about themselves. It's an entirely different thing for them to completely lose the sense of "self" that they are trying to feel better about.
Still, the growing openness of celebrities who have undergone plastic surgery demonstrates a very positive progression for society. The more we can speak openly about cosmetic enhancements, the more prospective patients will feel comfortable spending the time consulting with professionals and understanding their treatment options to the fullest extent.
At CosmetiCare, we pride ourselves on the attention we pay to each individual's needs and desires. We want to treat the 'Whole You' and ensure that your treatment plan is perfectly suited to your needs and desires. If patients want to undergo celebrity nose jobs, that is great! More power to them! Provided that they consult with a licensed aesthetic surgeon ahead of time. Call (949) 415-5965 or click here if you're curious about cosmetic enhancements and would like to schedule a consultation with one of our fabulous doctors. Or, continue on to see which celebrities are opening up about their nose surgery.
Celebrity Nose Jobs: Who's Had One?
Lisa Kudrow
Friends star Lisa Kudrow opened up about her nose surgery back in 2013 when speaking to The Saturday Evening Post. Kudrow stated that her surgery was "life altering" and described it as a "good, good, good change." Like many celebrity nose jobs, Kudrow actually underwent her surgery many years before becoming famous. It's safe to say that a life changing confidence boost early on probably helped her get to where she is.
Dianna Agron
Back in 2011, Glee star Dianna Agron went public about her multiple celebrity nose jobs on The Late Show With David Letterman. Agron told Letterman that she had her first rhinoplasty back in high school after injuring her nose "during a party." Her second nose surgery was performed after she had already been a member of the Glee cast. Like many celebrities who have opened up about rhinoplasty, Agron emphasized her need to undergo the surgery as being injury-related. Still, her nose is undeniably beautiful and her subsequent confidence has clearly helped her career.
Kaley Cuoco
Kaley Cuoco, best known for her work on The Big Bang Theory, opened up about her plastic surgery experience back in 2016. Along with a breast augmentation and neck fillers, Cuoco also admitted to questioning herself '
do i need rhinoplasty?' and she immediately have undergone rhinoplasty "years ago". Cuoco views her surgeries as an investment in her self and her confidence, which she directly attributes to her success as an actress. She cheerfully describes her cosmetic enhancements as being the "best thing [she] ever did."
Getting a Celebrity Nose Job
There is absolutely nothing wrong with wanting to emulate the look of a celebrity. Still, patients should stay committed to boosting their self-confidence. Occasionally, some prospective patients might get a little too caught up in the desire to look like someone else. This leads to them neglecting the fact that they are a unique and beautiful individual that deserves to feel confident in their own right.
Again, the most important thing to keep in mind is to always discuss your complete treatment options with a licensed aesthetic surgeon. At CosmetiCare, we provide every resource and piece of information that you will need to make an informed decision on your cosmetic enhancement plans. Please call (949) 415-5965 or click here to schedule a consultation today!
New Look Now Can Show You How!
Want to know how you could look after a celebrity nose job? Request a complimentary consultation and you'll receive a completely free and remarkably accurate simulation of the results. Our simulator tool, New Look Now utilizes our cosmetic experts to show you how you could look post-procedure through real-time image editing. Simply choose a photo of any area on your face or body that you'd like to alter and our team will deliver a precisely edited version. Call us to learn more today!