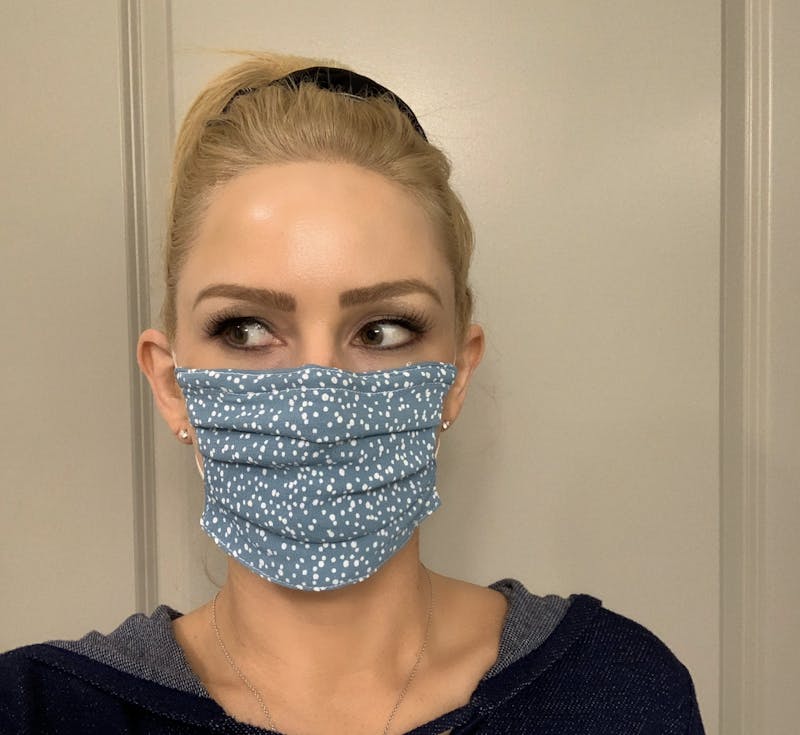 Otoplasty Experience: After Feeling Self-Conscious About My Ears When Wearing Masks, I Decided To Have Ear Surgery

Have you started noticing different areas of your face more these days from wearing masks? Your ears perhaps? Some unexpected consequences have come out of the COVID-19 pandemic… and believe it or not, it's the reason that I decided to have an otoplasty procedure. Otoplasty (ear surgery), is also sometimes referred to as ear pinning and it's more common than you might think. Read on to learn about my otoplasty experience at CosmetiCare Plastic Surgery Center and MedSpa in Newport Beach. I'll cover the do's and don'ts to help decide if otoplasty is right for you, some helpful tips to prep for surgery, and some surprising things I learned along the way.
The Face Mask Effect
First, let me start by saying, there's no doubt that face masks are making certain facial features appear more prominent. From tired looking eyes to wrinkled foreheads, all of the small things we didn't notice before the pandemic are now becoming more noticeable. It's not only the top portion of our faces though that are receiving more attention. It's our ears too!
I first started paying more attention to my ears when I would put my hair up while wearing a mask. I'd notice the low piercings that I had and I felt like my ears weren't exactly proportionate. I felt like they didn't match my face. Overall, I just started thinking that they could be a little bit prettier….
Now, I know this might sound silly to some people. However, I think most of us have our own "thing" that we would like to improve if we could. I'm a firm believer that even if it's something small, if it can help improve your confidence, then you should do it! As long as it's for the right reasons. Ultimately, I decided to have otoplasty because I wanted to. It wasn't because anyone told me that I should or because I felt pressured to have surgery in any way. It was completely my decision. And spoiler alert: I'm so happy that I did it!
Tips to Prepare for Otoplasty
Stock up on groceries ahead of your surgery.
Make a trip to the grocery store for foods you'll want while you recover. I recommend shopping for about a week's worth of food. Trust me, you don't want to worry about groceries immediately after surgery. There are some foods that are recommended to help with healing post-surgery as well. I was provided with this link, which I found very helpful. Here's a picture of the foods that I stocked up on before my otoplasty:
Get a "piercing pillow" so you can sleep more comfortably.
This tip is especially helpful if you sleep on your side like I do, or if you sleep on your stomach. I wish I would have ordered this before my ear surgery! After trying to sleep on my back and not getting the best sleep for a few nights, I did some research and found out about the Piercing Buddy. It's a pillow made for use after getting your ears pierced, but works great for use after Otoplasty as well! Here's the Etsy Shop that I ordered mine from and a photo of what it looks like:
Buy masks that don't loop around your ears!
My plastic surgeon's office, CosmetiCare actually made their own face masks with another company in Orange County called GoldSheep. I already loved GoldSheep leggings and so I absolutely loved this collab. Their masks are good for patients who are wrapped up after having a facelift or otoplasty because the straps loop around the back of your head. I've never seen any other face masks like this! You can check out GoldSheep and all the cute designs they have. The other type of face masks that I found to work well during recovery are the masks that can be worn around your neck and pulled up to cover your mouth and nose. Although I stayed home for the first 5 days after surgery, I did walk my dog a few times and it was nice to have an easy mask to wear.
Is Otoplasty Right For You?
After having otoplasty and sharing my experience with a few friends, I thought it would be helpful to put together a list of Do's and Don'ts. These are based on advice that I was given and my opinions based on my own experience. However, a few of these seem to be consistent with what I read online in general about plastic surgery.
What you SHOULD DO before Otoplasty surgery:
Do your research! It is important to find a board-certified plastic surgeon and one with many years of experience. Look at what other patients have to say about their work and be sure to check out their credentials. There's a website called RealSelf that is dedicated to helping with the research phase. Come to your otoplasty consultation prepared with questions. The consultation before plastic surgery is your time to ask questions. After completing your research, think of specific questions you would like to ask and write them down. I'm really glad that I made the most of my consultation time. It helped me make my decision to move forward with ear surgery. Trust your gut. When I met with my doctor, I KNEW he was the doctor for me. I had multiple consultations for otoplasty and due to COVID-19, they were all virtual consultations. I had consultations with two plastic surgeons at two different offices in Newport Beach and I had a consultation with a plastic surgeon from an office in La Jolla. Ultimately, I chose Dr. Burr von Maur at CosmetiCare for my ear surgery. I'll share more about my experience with him later, but feeling confident and trusting your gut when you choose your surgeon is so important.
What you SHOULD NOT DO:
Don't have plastic surgery if you don't have the time to recover. I learned that the amount of time needed for recovery varies depending on the surgery. It may only be a few days, but if you can't commit to letting your body heal because you have other obligations (a work event or trip coming up, for example), then reschedule for a better time. You don't want to put pressure on yourself after surgery. Plus, you will need to make time for follow-up appointments. Don't write off plastic surgery because you think you can't afford it. I was surprised to learn that many plastic surgery offices offer financing options, which means that you can make monthly payments. Saving up for surgery is important but you don't have to pay for the surgery in full even if it's an elective surgery. Also, even though some plastic surgeons charge for consultations, there are many that do not. All of the consultations that I had were free consultations. Plastic surgery is a big decision, so I appreciated that I was able to meet with multiple doctors and that they didn't charge to answer my questions.
Surprising Facts About Ears
Did you know there are a wide range of ear surgeries? Throughout this experience, I learned a lot about earlobe repairs, earlobe reductions, ear pinning and even earlobe fillers! Yes, it's true, that last one is really a thing.
Apparently, earlobe fillers can help make ears look more youthful. As we get older, thinning happens because earlobes begin to deflate, causing wrinkles and folds. Plastic surgeons and injectors can perform earlobe rejuvenation with dermal filler. I was told that usually one syringe can rejuvenate both ears!
Another fact that I found really interesting is that our ears and our noses never stop growing. While the rest of our body shrinks as we get older, our noses, earlobes and ear muscles keep getting bigger…. I read this on The Dr. Oz website while doing my otoplasty research. It's why older people generally have larger ears. If you haven't noticed that before, I bet you will now!
I also learned that outside of thinning, earlobes tend to grow downwards as well with age (or due to genetics). They say that earlobes are one of the giveaways of age. For this reason, some people just have an "earlobe reduction." It reduces the size of the earlobe only and is said to be a quick procedure.
The other procedure that some people have is an earlobe repair. This procedure helps repair split/torn earlobes or the stretched earlobes that occur after wearing gauges. This is most often performed due to ear piercings that have torn or stretched out the earlobes. It's also said to be a relatively quick procedure.
In my case, my earlobes weren't torn and I never had gauges, but for some reason, my earrings tended to point downward. I believe it was because my piercings were too low and my ears couldn't support heavier earrings. My surgeon was able to repair my earlobes so that I won't have that problem any more!
About My Otoplasty Surgery
It's been almost 3 months since I've had my surgery. Although I'm still healing, I'm loving my results so far. See below for my before and after photo! These photos were taken just 2 weeks apart!
My stitches hadn't been removed yet in the after photo on the right, but I was truly amazed by the immediate difference!
About My Plastic Surgeon
As I mentioned before, I believe that choosing the right plastic surgeon is everything! It truly makes all the difference.
Dr. Burr von Maur is a board-certified plastic surgeon with nearly 40 years of experience. He is a true artist and honestly, his skills are second to none. I knew immediately that he was the surgeon for me. His bedside manner alone made me feel so comfortable. I felt like he really listened and understood my concerns. I heard so many times from the staff at CosmetiCare that he was a perfectionist, and I really believe that to be true. He spent so much time with me before and after my surgery and was really invested in making sure I healed properly. Honestly, I can't say enough about how wonderful Dr. von Maur is!
A few other highlights: I couldn't have felt more comfortable on the day of my otoplasty surgery.
CosmetiCare has it's own surgery center onsite in Newport Beach. Had I not had another plastic surgery procedure before, I don't know if I would have even realized what a benefit this is. So, let me explain: Many other plastic surgeons meet with you in their office for your consultation, pre-op appointment and all of your follow-up appointments. On the day of surgery though, you have to go to a surgical facility where lots of other doctors operate too. I tend to get nervous before surgery (I think most people do), so going somewhere new for the first time on surgery day was a little stressful. I didn't know there was another option!
Showing up at CosmetiCare, I already knew exactly where I needed to go. The environment was calm and peaceful (not hectic and chaotic like the surgical facility I had previously been to) and everyone knew my name. They had jazz music playing as I was prepped for surgery and every staff member that I interacted with put me at ease that day.
My anesthesiologist was incredible.
With every other surgery I've had, I've gotten extremely nauseous and sick. Full disclosure, I've only had 3 surgeries previously (tonsils removed, wisdom teeth removed, and rhinoplasty). Getting sick 3 out of 3 times was enough for me though. I had just accepted that I had a bad reaction to anesthesia and expected to wake up ready to throw up (sorry, if this is TMI). I was truly shocked when I came out of surgery and didn't experience any of the terrible side effects that I had in the past. This was all thanks to my anesthesiologist. Once I told him about my history, he let me know that they could take preventative measures to help stop the nausea. And low and behold, they did, and it worked! I used to say that my nausea was worse than any pain I had experienced. It was what I was dreading the most. I was beyond thrilled that I finally found a team that was able to handle my nausea properly!
Would I recommend Otoplasty?
Reading this, the answer is probably obvious. YES, I would recommend otoplasty. Yes, I would do it again. And yes, I'm very happy with my results. As I mentioned earlier though, if you're considering Otoplasty, it's important to do it for the right reasons. Second to that, it's most important to do your research!
As I continue to heal from my otoplasty, I'll post updates. Until then, I just want to thank the team at CosmetiCare for taking such great care of me. Although most of 2020 has been pretty awful, my surgical experience went smoothly, and it truly exceeded my expectations. It's helped turn this year into a better one and boost my confidence. As I imagine we'll still be wearing masks for quite some time, I'm so glad that I decided to have otoplasty. If you have any questions about ear surgery, I'd recommend reaching out to the team at CosmetiCare!