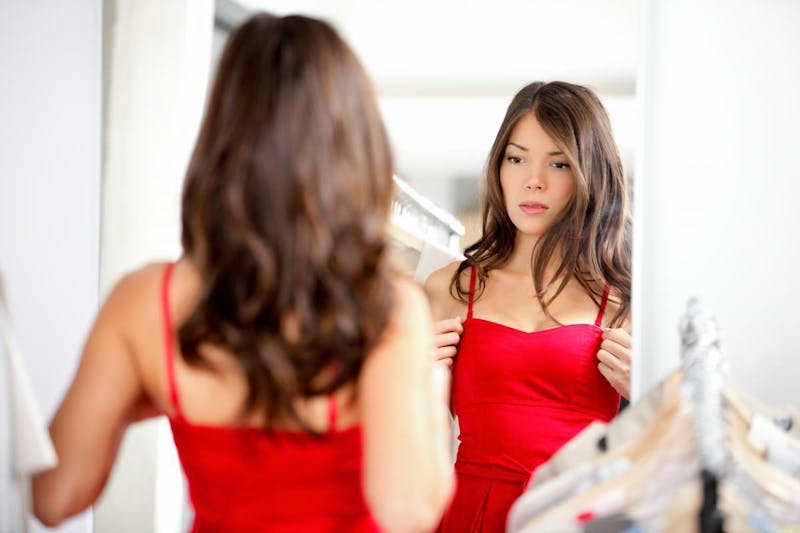 Many women opt for breast implant surgery as part of an overall plan to improve their appearance and boost their self-confidence. In addition to seeking breast implants, they may also be planning to lose weight. Since many women have experienced how weight loss affects their breast size, it's common to wonder how weight loss will affect breast implants.

How Will Weight Loss Impact Breast Implants?
Weight loss or weight gain will not have a direct impact on the actual breast implants. However, it may affect how your breasts look. Many women also wonder: What is the best weight to be at before surgery? Read on for more on these common questions and concerns.
Gaining a few pounds when you have breast implants is unlikely to change your breasts drastically. But if the weight gain is more than a few pounds, you'll likely see your breast size increase and it may be out of your comfort zone.
A small weight drop after breast augmentation will have little to no impact on the appearance of your breasts. However, if you lose a considerable amount of weight after surgery, your new implants may begin to droop or your breasts may lose some of their fullness.
What You Should Know Before Getting Breast Implants
Always choose a board-certified plastic surgeon and discuss everything you want to know about the breast augmentation procedure prior to surgery. Your surgeon should review your medical history and talk with you about the goals you have for your appearance. This initial step is called the consultation and will help you get a better understanding of what to expect. During this step, your plastic surgeon will go over your options for size and shape as well as the placement of the breast implant. Some women consider combining breast augmentation with a breast lift during this stage as well. At CosmetiCare, you can request a simulation and "try on" your new look. The simulation will provide an idea of what you could look like after surgery to help you make the best decision.
Because plastic surgeons recommend being at or near your ideal weight before breast augmentation, it's important to discuss how weight gain or loss could potentially affect the outcome of your surgery. The recommended volume of your implants depends on your current body shape and weight, so if you plan to lose or gain weight, you should let your surgeon know so that you can decide together the best shape and size for your breasts.
It's important to remember that your breasts change all the time. They can be bigger at certain times of the month (hello aunt flo!), and as you age, your girls may head south (sorry ladies). All kinds of things can affect your breasts including your diet, the activities you do, pregnancy, medications, and hormones! Subtle changes are normal and not something to worry about.
If you're planning on losing a substantial amount of weight though, it's important to talk about this with your plastic surgeon before going under the knife. It's best to be at your goal weight before getting breast implants. Why? To achieve the best results from plastic surgery, you want to start with a solid foundation. This way, the best breast surgery options, and implant size are chosen for the long term you!
Because breast augmentation affects your overall proportion, your plastic surgeon will take many things into consideration before recommending the right size for your body. In general, smaller implants are typically suggested for leaner women with a thin frame. If you have wider hips and shoulders, your body might look best with larger breast implants. Your frame and weight at the time you're planning for surgery will affect the recommendation for breast implant size. Any significant weight change afterward—in either direction—could very well change the appearance of your results.
How Can Losing Weight Affect Your Breast Implants?
Losing or gaining just a couple pounds won't cause noticeable changes in your breasts, but losing more than 20 pounds can make a significant difference. It's important to remember that your breast implants will not get bigger or smaller as you gain or lose weight. If you are losing a significant amount of weight, your implants will look larger on your smaller frame. In most cases, this will not be what you intended, so you may find yourself looking disproportionate. This is why it is so crucial to maintain your body weight post breast augmentation. Your initial consultation decides your correct size based on your figure at that time, so if you do plan on losing weight, that should be discussed with your surgeon so that they can find an appropriate size for you.
Does Losing Weight Affect Breast Implant Placement?
There are two options when it comes to breast implant placement: subglandular and submuscular. Subglandular placement is behind mammary glands but in front of the pectoral, or chest muscle while submuscular is behind both the mammary glands and the pectoral muscle.
Women with subglandular implant placement who lose more than 5-10 pounds may experience implant outlines showing through their skin. Dramatic weight loss following a breast augmentation procedure may also cause the breasts to lose natural fullness.
How your breasts will change is hard to predict. Women with natural breasts will see a change in cup sizes when they lose or gain more than 20 pounds. While those with breast implants won't have a change in cup size but may notice that their breasts no longer appear natural. As you have learned, with some implants, dramatic changes in weight can cause dramatic changes in appearance even though the implant itself hasn't changed.
It's important to share your weight loss goals with your plastic surgeon. If you are not at your ideal weight and lifestyle goals, it's essential to let your surgeon know how you plan to change your body in the future. Basing your breast implant size and shape on your current figure may not be beneficial as your body will go through changes during your weight loss.
Choosing the right plastic surgeon is crucial. While the process of finding the right board-certified surgeon can be overwhelming, it's essential to find one with years of experience performing breast augmentations. Your plastic surgeon will have had many patients just like you who plan to lose weight in the future. Together you can choose the right implant and time for your augmentation so that you can look and feel your best.
Meet the team of Board-Certified Plastic Surgeons at CosmetiCare.
Will My Breast Implants Still Look Good After Weight Loss?
The short answer is yes. Most patients have a little fat in their breasts, so some weight loss should not affect the augmentation results dramatically. Some patients even find that minimal weight loss can make their breasts look fuller and they prefer the difference. It's always a matter of preference, so again, make sure to discuss your plans with your surgeon to achieve the best outcome.

What Is The Best Weight To Be At Before Breast Surgery?
If you plan on making changes in your weight, we recommend you do so before having breast surgery, and then try to maintain that weight. Part of knowing if you're at the "right" weight for surgery is knowing when you're comfortable in your skin. If you are a few pounds from your regular weight in either direction and have maintained that weight over time, that's great! You don't need to change to become someone else's definition of "perfect" before surgery.
However, if you do plan to lose a significant amount of weight in the near future, it's important to consider waiting for your breast augmentation as significant weight loss can skew the results and lead to a disproportionate appearance.
It's far more critical to be realistic. We understand the importance of feeling confident in your body, and we help women of a variety of body types and sizes achieve more beautiful breasts.
View Before and After Photos of Breast Augmentation.
Fortunately, it's in your best interest to maintain a stable weight for several reasons. Yo-yo dieting is linked to problems such as high blood pressure, high cholesterol, depression, and diabetes. Weight gain also takes a toll on your skin, causing a loss in elasticity. So let us repeat—its best to be at your ideal weight before breast augmentation, both to ensure lasting results from the surgery and to protect your long-term health.
It's also important to stay active before and after your augmentation (follow your surgeon's directions closely following surgery). By maintaining your health and ideal weight, you'll have long-lasting, confidence-boosting results.
If you're wondering if you're ready for breast augmentation or if you're considering reducing your breast size in Orange County, give us a call at 949-438-5303 and ask to schedule a complimentary consultation. We're happy to help you think through all the variables before you move forward. At CosmetiCare, we always want you to be completely comfortable before committing to a new look.