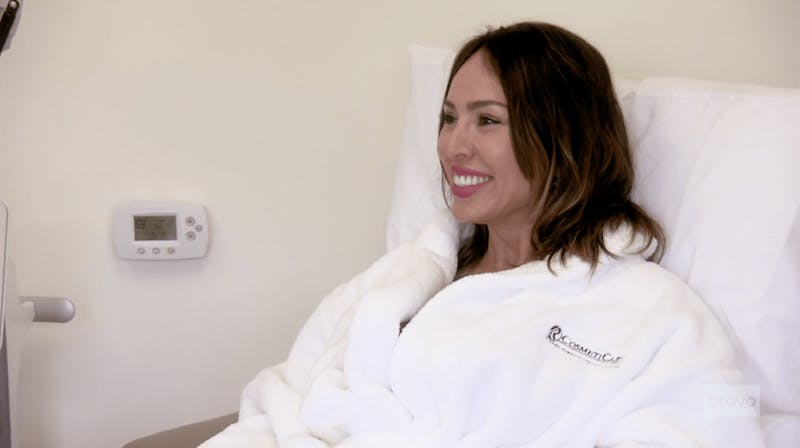 Learn how The Real Housewives of Orange County Star, Kelly Dodd, had a life changing experience receiving vaginal rejuvenation treatment at CosmetiCare Plastic Surgery and MedSpa.
The Real Housewives of Orange County star, Kelly Dodd, Has a Life-Changing Vaginal Rejuvenation Treatment at CosmetiCare Plastic Surgery Center and MedSpa!
The Real Housewives of Orange County favorite and CosmetiCare frequenter, Kelly Dodd, recently visited our Medspa for a vaginal rejuvenation treatment. Dodd brought her friend and RHOC co-star, Vicki Gunvalson, along for emotional support, and to learn a thing or two about the treatment. The two stars had a blast as they lightheartedly joked to each other throughout the procedure. While Vicki was less enthusiastic about seeing Kelly's "private parts", the RHOC duo still never failed to provide their signature charm and banter. Dodd was noticeably comfortable and casual as she experienced our new C02RE Intima, non-surgical laser energy treatment. This exciting new technology is minimally invasive and improves skin tone, texture, and appearance while helping to correct common issues of urinary incontinence, undesirable sensations, and general discomfort. With relative ease, our C02RE Intima vaginal rejuvenation treatment had a positively "life changing" outcome for RHOC star, Kelly Dodd. While bravely documenting her entire procedure on camera, the jovial and confident Dodd proceeded to "get things tightened, literally, inside and out", as she so elegantly expressed. The actual procedure is a bit more complicated than that, however our talented and respectful staff work tirelessly to ensure that our vaginal rejuvenation treatment is as painless and comfortable of an experience as possible. Despite it's somewhat intimidating or confusing premise, using C02RE Intima for vaginal rejuvenation (vaginoplasty/labiaplasty) is safe, quick, and easily accomplished as a "walk-in, walk-out" procedure. Most women, including Dodd, experience satisfaction and relief from urinary incontinence, physical and psychological stress, and other vaginal discomforts after a single treatment. The aesthetic results of the laser skin tightening can be an added benefit or the primarty reason for undergoing the treatment. 
 Kelly Dodd, along with other The Real Housewives of Orange County co-stars, has frequently placed her trust and confidence in Dr. Michael Niccole and the talented medspa and surgical provider team at CosmetiCare Plastic Surgery Center and Medspa. So when Dodd felt the need to alleviate the stress and discomfort caused by naturally occurring vaginal stretching and labial enlargement, she knew that she could count on Cosmeticare Orange Country quick liposuction recovery to provide the easiest and most effective experience. Speaking to the camera about urinary incontinence and vaginal discomfort, this RHOC star asserts that "it happens to, like, the majority of us, especially if you've had a baby." And Dodd is absolutely correct. Pregnancy, childbirth, and aging cause a large majority of women to experience unpleasant vaginal/labial stretching and other discomforts that lead to both physical and mental stress. Vaginal rejuvenation treatments are a tried and true remedy for these unfortunately common and natural ailments. With our new C02RE Intima laser energy treatment, women like Dodd can experience lasting results and instant relief within one quick and easy treatment. "I'm very happy. It changed my life," expressed Dodd with a confident smile. New Look Now Can Show You How! Want to know how you'll look after vaginal rejuvenation treatment and
is labiaplasty covered by insurance? Visit our partners at New Look Now to get a completely free and remarkably accurate simulation of the results. New Look Now utilizes cosmetic experts to show you how you will look post-procedure through real-time image editing. Simply submit a photo of any area on your body that you'd like to alter and the technicians at New Look Now will deliver a precisely edited version back to you within minutes. Try New Look Now for free today!
Click here
to learn more about our positively life-changing vaginal rejuvenation and C02RE Intima treatments.