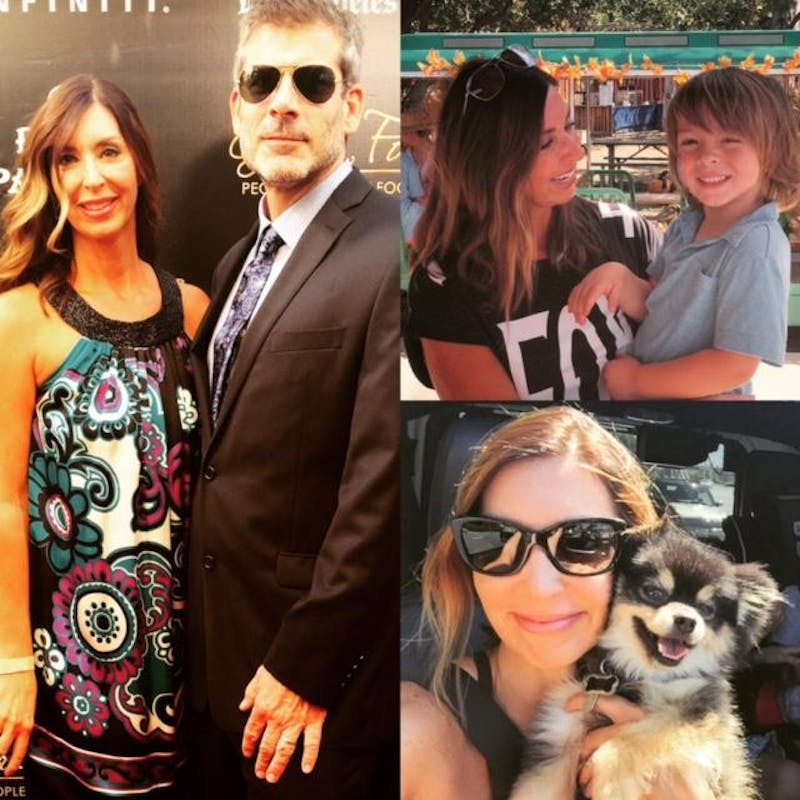 The Juicy Details of a Liquid Facelift
By Debbie Lavdas
What's a Liquid Facelift? Does it work? Is it painful? What age do you get one? Are they really done over a lunch hour? Well, if you've ever wondered any of these q's quietly to yourself, you're in luck, because I just had one, and I'm sharing all the details. Plus, I'm showing some before and afters.
As a CosmetiCare Mom Ambassador, I've been trying out various medspa (code for non-invasive) treatments, which are performed at their office near Balboa Island. In a nutshell, a Liquid Facelift is a combination of different injections (needles only, no plastic surgery scalpels or anything). The injectables smooth wrinkles, lift eyebrows, contour cheek bones, add lip volume and fill smile lines. My fellow ambassadors and I are all trying noninvasive treatments; you'll see the other gals pictured in the lobby of CosmetiCare. So, if you stop in—know that they're also great, real resources).
Now before this time, I'd never even thought about getting a Liquid Facelift, and I can't say that I really even knew what one was, but after meeting with the CosmetiCare team, they sized me up and essentially said "let's do a little Juvederm here, some Voluma™ XC here, maybe Restylane and, of course, Botox." I saw my consultant's lips moving, but I hardly understood a word she was saying. I seriously went home and googled half the terms she was talking about. At any rate, I was up for a face refresh, so I gave it a go. (And knowing, none of the CosmetiCare treatments were permanent like plastic surgery—why not?)
Some people do this medspa magic over lunch, hence the chic saying: "lunchtime facelift." I, however, split mine over a few visits, upon the advice of my nurse, Kat. She wanted to see how I reacted to the treatments and to make sure that I was comfortable, since this was all new to me. Let me just say, in hindsight, how much I appreciated that. I underestimated the trust you put in someone who does this; they're essentially sculpting your face and really need an artistic eye. They also need to get a sense of you to make sure that your outward refresh matches your inner personality. I was somewhere in the middle of "up for anything, and let's not get carried away here." Kat was my perfect match, and she's the Queen of modern injectable tricks and liquid facelifts. So, without further delay, what you really want to see I'm sure is the Before and Afters (all untouched photos below taken on my iPhone about 5 weeks apart, mediocre lighting, both before appointments). Befores on the left, Afters on the right.
Picture below. Same dress in Before (left) and After (right). The Before; preBotox or anything else. The After, what I see: my eyebrows lifted, wrinkles smoothed and crow's feet lessened (all by Botox). Volume is added to cheek area (Voluma XC) and smile lines filled (Juvederm). Note, I still have expression wrinkles in the After—it's not like I'm planning to be 25 again. Note: Voluma is the key of a Liquid Facelift I think, as the added injectable volume to the cheeks raises "faces that have fallen" over time—jowls are raised by lifted cheeks and everything is "elevated" and returned to facial conouring of years past. People think Botox makes the big difference, Kat told me, but it's really Voluma, which is a new advancement with thicker liquid and can last up to two years. Closeup below. Juvederm at work–reducing the "face parentheses" people talk about. Juvederm also lasts a long time (maybe 9 mos.) vs Botox, which has the shortest long-term effects (needs redone every four mos. approx.). Timing all depends how quickly your body metabolizes the liquids.
Finally, below is lips post-plumped. I was quite reluctant to have my lips touched, but Kat encouraged me to try it conservatively. "Let's just give you a pout from 10 years ago." Hmmm, ok, I was game for that. So here's my refreshed pout (Juvederm) at a recent outing when I was solemnly mugging for a Wanted poster, while out with the kids at a Halloween event.
Overall, Kat summed up the whole Liquid Facelift well when I saw her later for a recheck. I told her that people were kindly saying things like, "You look great and 'I'm not sure what you've done, but you look good." Kat said that this was the biggest compliment someone could give her about her work. "People shouldn't look at you, and say: 'You got your lips done, or point to your cheeks or forehead. You should just look refreshed and more youthful." So, I appreciate the positive sentiments, which I'm sure also reflect lifestyle changes I've been doing to get healthier and stronger. I don't look like a different person now—just a little more rested and renewed from the years that my adorable little love bugs have aged me (some might even say 'sucked the life out of me'; I kid, of course). But really … kids, work and life struggles obviously age us and "weather" us. And, no, I don't need to keep every one of my lines to remind me of how I 'lived,' I'll keep those memories inside just fine. My life continues now as it always has, obviously. The cosmetic treatments haven't made me richer, I've not found new fame, not that I was looking, and I'm still pulling my hair out with three kids to keep after—the 3-year old is particularly a firecracker. Medspa treatments should simply enhance the you that you know. I'm the same person, taking silly selfies with my Pom, playing with my kids at pumpkin patches, and occasionally hitting a fancy-schmancy red carpet with my husband.
So a few top q's you might be asking: Did it hurt? The Botox was prickly, a little stingy, but pretty minor. The Juvederm is not bad at all; they apply a numbing cream before. The Voluma XC definitely goes deeper in the face (and it makes a crunching sound for some reason when injected, so that may take you by surprise). After the Voluma XC, my cheeks ached. I took Advil, and chilled for the night). Will you instantly look great? The Botox actually takes several days to start working; I saw most results a week later. I also liked the Botox best after it settled; a few weeks later. The Juvederm (for smile lines) seemed to add volume quickly. And the Voluma XC added instant cheek volume but, quite honestly: I looked a little "Star Trek'y" immediately after. The Voluma XC absolutely takes time to settle down; up to three weeks. So be patient with the cheek area; don't freak out, don't plan any big events right afterward, and know that they may have to tweak the cheeks—no one's face is perfectly proportioned to begin with. Your nurse may need to add more volume to adjust evenly once swelling and any bruising has gone away. Do you bruise? No bruising for me on Botox (forehead etc), but I definitely bruised around the laugh lines by my mouth and on my cheeks. I tend to bruise easy anyway, so this wasn't a big surprise to me. ICE right away; you'll be able to tell what areas are most likely to bruise up. Also, invest in some extra-duty concealer to cover the bruises for the next week. Lips bruise/swell the worst? For sure. Ice, ice, ice and go for dark lipstick, and again, don't plan an outing right away. Would you do it again? I would do all again. I'm jazzed that I got to try these anti aging tricks out and see what tools I have to work with in the coming years. Noninvasive advancements are pretty amazing. And many of the injectables are made of the same stuff your body naturally produces (Juvederm and Voluma are made of Hyaluronic acid, naturally present in the human body in the joints for cushion and lubrication. The beauty industry discovered it to keep the skin plumped and hydrated. etc. It's a chain of sugars combined with water that volumizes. So stay hydrated with a Liquid Facelift for max results.) Botox of course is not natural, and a toxin, but they've said to have proven it non harmful over endless testing. You can read more Liquid Facelift q and a's here: https://www.cosmeticare.com/article/do-liquid-face-lifts-really-work Note: Liquid Facelifts work best on faces that are not showing advanced signs of aging.