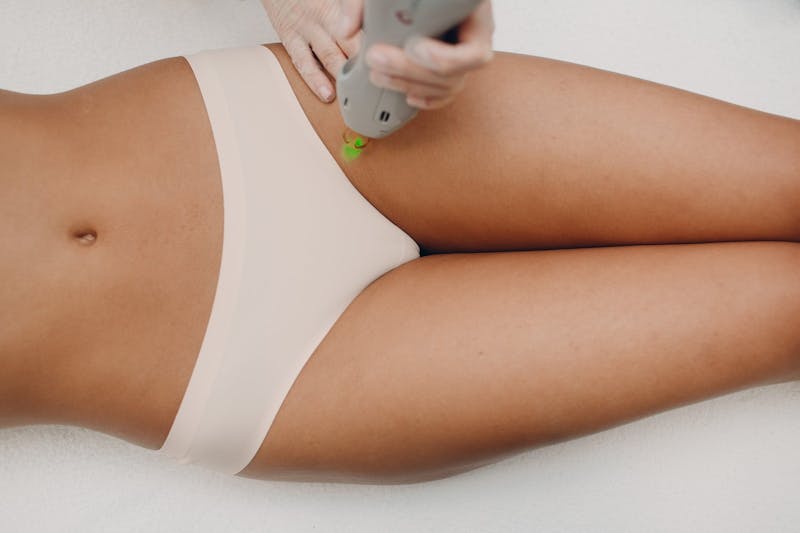 Is Laser Hair Removal Worth It?
It was a long and expensive road until I finally gave up and tried laser hair removal. My hair tends to be on the thicker side and even with waxing and sugaring I would get ingrown hairs or razor burn. It was THE WORST. I would feel embarrassed by my bumpy bikini line when I would have to wear a swimsuit. After legitimately years of shaving and then trying different sugaring and waxing salons, I tried laser hair removal.
To be honest, I wasn't completely sold at first. My first laser session was at Laser Away and from my experience their business practices seemed rather sneaky and dishonest. They overpromised and undelivered, and I think they took advantage of me a little bit with false promises to get me to commit to a longer agreement. Boo!
Even after that awful experience, I didn't give up and tried one more place, SEV laser, that gave me faith in the process. I started laser with just one medium area and saw results!!! It was amazing. BUT, in my opinion this salon had some major cons that had me concerned about committing to a long term and expensive process like laser. The salon was always booked and whenever I went for an appointment, I had to wait for an obnoxiously long amount of time. I could never squeeze it into my lunch break! It was so frustrating. Also, this is such a minor thing but for some reason it weirded me out. The nurse or medical esthetician would be in the room with you when you would undress. Usually, places give you privacy to undress and get settled with a medical paper blanket over your body to make you feel more comfortable and at ease before having to reveal your private parts to a stranger. I mean, I know this chick is literally going to be getting up close with my butthole anyways, but it still feels rather intimate to directly undress in front of someone. I think the etiquette of giving someone the privacy to undress alone is something I value. Don't think I would be the only one to agree here on this.
Third time is the charm because CosmetiCare and Nurse Titi seriously check everything off my list. They are timely, efficient, and HONEST about the process. After the first treatment I already saw strong results. This was not the case at the other places, so I was impressed. Nurse Titi is extremely knowledgable about lasers and makes the process much less painful and time efficient because of her skillset and experience. I just finished my second treatment, so I am excited to see the increasingly positive results!
Laser hair removal definitely works and eliminates any colored hair while leaving your skin feeling so smooth. I definitely think it is worth the investment, but don't make the same costly mistake that I did and start with the cheapest. It is all about QUALITY. If you have had any issues with razor burn or ingrown hairs, it truly makes an incredible difference.
RESULTS — How long does it last?
You will see results (small hairs will fall out, not grow back, or grow back thinner) a few weeks after the first session, but for full hair removal you will need multiple treatments.
Every 2 months they recommend coming in for touch up treatments, but it really varies per area and person. Each hair type is different! Some thicker hair will take longer to get rid of while others thin out or disappear super quick.
BTW, this only works on hair with color in the follicle. White hairs or super light baby hairs will not be removed from this laser.
THE PAIN — Is it painful?
Not awful. Not lovely. It is way less painful compared to sugaring or waxing, which I have both tried. Certain areas that are more sensitive can hurt more, but it is such a quick process that you can power through it. The pain goes away after the first zap. Most people compare it to snapping a rubber band on your skin.
I have tried laser at two other places (Laser Away which literally sucks and Sev Laser which was pretty good just painful/hard to book appointments) and CosmetiCare was BY FAR the least painful. I think the main reasons it was so much less painful was because they have the most premium machine with hydro-cooling air assistance and because their technician (@nurse_titi) is extremely well trained and knows her shit. She maps every section out before going in with the laser, so it is more efficient and the process goes quick.
PRE LASER PREP – THE DO's and DON'TS
DO
Shave before the treatment – The nurse will shave for you if needed, but it is an extra charge.
Ask about numbing cream and explain your pain tolerance – I personally did not use the cream and thought it was completely manageable, but if you have a low pain tolerance be sure to know you have that as an option!
DON'T
Tweeze or wax before the treatment. It removes any hairs from the area, so they will not get treated.
Tan – No sun exposure or fake tanner before the laser treatment. The laser will pick up on this pigment instead of your hair follicle and it could burn your skin!
LET'S TALK PRICE — How much does laser hair removal cost at CosmetiCare?
The price varies depending on how many areas and which ones you are getting treated. Here is the general breakdown of each area's pricing per session. They often do bundle pricing if you buy multiple packages.
SMALLER AREAS (brows, chin, upper lip, etc.) range from $50-$100
MEDIUM AREAS (neck, under arms, half leg, etc.) range from $150-$250
LARGER AREAS (Brazilian, full Legs, back, etc.) range from $300-$500
Learn more about Laser Hair Removal
We hope this was helpful and please contact us if you have any questions!
This post originally appeared on sweat+TELL on February 8, 2020.