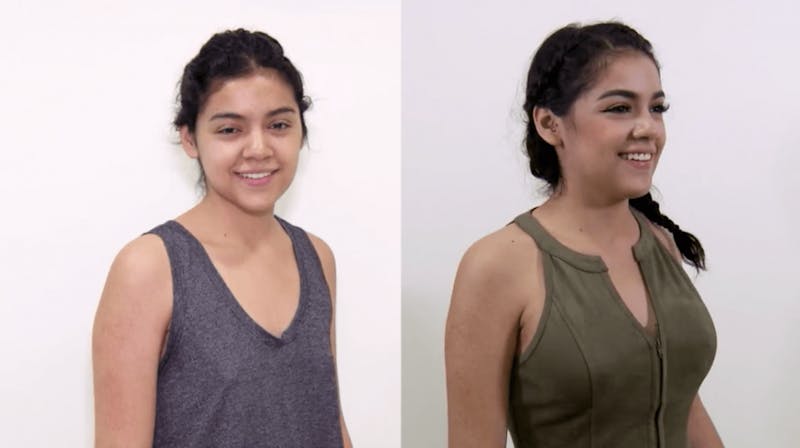 Inside Edition Reports On 17 Year-Old Teen Receiving Breast Augmentation For Graduation
Teenager Receives Breast Augmentation Graduation Gift from Parents at CosmetiCare
Inside Edition aired a special report on Erandeeny Valencia, a 17 year-old teen who received breast augmentation as a graduation gift from her parents. This episode of Inside Edition aired on August 30th, 2017 at 4:30 on KCAL channel 9. Watch the segment here.
---
While most American teenagers hope to be gifted a car or some extra cash for graduating high school, Erandeeny Valencia had other plans. This 17 year-old California girl had only one wish… to undergo breast augmentation surgery.
As a teenager and a recent high school grad, Valencia was obviously unable to have her desired surgery without some help. Fortunately, Valencia's parents were proud enough to give her the
breast augmentation in orange county procedure as a graduation gift. While Valencia's present might seem unusual, there is actually a noticeable growing trend of cosmetic treatment graduation gifting in America.
According to a 2016 report by the American Society for Aesthetic Plastic Surgery (ASAPS), nearly 20% of all cosmetic enhancement treatments were undergone by people aged 19-34. That's a sizable portion of the plastic surgery market, and it demonstrates that cosmetic enhancements are not only intended to help rejuvenate aging bodies.
These procedures can be positively life-changing for young people and can dramatically impact their confidence levels. Increased confidence immediately after graduating is immeasurably beneficial to a graduate's future success. Speaking to Allure Magazine about her experience helping recent grads, dermatologist Whitney Bowe stated that many "modern parents are very open to helping their children feel good about their bodies." Bowe has seen an increase in graduates receiving non-surgical cosmetic treatments such as CoolSculpting to help relieve problem areas that have "dramatically affected a child's self-esteem."
(Erandeeny pre-surgery)
During such a critical and nerve-wracking period in a young person's life, finding new confidence boosters is crucial. While some parents might feel that plastic surgery as a gift is a bit overboard, others will do whatever they can to ensure the happiness of their children. That is the route that Erandeeny Valencia's parents took when they decided to gift her a
cheap breast implants orange county procedure.
Valencia's parents entrusted her well being to Orange County's CosmetiCare Plastic Surgery Center and MedSpa and the highly capable hands of Dr. Von Maur. After doing some initial research, the Valencia family decided that CosmetiCare has the type of unparalleled service their daughter deserved. Valencia underwent her breast augmentation procedure earlier this summer, almost immediately after graduating high school. She now feels more confident and comfortable with her body at a time in her life when confidence is vital.
(Erandeeny before and after)
As Dr. Lara Devgan told Allure Magazine, "when kids are getting ready to make a change, and meet a new set of people, some degree of reinvention is inevitable, and plastic surgery can be a part of that." Graduating high school and going off to college are major life events and the actions that a young person takes in those moments can define their life path. Cosmetic enhancements can be the extra confidence booster that they need to feel good about themselves and to take on the world from a new and fresh perspective.
Click here to learn more about the breast procedures that CosmetiCare has to offer.
Or, Please Call CosmetiCare Breast implants Orange County for appointment.