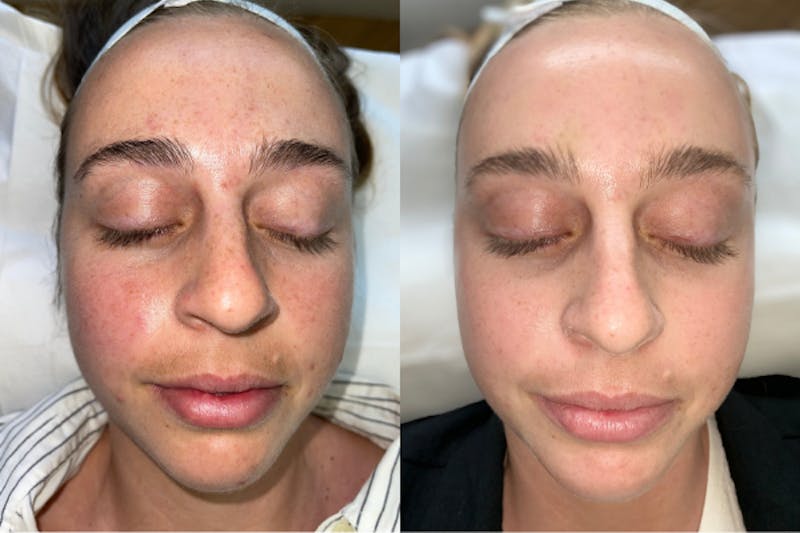 Home » Articles » I Kissed My Acne Goodbye at CosmetiCare in Newport Beach
I Kissed My Acne Goodbye at CosmetiCare in Newport Beach
by Courtney Clements | Jul 21, 2021 | Articles
Want to know what it's like to get a chemical peel? Find out by reading this first-hand experience with my first ever VI Peel.
When it comes to beauty, I've always kept it simple. For me, less is more when it comes to skincare and beauty products. For the last twenty-seven years I've had flawless skin. However these last six months have proven otherwise as I have been experiencing hormonal acne. I decided to consult with the aesthetician and skin care guru Jessica at CosmetiCare, and her best advice to help clear my skin was to do a series of chemical peels. She recommended I begin with the VI peel as it is a great introductory peel for someone who's never experienced one. Also it's an amazing treatment for individuals who are suffering from active acne breakouts, acne scarring, or hyperpigmentation issues like melasma. As someone who's a newbie when it comes to skin care treatments I had no idea what to expect. I truly trusted Jessica to treat me as she best saw fit, and I was so excited to begin my journey to healthy, acne free skin.
While at My Appointment:
On the day of my appointment, I came into CosmetiCare and was quickly greeted by Jessica. She was informative and had such a calming demeanor about her. Whatever nervousness I had felt quickly vanished.
She explained the VI Peel to me in great detail- what ingredients were in the peel, and how they work in conjunction with my skin. After her explanation I knew that this was the perfect chemical peel for my skin type!
Getting the chemical peel itself was actually quick and easy, the treatment itself is only about ten minutes long and involves the application of the peel itself. After applying the first layer of the peel there was a minimal burning sensation, and Jessica was quick to hand me the fan to alleviate any burning. After the second layer of the peel, the burn subsided quickly, and over the next four hours the peel stayed on my face. I had no burning or discomfort, just mild tightness from the peel working its magic.
For best results, we decided to do a series of three VI peels, spaced four weeks apart. Here's a breakdown of my VI peel journey:
Peel One:
After receiving my first peel I started peeling four days after application. For the VI Peel, it's normal to begin peeling by day three. I started peeling heavily around the mouth and nose first and continued peeling outward towards the edges of my face and hairline. By day seven, my skin had completely shed leaving my skin glowy and dewy! I saw improvement right away with pigmentation, and the redness from my acne had gone down significantly.
Peel Two:
The peel application was a bit spicier this time due to the fact that I had fresh baby skin from the first peel. I also started peeling a little earlier, three days instead of four. The amount of peeling was about the same and I was done peeling on day seven! After my second peel, my skin looked noticeably brighter. I still was experiencing some active breakouts, but the overall pigment of my skin had significantly improved.
Third and Final Peel:
This last peel was even more exciting because I added Xeomin to my treatment! VI Peel likes to use their peels with Xeomin because it enhances the results considering those fine lines and wrinkles are being eliminated. After being told that, I had zero hesitation to add Xeomin to my treatment plan. A tox-booster, as it's called, works like this: The VI peel is applied, followed by an injector administering the botox right on top of the peel. The peel acts as a sterile field so no wiping or cleaning is necessary. Another plus is that the VI peel has lidocaine in it, which preps the skin with a bit of numbing, making the Xeomin an even easier treatment.
This third peel seemed to be the strongest for me. I peeled on the second day, and my peeling was much heavier than the previous two. After I healed from this peel, my active breakouts were GONE. My melasma and redness were a night and day difference, and I was finally beginning to feel confident again.
My Recovery:
VI Peels are considered an introductory chemical peel. One could say it's the baby step towards a Cosmelan Peel or even a DSE Peel. That being said, my recovery process was basically a breeze. The VI comes with simple take home instructions and an after-care kit that includes sunscreen and after-care balm to alleviate any itching from the peeling process.
I didn't start peeling until day three, which the instructions clearly stated. It was very minimal around the mouth and chin at first. But it began to build gradually, peeling for a week total. It wasn't unbearable by any means, just some itchiness and sudden urges to peel the skin that was shedding. It's VERY important to NOT peel any skin, as this can cause hyperpigmentation during your skin's healing process.
I knew my acne wasn't going to be gone overnight, but this peel dramatically helped kick my active breakouts to the curb, and helped with the redness and inflammation I was experiencing from my breakouts. The once open, painful bumps I had weren't noticeable anymore and I finally started to feel hopeful that my skin was finally cystic acne free. Not only did it help my acne, but also my skin tone looked much more even, and brighter, even lightening up my melasma!
To get started on the journey to the skin of your dreams, call 📞 a book your complimentary consultation!
The Top 5 Reasons You Should Peel
Learn More
Related Articles
VI Peel and How It Changed My Skin
By CosmetiCare | November, 6 2019
Learn More