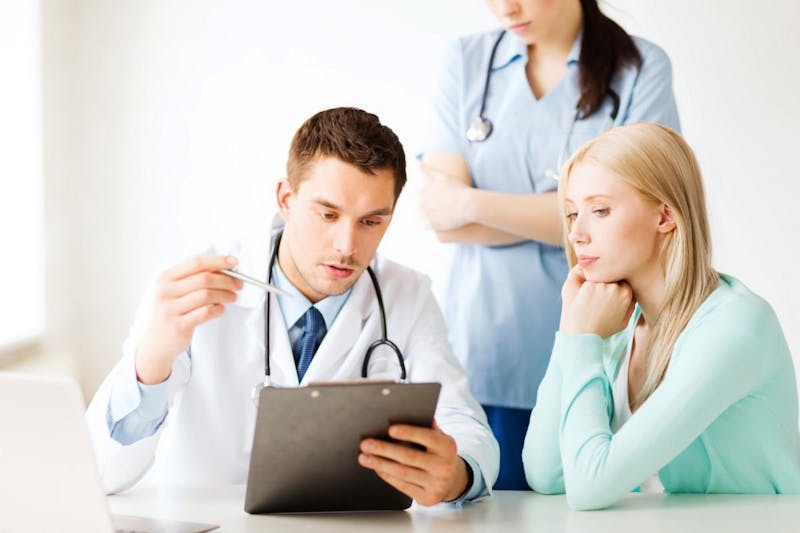 These Are the Top Things to Look for During a Consultation and How You Should Prepare for Yours
At CosmetiCare, we are constantly stressing the importance of receiving a quality consultation before making any major decisions regarding your cosmetic enhancement plans. We pride ourselves on providing the utmost care and concern for each of our patients. This high value of patient care is reflected in our attention to each individual's unique needs and desires. And it all starts with a consultation with one of our patient consultants.
While we can't speak highly enough of the care that our award-winning board certified plastic surgeons and registered nurses provide to each of their patients, the same may not always be said for providers at other plastic surgery centers and medical spas. That's why we're providing you with a brief checklist of what you should look for during a consultation. With these tips in hand, you will be able to prepare for your cosmetic enhancement journey with peace of mind. Even if you commit to receiving care outside of CosmetiCare, this consultation guideline will help you ensure that your care provider mirrors our same "patient-first" approach.
What You Should Look For During a Consultation
Accreditations, Certifications, and Credentials
Is your cosmetic surgeon board certified and/or does the medical staff have the proper training and credentials for every aspect of the procedure(s) that you are interested in? This is the first question you should ask in preparation for your consultation. It's also important to note that not all certifications are the same. Let's take a closer look.
The same rules and certification processes apply for cosmetic doctors as they do for non-cosmetic. All doctors are required to attend a 4 year medical school, where they decide on a specialty. Typically, they need to spend at least 2-3 years after graduating to train in their specified field and acquire the necessary certifications. This is where the board certification process comes into play.
Every U.S. based medical board is a part of the American Board of Medical Specialities. Each speciality or area of expertise is connected with a specific board. Most board certified cosmetic surgeons have received their certification from the American Board of Plastic Surgery. However, the amount of experience your surgeon has and the amount of experience within a specific treatment area is also very important to consider. During your consultation, you should clarify with your surgeon or medical professional how they received certification and what their area of expertise is.
Another factor to consider is the actual facility where your surgeon or medical professional is operating out of. What is the history of this surgery center or medical spa? Is it an accredited facility? What type of qualifications do the medical staff have? These are all important questions that should factor into your cosmetic enhancement planning.
For example, CosmetiCare was originally founded by Dr. Michael Niccole, a double board certified and award-winning plastic surgeon who continues to practice at our Newport Beach Plastic Surgery Center and MedSpa. We are also proud to have board certified plastic surgeons Dr. Burr von Maur, Dr. Brian Reagan, and Dr. Hootan Daneshmand at our facility. Additionally, we have certified specialists for a variety of treatments in our MedSpa including injectables, lasers, skincare and CoolSculpting. Every member of our medical staff is specifically trained and specialized to perform the treatments and procedures that we offer. These are the types of qualifications you should look for during a surgical consultation.
Are Your Needs Fully Understood and Prioritized?
The next step in a successful journey in cosmetic enhancements is to ensure that you feel fully understood and that your needs are prioritized. The medical staff and surgeons should help you feel relaxed, welcomed, and confident from the moment you enter the surgery center or medspa.
And within this state of comfort, you should feel at ease relaying each of your questions and concerns. No matter how granular or insignificant your questions might seem, you should never feel too rushed, embarrassed, or uncomfortable to ask them. This will help you come away from a consultation with every bit of information that you'll need to proceed toward undergoing your desired treatments in the best way possible.
Confirm that 100% of your available options are being laid out and explained for you. Some doctors might try to push you into receiving a specific type of treatment despite your original thoughts or intentions. This is often because that treatment is what they specialize in, or worse, because that procedure will make them more money. To sidestep this issue, be sure that you're being provided with a range of options to correct your problem area(s).
How You Should Prepare For Your Consultation
Once you've scheduled a consultation at a trusted top notch facility, you'll want to start preparing yourself for the actual meeting. A good place to start is to determine how much time you are able to commit to your procedure and recovery process. Knowing this prior to a consultation will help you choose the most appropriate treatment plan for your lifestyle.
Another common area of concern is the financial aspect of your cosmetic enhancement plans. At CosmetiCare, we will take as much time as needed to help determine the best possible payment options that will make financing your treatment(s) run smoothly and simply. However, it is always beneficial for you to have a firm understanding of your current financial situation and insurance information prior to your consultation.
Lastly, you may want to take "Before" photos at your consultation to better see and discuss the areas you would like to improve. At CosmetiCare, we offer our patients the ability to "try before they buy" using a virtual simulation tool via our partners at New Look Now. This virtual cosmetic enhancement visualizer enables patients to upload photos and receive expedited virtual treatment results within minutes. In fact, you can actually use the New Look Now cosmetic enhancement visualizer prior to even scheduling a consultation. Simply visit NewLookNow.com/cosmeticare to find out how you could look after your desired procedure.
Want to Know More About the Consultation Experience at CosmetiCare in Newport Beach?
If you're interested in learning more about the first steps toward achieving your ideal self, our incredible medical staff at CosmetiCare is ready to help. Fill out our online form or give us a call any time! We are happy to answer any questions you may have before you begin your cosmetic enhancement journey.