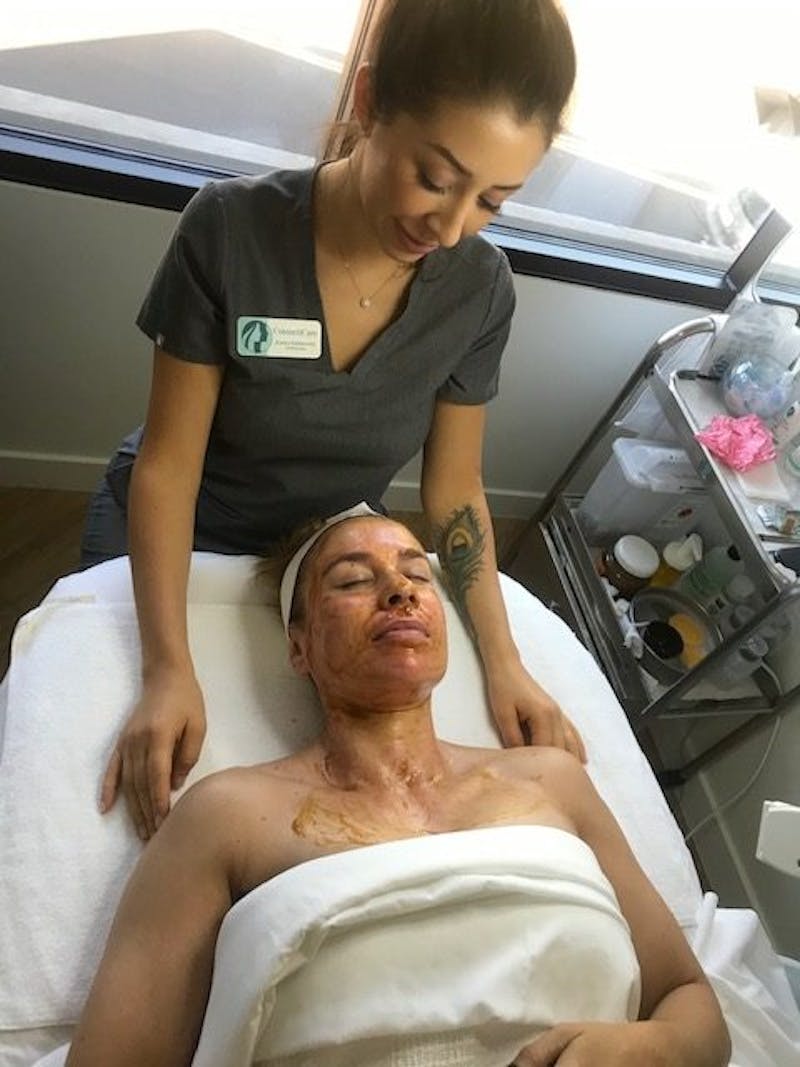 It's crazy to think that I really started taking care of my skin about three years ago. I was always scared of getting facials because from one bad experience where I got a giant zit, I thought that facials would cause me to break out every time. I now know that's not true and facials can be beneficial to all skin types and help with anti-aging.
My latest facial I experienced was at CosmetiCare where I got their Core Facial with Dermaplaning and a Pumpkin Peel add-on. It was my first time getting Dermaplaning and a Peel and I loved my entire experience. But before we talk about the service. Let's talk about the practice!!
This was my first time visiting CosmetiCare, but not my first-time hearing about it. CosmetiCare has been featured many times on the Real Housewives of Orange County and more than that has an amazing reputation for being a one-stop shop for everything from facials to injectables to plastic surgery.
The beautiful location overlooks the Newport Harbor giving a calming feeling while you get your service and or procedure done. I was very impressed with my Esthetician Jessica, who was not only personable, but very professional and asked me a lot of questions regarding my skin before we started the facial.
STEP 1
If you're looking for a basic, but good facial that you can do on a regular basis, the Core Facial is the one for you. It includes double cleansing and steaming, a face, neck chest massage with Jojoba Oil, light extractions, a Stem Cell Sheet Mask and finishing products. I've never had a facial massage and by far this was my favorite part of the entire thing! It was so relaxing!! CosmetiCare charges $100 for their Core Facial.
STEP 2
After Jessica cleansed my face, she performed Dermaplaning. This was a first for me and something I never thought I needed to do as I don't have a lot of hair on my face. Boy was I wrong. Not only does Dermaplaning remove the peach fuzz from your face, but also any dead skin as well, creating a smooth canvas for your makeup and skincare products to absorb more into your skin. I love how soft my skin feels and how well my makeup goes on now! Also, I do not recommend doing this yourself at home. Jessica used a scalpel to scrape off the hair and dead skin and one cut doing it yourself or using a tool that isn't sanitary could lead to an infection. Leave it to the professionals' ladies!! CosmetiCare charges only $100.
STEP 3
I've never had a peel before and honestly, I was so nervous to get one because I've had a few friends get peels where their skin was peeling off and falling onto the floor. #truestory Thankfully, the pumpkin peel, CosmetiCare's seasonal peel, is more of a brightening peel and not one that will cause my skin to peel off . The peel smelled so amazing and just like Pumpkin Pie! The peel will help with fine lines and wrinkles, acne, brightening, exfoliating and more. I had a tiny bit of peeling on my forehead and around my eyes, but nothing bad at all. CosmetiCare charges $50 for the Pumpkin Peel add-on and right now they're doing a special where you can get 3 pumpkin peels with Dermaplaning for only $299.
My skin feels amazing and I plan to incorporate all three treatments into my skincare regime on a regular basis. For more information on the services I had or any other services that CosmetiCare offers, please click HERE or call (949) 386-2773.
Visit my Instagram and Click the "Beauty 2" Highlight to see my entire service!