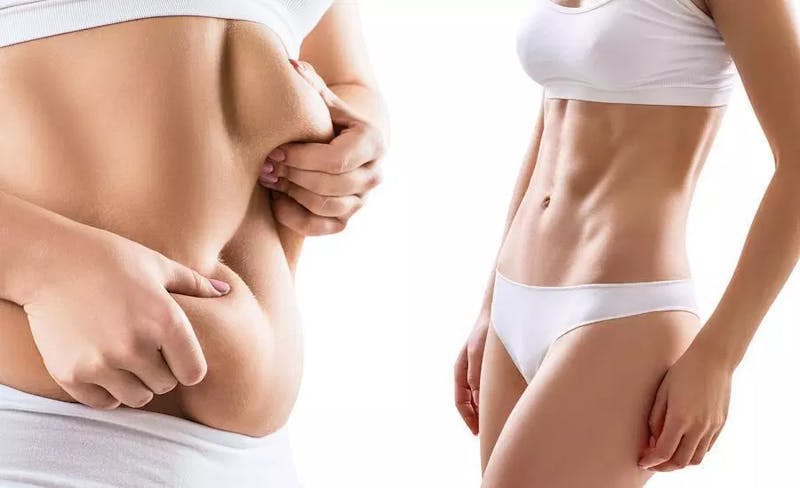 Freezing Away Your Love Handles With CoolSculpting
What is CoolSculpting?
Because fat is more sensitive to temperature than your skin, it goes through the cell dying process before your skin does. CoolSculpting is an FDA approved, non-invasive fat reduction procedure. It is famous for areas of the body that tend to stick around: fat under the chin, flabby upper arms, under the buttocks, and, of course, love handles.
CoolScultping was first approved by the FDA in 2010 and has been a popular procedure ever since.
Read more: Coolsculpting vs. Trusculpt – What's the difference?
How does CoolSculpting work?
Harvard scientists found that colder temperatures can reduce and eliminate fat cells without hurting the targeted area. This fat-freezing procedure utilizes rounded paddles in one of four sizes. The paddles create suction on your skin and fat, similar to a vacuum.
Patients relax in a reclining chair while the panels vacuum and cool their skin. The area becomes numb after a short period, during which some patients may experience mild discomfort. Many patients bring their laptops to complete work or watch videos, while other patients simply take a nap while the machine does its job.
As fat cells freeze, they disintegrate. During the following weeks, your body eliminates the dead cells naturally. It can take about three weeks for visible results. However, each patient's body responds differently. While a single treatment is often satisfactory, some patients will do multiple treatments to achieve more dramatic results.
Is CoolSculpting safe?
This procedure is exceptionally noninvasive, so the risks are relatively low. As with any procedure, risks and concerns should be discussed with your doctor.
The equipment used reduces human error when compared to other surgical procedures. On the other hand, the machine doesn't have the same fine motor skills that you'd find with a skilled surgeon. In reality, these are similar results that you might encounter with traditional liposuction. There are no scars, though, and swelling is minimal.
CoolSculpting's most significant potential complications involve nerve endings that remain numb longer than expected. This typically only feels like the targeted area is asleep.
Are the results permanent?
While the fat cells that die are lost forever, patients still need to pay attention to their weight. Fat cells around the treated area can certainly grow if you gain weight. The targeted area does not become immune to future fat growth.
Keep in mind that shedding unwanted fat won't necessarily add up too much on the scale. Most patients look to obtain better proportions in their current weight. Losing extra fat that spills over the top of your pants makes a huge difference, but the procedure isn't a replacement for a proper diet and exercise.
CoolSculpting is not a replacement for weight loss but is an excellent way to compliment your hard work. Maintaining lasting improvements in the procedure will require dedication to nutrition and exercise.
When should I start CoolSculpting?
It is vital to plan when to best enjoy the results of slimming down those problem areas.
Keep in mind that results are not visible for a few weeks. The fat loss reaches its peak at around eight weeks. Most clinicians suggest that your skin will look its smoothest at approximately twelve weeks.
A single treatment is often not going to produce the desired results, so you might need multiple treatments. It is recommended to wait at least six to eight weeks between appointments.
While it's not always easy to plan too far in advance, even a single procedure will likely result in an improvement.
Tips to improve your CoolSculpting experience.
If you are considering a CoolSculpting procedure in Orange County, there are several tips to ensure you have the best possible experience:
Wear Spanx.
After the procedure, you may be a little swollen and tender for a few days. Wearing compression-style clothing will help you remain comfortable while you recover.
Massage.
While it might be a little uncomfortable, make sure to massage the treated area. Massaging helps break apart the frozen fat cells. If possible, have someone else do this for you.
Move around.
While you should take it easy after the procedure, don't let that keep you from moving. Getting up and walking around will promote circulation. You also don't want to skimp on your exercise program. You can certainly take it easy for a few days, but don't let a CoolSculpting procedure set you back.
Avoid anti-inflammatories.
There will be a little swelling and inflammation after a CoolSculpting treatment; it is entirely natural. The natural swelling is part of the fat cell elimination process and should be considered both necessary and good.
Document your experience.
Make sure to take pictures before, after, and during your procedures. Most clinics will take measurements during the process as well. Others who are considering CoolSculpting will appreciate your notes, photos, and shared experience. More importantly, you will enjoy seeing your progress and celebrating your victory.
Have you gone through a CoolSculpting procedure? Share your stories and tips by commenting below.
How to get the best results from CoolSculpting
After learning more about CoolSculpting, it's important to choose the right provider for complete satisfaction with your procedure. To make your search easier, here are some questions to ensure you are going to an experienced certified provider:
Are they certified and did they attend CoolSculpting University?
How many years of hands on experience do they have with CoolSculpting?
Have they had any adverse events?
Have they attended a masters course with CoolSculpting to become a certified master technician?