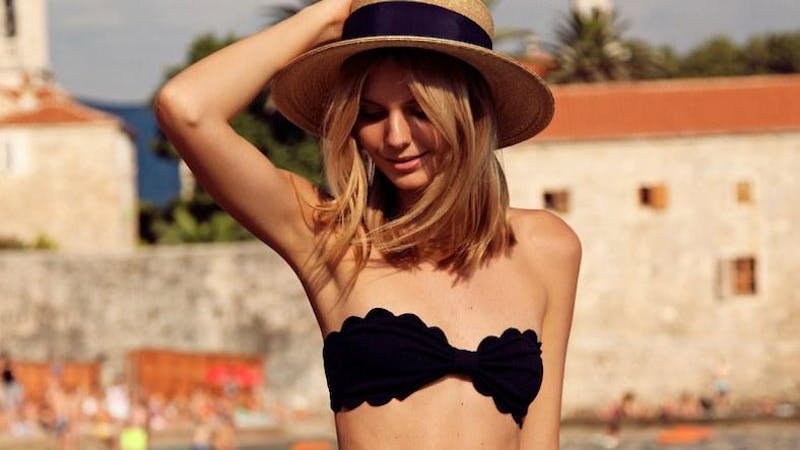 Flat Chested Girls are at the Forefront of a Growing Trend
Flat Chests Are Beautiful Too! – How the Big Booty Trend Is Creating Increased Admiration for Smaller Breats
As popular culture becomes increasingly excited over dominating derrières, flat chested girls have an opportunity to relish in an overall diminished desire for big breasts. Of course, feminine curves of all shapes and sizes should be admired. However, the more attention society pays to bountiful behinds, the less emphasis is placed on brimming bosoms. Excuse the excessive alliteration, but their is an undeniable growing appreciation for AA cup apples, a trend toward tinier teats, so to speak. Now this trend should by no means be taken as 'bad news' for large breasted women. Anyone with mid-to-large sized boobs need not worry. The truth is, there will always be a time and a place for bigger breasts. However, the last several years have given rise to the confidence-boosting empowerment of flat chested girls. This can be seen occurring throughout the world of fashion, film, and even reality television. That's right. Reality TV, a realm formerly dominated by breast augmentation, could be yet another cultural spotlight adjusting its focus to see small boobs as "in". The Real Housewives of Orange County star and CosmetiCare frequenter, Kelly Dodd, recently expressed her desire to decrease her breast size, stating "flat's the in thing." After receiving a "life-changing" vaginal rejuvenation treatment at CosmetiCare, Dodd gave an interview hinting that her next surgery would most likely involve breast reduction. Her reason? Kelly Dodd, among several other pop-culture icons, is quickly realizing that flat chested girls are at the forefront of a new trend. And unsurprisingly, Dodd eventually did return to CosmetiCare for her breast reduction treatment.
"Big boobs are out of style, nobody wants big boobs anymore," Dodd confidently proclaims. While that might be a slight exaggeration (many people definitely still want big breasts), she's not incorrect in suggesting that flat chested girls have a new opportunity to shine. Despite how counterintuitive it seems, flat chests are starting to be recognized as being as voluptuous as fuller breasts. In her interview with The Lookbook, Dodd went so far as to lament her large bust, complaining, "I couldn't run, it was hurting my back." So, aside from the aesthetic trendiness involved, Dodd and others like her recognize the health benefits of a flatter chest. There are numerous practical reasons why a flat chest might be more preferable. Physically speaking, a heavier chest can often feel burdensome. Many women with larger breasts experience issues while exercising and have recurring problems with back/neck pain, skin irritation, posture, and even skeletal deformations. Small boobs are commonly seen as a more convenient and potentially healthier alternative to the sometimes difficulty reality of heavier curvature. While it is certainly not unhealthy to have big curves, they can occasionally be seen a nuisance. Aside from the many physical ailments that can be relieved with a lighter chest, there are several more aesthetic-based benefits. Popular body shapes and sizes are commonly dictated by fashion trends. For years, the ideal runway model body type has been tall, slender, and typically flat chested. When top-tier, high fashion designers craft articles of clothing, they usually have this "flatter" body type in mind. Of course, most day-to-day clothing is designed for more curvaceous women. However, fashion trends tend to trickle down and there is an increasing number of more casual designers creating tops that are meant to look best with a less pronounced chest.
Big Booties Sharing the Spotlight with Breasts
Another possible reason that flat chested girls are trending is the recent uptick in emphasis on the hindquarters. Butts have been enjoying immense pop culture limelight as of late, and there's no sign of their popularity diminishing any time soon. With society's newfound interest in things like 'twerking', larger and rounder behinds are beginning to beat out big bosoms in terms of trendiness. The butt is quickly becoming the new "problem area" for many women. According to a 2013 report from American Society for Aesthetic Plastic Surgery (ASAPS), there was a 58% increase in butt augmentations from the year before. Of course, the number of liposuctions, breast treatments, and facial procedures also continue to increase each year. Still, the growing interest in augmenting the booty has led to more acceptance and even admiration for flat chests. So where does that leave you?
(via cosmopolitan.com) CosmetiCare Breast Procedures: The women of Newport beach and Orange County as a whole love to treat their breasts well. And when they need work done, these southern California women know that CosmetiCare Plastic Surgery and MedSpa is the most trusted center in the area. At CosmetiCare, we offer a variety of procedures and treatments that can help you get the exact shape and size of breasts that you have always desired. The Real Housewives of Orange County actress Kelly Dodd, along with other stars of the RHOC, has trusted CosmetiCare to deliver incredible results with the most comfortable experience possible. So, when Dodd decided to get breast reduction surgery, she knew she could count on CosmetiCare for the best outcome. Click here to learn more about our specific treatments for all of your chest-based needs. CosmetiCare Buttocks Procedures: At CosmetiCare, we understand how to carefully shape, lift, tuck, and contour every "problem area" imaginable. And we are just as adamant about helping both women (and men) attain their ideal buttocks shape as we are for their breasts, chests, belly, thighs, and any other area in need of our assistance. We offer specific treatments to help shape your buttocks, as well as several other general body procedures that will help with your overall figure. Click here to learn more about our specific body treatments.
New Look Now Can Show You How! Want to know how you'll look after your body contouring treatment? Visit our partners at New Look Now to get a completely free and remarkably accurate simulation of the results. New Look Now utilizes cosmetic experts to show you how you will look post-procedure through real-time image editing. Simply submit a photo of any area on your body that you'd like to alter and the technicians at New Look Now will deliver a precisely edited version back to you within minutes. Try New Look Now for free today!