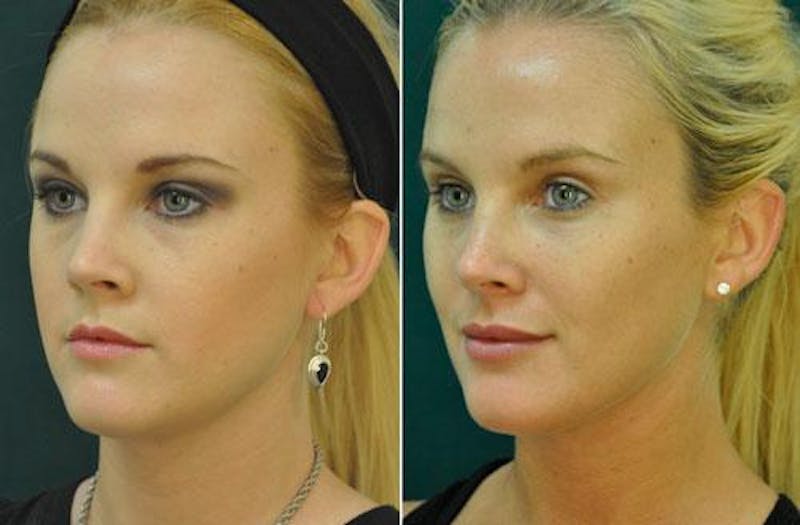 Fat Transfer Procedures Can Provide Magical Results!
It might sound like magic, but a fat transfer is not only a real body contouring solution, it's an increasingly popular and practical one. With a fat transfer procedure, you can actually kill two birds with one stone. You can help correct one of your "problem areas" while adding to the size and shape of your lips, cheeks, chest, and/or buttocks. And the best part is, you'll be increasing volume in your desired areas with your own natural ingredients. It's a nifty (some might even say 'thrifty') way of sculpting, contouring, and reshaping yourself using what you already have. With an 83% "worth it" rating on RealSelf, fat transfer to breast, lips, cheeks, or buttocks clearly works. Patients often emphasize how 'natural' and 'authentic' looking the results can be. Most start off shocked that such a thing is even possible and then begin to understand how logical the entire procedure truly is. Our "problem areas" are more than likely a consequence of having too much fat in one area and not enough in others. A fat transfer simply helps redistribute and reshape what you already have in your body. Providing for the "Whole You" Fat transfer, also known as fat grafting, isn't anything new or necessarily revolutionary. Over the last 30 years, scientific developments have made the viable and wholesome removal of fat cells easier and more efficient. This has enabled doctors in the last few decades to start removing whole fat cells, adjusting their contents, and then reapplying those cells in the desired areas. This can help recreate a youthful look in the facial region, supplement the size and shape of the breasts, chests, and buttocks, and has the added benefit of sculpting fat from away specific "problem areas." Most of the time, a fat transfer procedure is undergone in conjunction with another more in-depth type of surgery or treatment. A common pairing of procedures involves liposuction and fat transfer, allowing the patient to experience breathtaking face and body contouring results while only having to be under anesthesia once. The best outcomes occur when liposuction is used to sculpt the buttocks/abdomen while fat transfer is simultaneously utilized to rejuvenate and correct facial problems like sunken cheeks, laugh lines, and other depressed areas or indentations. Fat transfer can also be used to help add volume to desired areas of the body, however the more precise effects of its use on the facial region are truly astounding. At CosmetiCare, our surgeons provide care for the "whole you", meaning we create help create a fully-realized version of your ideal self. While focusing on a specific "problem area", our medical staff is always concerned with your entire body image. That's why we commonly offer mulitple solutions for a variety of problem areas within a single treatment session. (image courtesy of plasticsurgery.co.za) Simple Science, Astounding Results The science behind fat transfer, or fat grafting, procedures is actually surprisingly simple. It starts with a doctor locating fat cells within a patient's specific "problem area". Fat cells are a finite resource, meaning that they do not grow back once they are removed from an area. This ensures that your "problem area" will become a "preferred area" after your operation. Once the fat cells are located and extracted, the doctors proceed to sterilize and evaluate them. This step is meant to make sure that any potential toxins are removed before reinserting the cells into your desired location. If undergoing a fat transfer treatment, you can expect to see results within 1-2 weeks, or as soon as the natural swelling recedes. Fat transfer is increasingly popular due to its "all-natural" appeal and the very minimal amount of post-treatment downtime that is required. It is relatively quick and easy in comparison to other more intensive
reduction fat or body contouring procedures. It's also highly versatile and the number of potential uses for fat transfer treatments continues to grow.
The only real requirement to be a candidate for a fat transfer to buttocks, breast, chest, calf, face, or other region is to have some amount of fat available to be reoriented. This is rarely an issue, as practically all people have enough fat to be moved from one area to another. However, the amount of increased volume in one region obviously depends on the available resources from a "problem area". (actual fat cells) New Look Now Can Show You How! Want to know how you'll look after your fat transfer treatment? Visit our partners at New Look Now to get a completely free and remarkably accurate simulation of the results. New Look Now utilizes cosmetic experts to show you how you will look post-procedure through real-time image editing. Simply submit a photo of any area on your body that you'd like to alter and the technicians at New Look Now will deliver a precisely edited version back to you within minutes. Try New Look Now for free today! CosmetiCare Plastic Surgery Center and MedSpa Offers Comprehensive Fat Transfer Services CosmetiCare is at the forefront of body contouring and fat transfer procedures. We have highly skilled surgeons on-hand that understand how to approach each patient like a distinctively unique and unparalleled individual. Our
Orange Country plastic surgeon are committed to providing as highly specific and precise fat transfer treatments as possible.
Click here if you're interested in learning more about fat transfer treatments.