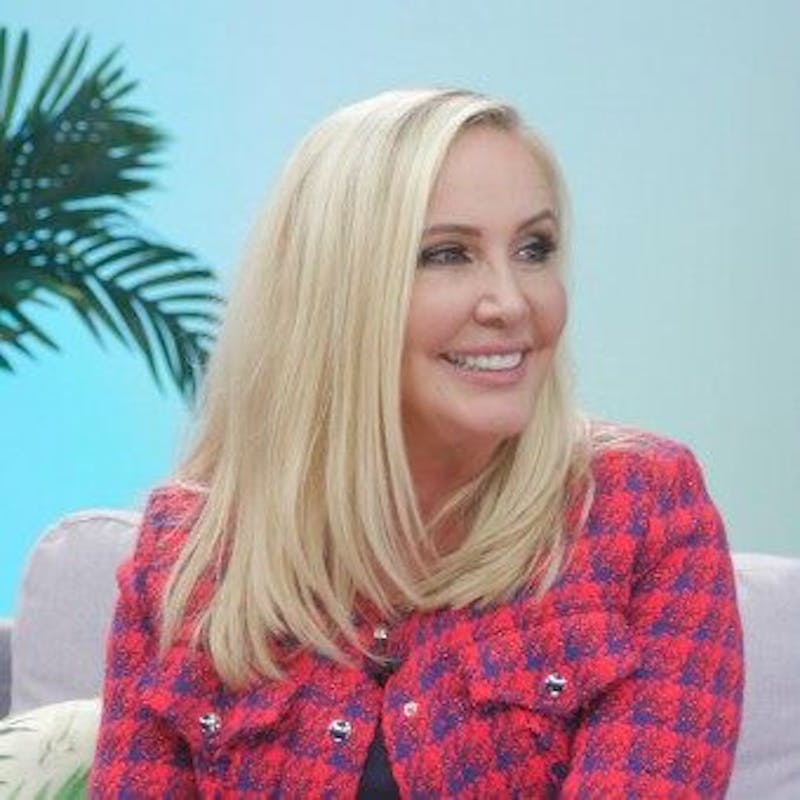 Shannon Beador, star of The Real Housewives of Orange County and long-time patient of CosmetiCare, shared her beauty tips and tricks for Entertainment Tonight. Shannon brought the cameras along to CosmetiCare to view her beauty regimen first hand. From a V-Beam treatment to a HydraFacial, get the latest tips from Shannon when it comes to skincare and find out how she is continuing to look her best these days!
Which treatments did Shannon Beador have?
V-Beam Laser Treatment: Also known as Shannon's final beauty secret, the V-Beam laser treatment! She had her V-Beam laser treatment performed with laser nurse, Tannaz Razavi. The V-Beam laser is something Shannon swears by for her face and body to target broken capillaries and spider veins. Since as Shannon puts it "this is just another sign that I'm flipping old" but with help of the laser treatment, the appearance of spider veins is eliminated. It also helps to treat any redness, blotchiness, rosacea, birthmarks, or other undesired variations in pigmentation. The amount of sessions varies from patient to patient depending on the size and number of spider veins. Results from the V-Beam are seen instantly! It's a quick and easy treatment performed in the CosmetiCare MedSpa in Newport Beach.
Dermplaning : One of Shannon's favorite go to treatments, Dermaplaning, helps to remove facial hair and dead skin as mentioned on ET. Shannon had dermaplaning done by CosmetiCare's aesthetician, Jessica Rabinowitz. As mentioned before, Dermaplaning is a great treatment for removing peach fuzz from the face. Jessica uses a safe dermaplaning blade to help remove any hidden hair to show a much softer and smoother skin. Fans of The Real Housewives of Orange County may remember a scene from a past season in which Kelly Dodd called out Shannon for having noticeable hair on her chin (ouch!!). Shannon took the hint and came straight to CosmetiCare for a close shave.(Thanks Kelly Dodd!) She now books regular appointments for the treatment! Dermaplaning benefits include: helping skincare products absorb better into the skin, allowing makeup to go on more smoothly, removes facial hair that traps dirt and oils, reduces noticeable fine lines, and diminishes the appearance of acne scars. Dermaplaning is also the perfect prep for a HydraFacial!
Skincare products and Hydrafacial
Skincare Products: Speaking of skincare products, Shannon is a huge fan of CosmetiCare's new skincare line. She loves trying their different products like Spot-Light (to promote even skin tone and skin health) and Restore (to restore moisture and healthier skin). She particularly likes the products that offer anti-aging benefits such as Ageless Wonder and Triple Threat! Both products help to diminish fine lines and visibly reduce wrinkles. All skincare products are recommended to be used every week for quick results. Skincare products can be purchased at the CosmetiCare MedSpa in Newport Beach.
HydraFacial Treatment: After her dermaplaning session, aesthetician Jessica starts a HydraFacial treatment. The HydraFacial is what gives Shannon her on-camera glow when filming her testimonials for The Real Housewives of Orange County. After an exfoliation, the HydraFacial infuses Hyaluronic Acid and Antioxidants to plump the skin and then uses red light therapy to help stimulate collagen. The benefits of this treatment help to remove blackheads, dead skin, and infuse solutions to help hydrate, nourish, and exfoliate the skin. As Shannon puts it, " you're just sucking some dead skin off me." Shannon even adds an extra booster to customize the treatment according to her skin condition. HydraFacial helps your skin glow and feel refreshed after. The treatment alone is a quick session and shows instant results!
Shannon's transformation
Everyone is talking about Shannon's amazing transformation this year. We are so happy to be her go-to for all of her self-care needs. As she puts it, CosmetiCare is her "one-stop shop!"
Watch an exclusive video of Shannon Beador and all the treatments she did on Entertainment Tonight. To learn more about which treatments Shannon received and her go-to skincare products, schedule a consultation today.
Catch more from Shannon and CosmetiCare on the all-new season of The Real Housewives of Orange County, premiering August 6, 2019 on BravoTV.