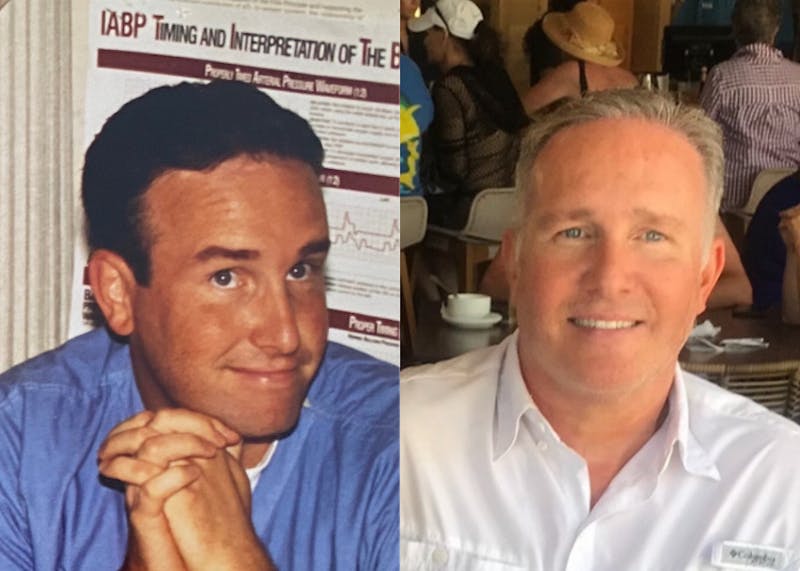 Home » Articles » Dr. Adair's Hair Restoration Journey at CosmetiCare in Newport Beach
Dr. Adair's Hair Restoration Journey at CosmetiCare in Newport Beach
by Courtney Clements | Oct 4, 2021 | Articles
Dr. Stefan Adair is a Board-Certified plastic surgeon at CosmetiCare and our very own hair restoration guru in Newport Beach. Hair restoration or "hair grafting" is a cosmetic procedure performed at CosmetiCare that involves taking donor hairs from one area of the body and moving them to another place where you are experiencing hair loss. Hair loss is prevalent in both men and women and can be caused by both age and genetics. Hair restoration procedures are most performed on the scalp and the eyebrows. This procedure can help to restore what you've lost and bring back your confidence.
Since he is no exception to the rule of hair loss, Dr. Adair began experiencing thinning himself in his late 20s. As he continued to age, this was something that really began bothering him. He started doing research on the best possible solution, and that's when he discovered hair restoration. Due to the positive nature of his results and how it wholly restored his self-esteem, Dr. Adair decided to get trained on this procedure himself and has now provided over 3,000 hair transformations to his patients.
I sat down with Dr. Adair as he walked me through his hair journey and how this procedure has genuinely changed his life. He is now able to say with confidence that his hair is nearly as full as it was before he started to thin out in his 20s!
Why did you decide on getting a hair restoration procedure?
Dr. Adair: When I was in my late 20s, the stress from medical school combined with my genetics was causing me to lose my hair. I noticed a receding hairline starting to form, and I had high corners. I started getting really frustrated and self-conscious and began looking into ways I could fix this. I tried using over-the-counter treatments like Rogaine, and I wasn't noticing any significant changes happening. Also, as I had gotten older and the hair loss was worsening, my daughters started making comments about it and loved to pick on their dad for his balding head.
I started doing my research on a permanent solution, and that's when I discovered hair restoration.
Once I had this procedure done myself, I realized how much truly goes into it that I didn't necessarily appreciate beforehand. A few years later, I began studying and training on it to offer my own patients the same type of results.
How many hair restoration procedures have you had done?
Dr. Adair: I have had four hair restoration procedures, but I could get it done in two with today's technology. The procedures used to be a lot smaller, and today I can harvest a lot more from a donor area than what could be done in the past. There was a fear of over-harvesting, but this is no longer the case with additional years of research and training.
Was the hair restoration procedure itself painful?
Dr. Adair: I believe that the discomfort of the treatment or healing process is no big deal compared to the results you get. It truly is the best thing that you can do to regrow your hair, and the discomfort only lasts a few days.
How long did it take for you to see the results from your hair restoration procedure?
Dr. Adair: I really started noticing new hair growth around four to six months, but I didn't reach my full results until about a year. This is very typical for any patient undergoing a hair restoration procedure.
What was your healing process like from your hair restoration procedure?
Dr. Adair: I received more of the "old-school" hair restoration method with the FUT or "strip" method. This method is a little more painful, but you are on your way to new hair after a few days of discomfort. During my second procedure, the doctor switched to the FUE method because he ran out of strips to harvest. If you try to get too much donor hair using the strip method, the head gets too tight, which is very uncomfortable. FUE is also far easier from a recovery standpoint, but the strip method is for you if you need a large amount of hair.
During my healing process, I took my hair transplant timeline photos to truly see how my results were progressing throughout my journey. Seeing my real hair transplant photos made me very excited for what was to come from my results.
How do you feel after?
Dr. Adair: I like to think of this procedure as eating popcorn… once you eat a little, you will want more. I've had multiple procedures done for a reason… because the results and the effect it has on your life are just that good. After my hair restoration procedures, I feel inspired and confident. Another bonus is that I can also give personal insight to my patients that are looking to have this done themselves.
What would you tell somebody who is looking to get a hair restoration procedure done themselves?
Dr. Adair: I would tell them that although the results are fantastic, it is not instant gratification like other surgical procedures. The results themselves take around up to a year to see the full results from the procedure. Also, it is imperative to choose a surgeon with an artistic eye who is fully trained in hair restoration. Many people go to foreign countries to get this done because they are looking for a cheaper route. Suppose you get it done incorrectly in a foreign country. In that case, it is almost impossible to correct, and you risk infection, disease, and a bad result. You will end up paying multiples of what you would've spent by originally having it done in the United States, and it still won't be as good as it could've been done in the first place.
How much can I expect my hair restoration procedure to cost at CosmetiCare in Newport Beach?
FUE hair transplant cost:
Small Area: Starting at $6,300
Medium Area: Starting at $10,850
Large Area: Starting at $16,750
Extra-Large Area: Starting at $20,600
FUT hair transplant cost:
Small Area: Starting at $5,900
Medium Area: Starting at $10,100
Large Area: Starting at $15,500
Extra-Large Area: Starting at $19,100
Eyebrow Restoration/ Small Area: Starting at $3,750
Eyebrow Restoration/ Large Area: Starting at $5,000
If you find yourself suffering from hair loss and are looking for a permanent solution, book your consultation with Dr. Adair at CosmetiCare in Newport Beach to learn more about how hair restoration could benefit you. We can't wait for you to ditch your hats!
Real patient hair restoration results at CosmetiCare with Dr. Adair:
Click to Book
Related Information
Hair Restoration at CosmetiCare
Learn More