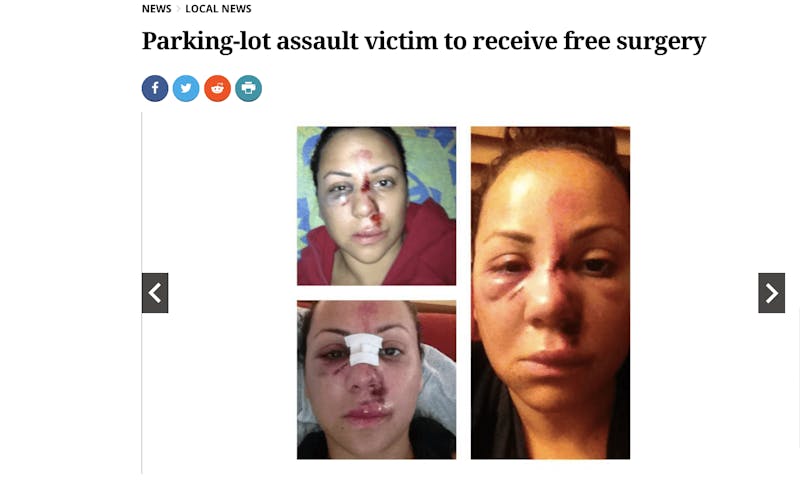 Contrary to popular belief, cosmetic surgery is not always done for the sole purpose of beautifying oneself. Yes, many of those who undergo cosmetic surgery on the face or on the body are probably doing it to feel and look more beautiful. However, such isn't the case for one woman who was assaulted in a parking lot.
**Read OC Register Story: http://www.ocregister.com/articles/proctor-616878-nose-niccole.html **
Erin Proctor thought she was being a Good Samaritan when she approached a woman being attacked. Little did she know that she was going to be the victim of the assault. The incident left her with cracked teeth and a broken nose. The 28-year old face was damaged simply because she wanted to help someone else.
A year after the damaging incident, Erin has not yet physically and psychologically recovered. Her nose is still crooked and this has caused difficulty in breathing. Basically "living as a hermit," her scars and crooked nose has led her to surrender to low self-esteem.
Thankfully, Magic Mirror Foundation – a nonprofit group – is willing to help Erin breathe better and regain her sense of self-worth. Dr. Michael Niccole will perform the surgery pro bono.
The assault left Erin with eight broken bones in her nose and some scars. Through open rhinoplasty, the broken bones will be mended and the scars will be reduced. Open rhinoplasty is one of the many cosmetic surgery services that CosmetiCare Plastic Surgery Center and MedSpa offers.
Rhinoplasty is a cosmetic surgical procedure for correcting and reconstructing the shape of the nose, restoring its normal functions, and aesthetically enhancing the nose. In Erin's case, because of the trauma her nose received from the assault, she needs to undergo open rhinoplasty. Open rhinoplasty, like closed rhinoplasty, involves the operative manipulation and reconstruction of the nose's cartilage, bone, lining, and skin. Because of the severe trauma of Erin's nose, an open rhinoplasty is the more preferred procedure. Open rhinoplasty facilitates an improved diagnostic accuracy and allows increased precision of the reconstruction of a badly misshapen nose.
This cosmetic surgical procedure differs in one aspect from the closed rhinoplasty. Open rhinoplasty involves the creation of a trans-columellar, which is basically a small bridging incision. This incision allows the cosmetic surgeon to see precisely and more clearly the entire skeletal and muscular framework of Erin's severely traumatized nose.
Moreover the creation of this incision assures the cosmetic surgeon better access to the nasal parts and decreases distortion of the nasal cartilage. Open rhinoplasty facilitates improved analysis of the nose because the parts remain in their natural, undisturbed alignment.
With the help of Magic Mirror Foundation and Dr. Niccole of CosmetiCare, Erin will regain not only her beautiful nose and face, but her much needed sense of self-worth.