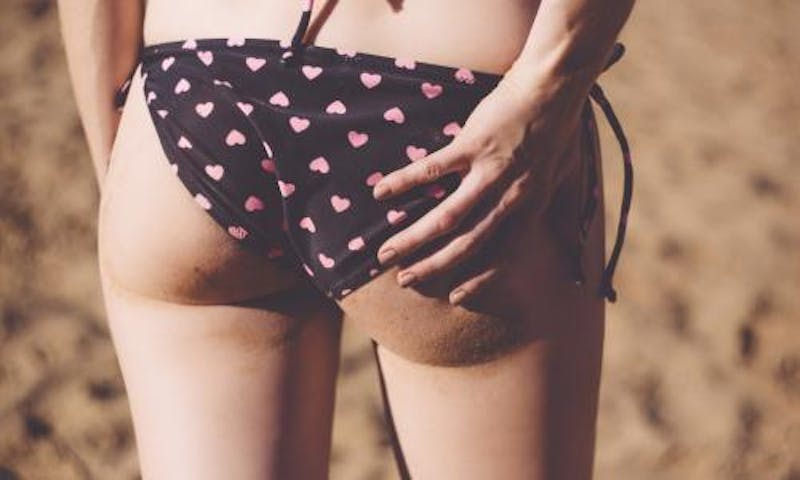 Big Booties Are "in" – Here Are Some Essential Truths About Butt Lifts, Butt Injections, and Other Buttocks Procedures
As we've mentioned before, there is a growing trend toward booty-centric beatification in the realm of cosmetic enhancements. This is in part due to pop culture phenomenons like the hard-to-miss Nicki Minaj butt and the ever-growing, unwieldy obsession with big-booty "twerking". Breast and facial procedures are by no means unpopular these days, yet the rise of butt lift treatments, butt injections, and other acts of behind betterment is telling. Another reason for this trend might involve the relative ease of which a butt is cosmetically enhanced and then subtly improved through appropriate fashion choices. After all, a rear-end is less likely to be as intensely scrutinized as say a face or a more visible chest region. One can easily conceal post-surgery swelling of the hindquarters with the proper clothing. Behind The Unique Problem Area The buttocks is a unique "problem area" of the body that lends itself to a wide variety of very successful procedures that run the subtlety gamut from" barely noticeable" to what we'll be referring to as the "Nicki Minaj butt". It's also a region that we tend to neglect or forget about due to its anterior location. With an increased cultural interest and popularization of "the booty", this "problem area" is starting to show itself in full force. And so, the uptick in below-the-waist worshipping is fed by pop culture icons as well as the convenience, reliability, and safety of buttocks enhancements. Still, we need to talk candidly about these procedures and the real, lasting beauty enhancements that lie beneath the slightly absurdist Nicki Minaj fake butt phenomena. While extreme examples of butt augmentation in the media cause a sort of trickle down effect to those interested in cosmetic surgery, the reality is that most women (and men) desire a much subtler result. Most patients are using butt lifts, butt injections, and the butt augmentation surgeries as a means to rejuvenate their buttocks and bring back its former youthful glory. Although, to be fair, there is certainly nothing wrong with desiring a tremendous tush like Nicki. Yet, some patients feel ashamed or even afraid of the concept of buttocks surgery due to the often unfairly ridiculed and extremist reputation that over-the-top fake butts give to these types of procedures. Rise of the Rear According to a recent report from ASAPS (American Society of Aesthetic Plastic Surgery), the number of butt lift treatments in America increased by 20% from 2015 to 2016 and has risen an entire 342% since 1997. That makes the butt lift one of the fastest growing cosmetic procedures currently available. Over 95% of butt lift patients are women, with more than half of those women being aged 35-50 years old. So it's safe to say that the primary candidates for this procedure are women whose bodies are undergoing a difficult time with the effects aging, weight gain/loss, and other congenital maladies. The vast majority of these women seek out butt treatments in an effort to subtly reshape and restore their behind to a more firm and youthful form. Most of them have no desire to obtain a larger-than-life Nicki Minaj butt shape. And yet, there remains a slight stigma associated with butt injection, butt lift procedures, and other butt augmentations. The media tends to view these treatments in a harsher and more judgmental light than alternative cosmetic undertakings. The truth is, a butt lift, fat transfer to the buttocks, and other form of butt enlargements or augmentations most commonly deliver inconspicuous, smart, and precise results. These treatments are fantastic options for those with excess or loose skin, muscle degradation, and a flattened buttocks region caused by weight gain/loss, aging, and/or congenital issues. Even if you opt for full rear implants, you will assuredly not leave the treatment center touting a Nicki Minaj butt (unless of course that was your goal). Rather, you're much more likely to find the outcome of buttocks-based cosmetics to be surprisingly effective, yet conveniently easy to conceal and integrate into your ideal body image. (Image courtesy of theartofplasticsurgery.com) CosmetiCare Provides Transforamtive But Realistic Results At the CosmetiCare Plastic Surgery Center and MedSpa located in beautiful Orange County, we offer several advanced treatments for reshaping and (up)lifting your rear end. We value our highly trained medical experts ability to consult and approve the best possible body contouring solutions for your specific needs. Whether it be a butt lift, butt injections, butt implant, liposuction, or any other form of surgical (and non-surgical) buttocks contouring, we take a sophisticated and sleek approach toward helping you become your ideal self. Click here to learn more about the buttocks procedures that CosmetiCare offers.
New Look Now Can Show You How!
Want to know how you'll look after your buttocks treatment? Visit our partners at New Look Now to get a completely free and remarkably accurate simulation of the results. New Look Now utilizes cosmetic experts to show you how you will look post-procedure through real-time image editing. Simply submit a photo of any area on your body that you'd like to alter and the technicians at New Look Now will deliver a precisely edited version back to you within minutes. Try New Look Now for free today!