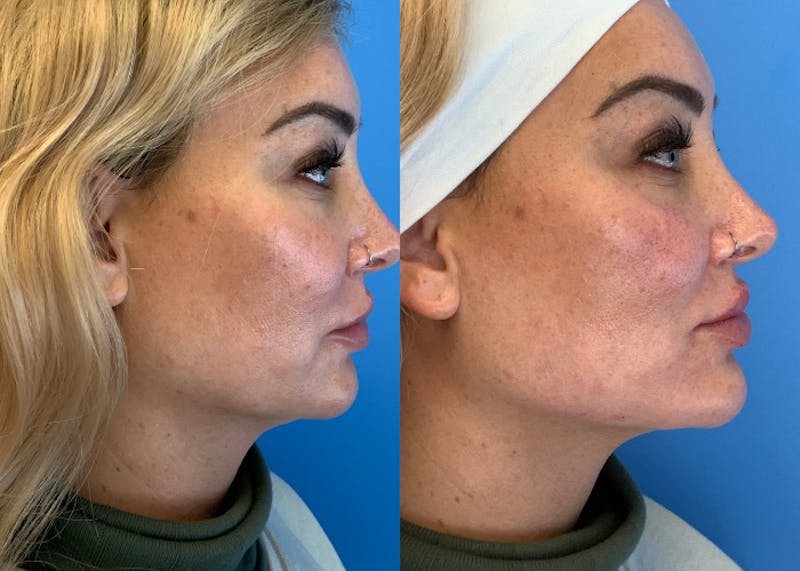 Home » Articles » Best Fillers For Face to Consider
Best Fillers For Face to Consider
by Courtney Clements | Dec 1, 2021 | Articles, TV Appearances
Are you having a hard time looking and feeling like your most confident self? Have you recently noticed more scars and wrinkles in your complexion? Getting your skin back to a smooth, supple, and youthful appearance isn't impossible, and it doesn't always have to involve invasive plastic surgery. Welcome to the world of facial fillers!
Injectables are a popular and effective option to consider if you want to look young and feel your best again. In fact, according to the American Board of Cosmetic Surgery, one million men and women get some type of injectable fillers on an annual basis.
Are you thinking about trying fillers, but you're not sure where to get started? Below, we've provided a brief history of facial fillers, followed by the benefits of injectables and a variety of the best facial fillers for face to consider.
The history of fillers
Did you know that facial filler was introduced in the late 1800s? It wasn't long after the invention of the syringe that people were using chemical agents as a way to rejuvenate their complexion and improve facial volume, say researchers at Johns Hopkins Medical Institutions. The first type of injectable filler introduced to the public was paraffin. Still, it quickly came with complications involving migration, embolization, and granuloma formation. Fast forward to 1981 and bovine collagen became the first FDA-approved cosmetic injection.
Today, you can find dozens of injectable fillers made of hyaluronic acid, calcium hydroxyapatite, poly-L-lactic acid, and polymethylmethacrylate that are safe, effective, and FDA-approved.
The benefits of fillers
As we age, our skin does the same. While certain factors and poor habits can speed up the aging process — such as smoking, consuming too much alcohol, and spending time in the sun without skin protection — skin ages naturally on its own.
According to Scientific American, you produce 1% less collagen in your skin every year after you turn 20. Loss of collagen makes the skin feel and appear more fragile over time. This, coupled with less elastin production and reduced oil gland function, leads to wrinkle formation and other signs of aging skin.
However, fillers were made to combat this, helping you to achieve a smooth and youthful complexion as you age. Whether you're looking to reduce the appearance of deep wrinkles, encourage facial contour or perfect your jawline, an injectable treatment can help. Here are some of the many benefits of pursuing an injectable filler treatment:
It's not a one-size-fits-all treatment
Fillers were created to enhance your appearance and make you feel more comfortable within your own skin. Whether that means plumping your lips, restoring volume to your jawline, getting rid of vertical lip lines, or diminishing that one deep wrinkle in your face, fillers can assist. No matter what type of result you're looking for, there's a dermal filler treatment to give you that anticipated look.
It's a great way to boost collagen production
Dermal fillers can be your ticket to improved collagen and elastin production in your skin. Hyaluronic acid, the key ingredient to face fillers, is a naturally occurring substance that's already found in your skin. When injected back into the skin, the result is a more plump and hydrated complexion.
The results are almost immediate
Facial plastic surgery can come with a long healing time. In fact, according to the American Society of Plastic Surgeons, patients who undergo rhinoplasty, or a nose job, may not see initial results until about a month after the procedure and may not see the final result until a year after surgery. With fillers, you can expect to see results within a week or two after getting them done.
It's minimally invasive
You don't need to undergo a serious procedure or go under the knife to get the effects of dermal fillers. Injections are nothing more than a needle. If you're worried about the pain that's associated with it, your physician can numb the injection site with a topical numbing cream for your comfort.
Fillers are not permanent
One of the best benefits of fillers is that the treatment isn't permanent. Suppose you're unhappy with fillers or you change your mind about getting an enhancement. In that case, you can have the filler dissolved, or wait until their effects dissipate.
You can combine a dermal injection treatment with other injectables
If you want to produce a natural, youthful look with various treatments, you can do this with facial filler. Many patients combine lip filler and other injectable dermal fillers with Botox to relax the facial muscles while adding more volume to the skin. It's the ultimate facial rejuvenation option.
Best fillers for face: Which to consider
If you're new to the world of facial fillers, you may find it difficult to navigate your options. There are so many treatment types available. All products on the market are designed with a specific texture and density to properly treat troubled areas and produce a flawless result. At CosmetiCare, we have a variety of different options to choose from. Ultimately, your provider will recommend the best option based on your wants and needs. Here are some of the types of filler you can expect to discuss during a consultation:
JUVEDERM®
Using unique technology and hyaluronic acid, JUVEDERM® flows seamlessly into the skin around the mouth and nose to add volume and hydration to the face. With results lasting up to one year, you can create facial contour and fill in wrinkles with ease.
Bellafill®
Are you looking for a skin rejuvenation treatment to remove severe acne scars and correct nasolabial folds? Bellafill® is a dermal filler designed to support collagen growth for up to five years, helping to improve the texture and appearance of the skin for a more youthful glow.
Radiesse®
A water-based gel made up of calcium-based microspheres, Radiesse® is used to plump wrinkles and folded areas of the skin, typically occurring on the face.
Qwo®
This is the first and only FDA-approved injectable for moderate to severe cellulite in adult women. This is perfect to consider if you can't seem to shake the stubborn fat even after changing your diet and exercise habits.
SculptraThis innovative face injectable helps to stimulate collagen production, restore volume and firmness in the face while also smoothing deep wrinkles.
KYBELLA®
A synthetic form of deoxycholic acid, a naturally occurring substance in the body, KYBELLA® works to break down and absorb fat, ultimately eliminating targeted fat cells. This product is most often used around the jawline to reduce the appearance of a double chin and enhance facial contour.
Restylane®
A clear gel form of hyaluronic acid, Restylane® injections are designed to add volume to the skin and correct moderate to severe wrinkles and folds.
Are you interested in learning more about CosmetiCare procedures? Our team of experienced professionals will help you choose the best non-surgical treatment to improve your self-confidence and feel satisfied within your own skin again. Book your consultation today to get the process started on looking and feeling your best.
Learn more about the injectables we offer, and how they can help to restore your confidence!
Learn More