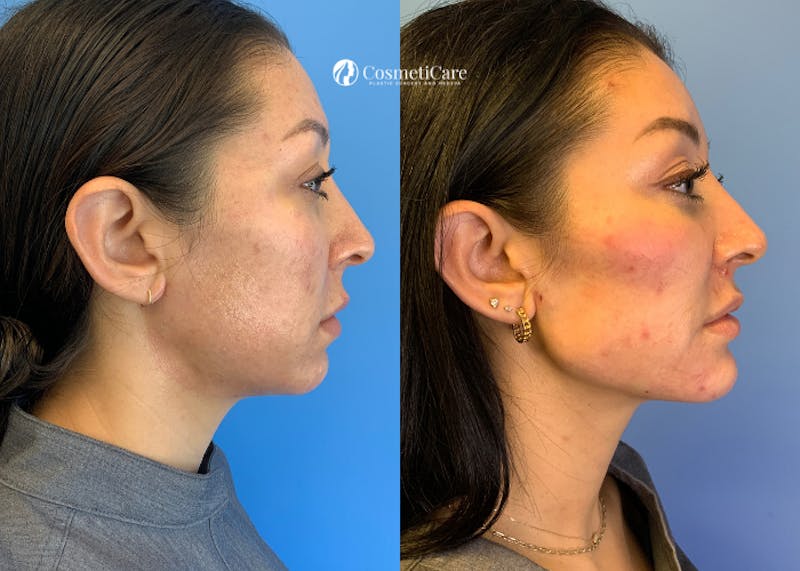 Home » Articles » Benefits of Jawline Filler
Benefits of Jawline Filler
by Courtney Clements | Mar 15, 2022 | Articles
In Orange County and throughout the country, a sleek and defined jawline is all the rage. Whether you are scrolling through Instagram or TikTok, you will come across thousands of men and women contouring their faces with makeup to get that chiseled look. What if we told you that you could get that perfect jaw you've been craving without having to reapply it every day? Say hello to jawline filler at CosmetiCare in Newport Beach! Our highly trained nurse injectors work with your natural facial features and strategically place filler along your jawline to help you achieve the perfect contour, and meet your aesthetic goals.
Which filler will get you the best result?
Radiesse is a dermal filler that is used to treat moderate to severe facial wrinkles and folds, as well as for contouring the chin and jawline, and correcting facial asymmetry.
Our skilled nurse injectors use Radiesse to achieve that perfect, sculpted jawline. Why Radiesse? Unlike most fillers, Radiesse also stimulates collagen, which is your body's way of reversing the signs of aging. It also comes with 50% more product per syringe vs. competitor brands and lasts upwards of twelve to eighteen months.
Is jawline filler worth it?
Absolutely! Just because you weren't blessed with the jawline of many A-list celebrities doesn't mean you have to miss out on that look. If you feel self-conscious about the shape of your face or lack of definition, you are not alone! Many men and women are choosing jawline filler to help restore their confidence.
You can create definition with jawline filler without ever undergoing a more invasive procedure like facial liposuction or a neck lift, and with Radiesse's collagen stimulating properties, your body will work naturally with you to achieve that sculpted jawline you've been longing for.
What to expect with jawline filler?
When you come in for jawline filler at CosmetiCare in Newport Beach, you will begin your appointment with one of our nurse injectors, giving you a full-face assessment. Once she has a complete plan for your aesthetic needs, she will apply a topical numbing cream to the treatment area. The treatment itself is quick, with most appointments being under one hour. You will feel a bit sore following treatment, with any soreness or bruising resolving in about a week.
When can I see the results of jawline filler?
If you are a patient who likes to see the results of their treatments as soon as possible, this is for you! Results are visible immediately post-treatment, with optimal results at around a week after the swelling has resolved.
How long does jawline filler last?
With Radiesse, jawline filler can last up to 18-months! That is almost two full years of a strong and stunning jawline that will have you wanting to take ALL the selfies!
If you have been thinking of jawline filler and restoring your own facial harmony, visit us online to book your complimentary consultation. We can't wait to meet you!
Learn more about the injectables we offer, and how they can help to restore your confidence!
Learn More