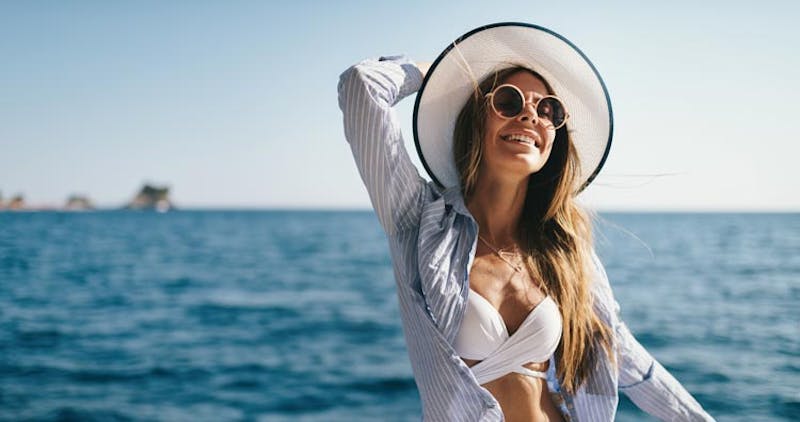 Have you heard about the revolutionary, non-surgical method for getting rid of unwanted, excess fat? It's called CoolSculpting, and it's a great choice if you want to get rid of stubborn fat in areas including the abdomen, hips, thighs, and arms. While it sounds like the perfect solution, this treatment isn't for everyone. Like plastic surgery, some people are better candidates than others.
If you're wondering about CoolSculpting and think it may be the right thing for you, you'll need to make sure you're the ideal candidate. Here are a few signs that CoolSculpting may be for you:
You're Near Your Goal Weight
We don't mean to confuse you here, so let's clear a few things up. CoolSculpting is a great treatment solution for getting rid of small pockets of fat. In fact, patients can lose up to 25% of their unwanted fat from the treatment area. However, it's important to know that this procedure is designed to contour the treated area. It isn't designed for weight loss.
CoolSculpting works best when you're already close to your goal weight and only need a little help shedding fat in small targeted areas. If your desire is really to drop many pounds, it's better to discuss your weight loss intentions with your doctor, who can help you put together a plan to reach your goal weight.
You're Frustrated With Stubborn Fat
Speaking of stubborn areas – often, men and women struggle to reduce fat that just won't go away. Fat is tricky. While you may be at a healthy weight, you could still have pockets of fat in certain areas of your body.
No matter how stellar your diet and exercise is, you can't choose exactly which parts of your body fat will be shaved off from. In this regard, CoolSculpting is an ideal solution, as it specifically targets those areas we can't improve through diet and exercise alone.
It's also a great alternative to liposuction because it's non-invasive and removes fat without the need for surgery.
You're Healthy
As we've mentioned, CoolSculpting is not a surgical procedure. Because of this, it typically has fewer risks.
However, it is still a medical procedure and is usually recommended only for those in good health. There are some mild side effects with CoolSculpting, like slight discomfort and potential for bruising. Healthier patients are generally less likely to experience any side effects though.
To ensure your safety, discuss any chronic conditions or concerns you have with your CoolSculpting provider.
You're Not Pregnant
CoolSculpting is not recommended for pregnant women. In fact, many practices will turn you down if you come in for treatment while being pregnant. There haven't been any studies performed to look at the possible effects of CoolSculpting on a fetus or pregnancy.
Moreover, it doesn't make sense to schedule a fat reduction treatment during pregnancy as your abdomen only becomes larger until the birth of the baby. This means that the results you get from CoolSculpting won't be visible.
Overall, it's recommended to postpone any CoolSculpting treatments until you're done having children. Pregnancy can undo any prior CoolSculpting treatment results and additional sessions will likely be needed to achieve your initial goals.
You Have Enough Fat To Treat
You may have the opposite problem in contouring – not having enough fat to remove. In order to have CoolSculpting done, you must have enough fat to freeze.
Typically, practitioners go by the general rule that if you can pinch your fat, you are an ideal candidate for CoolSculpting.
You Don't Want Liposuction
CoolSculpting is known for being an attractive alternative to liposuction for many people. Some people simply don't want to go under the knife. Surgery may make them nervous, or they may not be able to take the time needed off from work for the recovery process.
If you've discussed liposuction with your plastic surgeon, but you realized it might not be right for you, CoolSculpting may be a great alternative. There is virtually no recovery time required. In fact, many people finish their treatment during their lunch hour and head right on back to work.
This is not a surgical procedure, so it doesn't involve anesthesia or incisions. This makes CoolSculpting appealing to many patients.
You Understand the Process
Before you start CoolSculpting, it's important that you understand how it works and that you're realistic about your anticipated results. Whoever performs the CoolSculpting treatment should make sure that you understand the process and what's involved.
Before your procedure, it's important to schedule a consultation so that you can have all of your questions answered by a professional. The CoolSculpting consultation will give you a chance to learn all that you need to know, have any questions answered and set your expectations.
For example, CoolSculpting does not provide immediate results. The body must expel the frozen, dead, treated fat cells through its natural process, which takes time. While liposuction results are somewhat immediate, CoolSculpting takes time. It may also take more than one treatment to achieve the results you're hoping for.
Furthermore, it's important to understand that while CoolSculpting can help you look and feel better, it is not a weight-loss treatment and you would need to lead a healthy lifestyle in order to maintain the results. It's important that you have realistic expectations about what CoolSculpting can do for you.
Are you considering Coolsculpting? Call us today to find out if you're a good candidate for the procedure! Conveniently located in Newport Beach, CosmetiCare is proud to offer CoolSculpting by a Certified Master CoolSculpting Specialist. Ask to see our before and after results to fully understand what CoolSculpting could do for you!