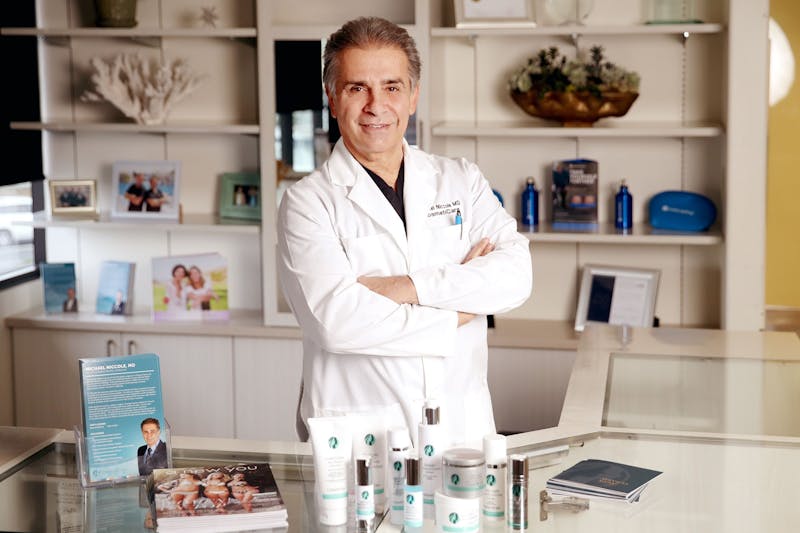 "There are so many people whose physical appearance negatively affects their self-image. Helping these people can have a profound and life-changing impact. In only a couple hours at a time, I've literally changed someone's life — physically and mentally. There's no better feeling in the world. In the end, I'm the lucky one. If everyone could realize the amazing benefits of giving back and using their talents for good, I believe our world would be a much better place."
As part of my series about the leadership lessons of accomplished business leaders, I had the pleasure of interviewing Dr. Michael Niccole, the founder and medical director of CosmetiCare Plastic Surgery Center & MedSpa. Since opening the doors in 1982, he has turned CosmetiCare into one of the most successful multi-specialty cosmetic rejuvenation centers in Southern California.
Dr. Niccole has extensive experience and a refined technique in performing many cosmetic and reconstructive procedures. Voted by his patients as one of the "Best Plastic Surgeons in Orange County," his skills as a surgeon and the positive results seen on thousands of satisfied patients have helped him create recognition for CosmetiCare around the world, receiving patients from Germany, Italy, France, England, Australia, Israel, Costa Rica and a host of other countries.
Dedicated to his work as a plastic surgeon, Dr. Niccole loves helping people, and it shows with every patient he sees. He has been honored over the years for his abilities as a surgeon and his countless humanitarian efforts. The Muscular Dystrophy Association (MDA) chose him as its "Man of the Year" in 2008 for his continued humanitarian efforts dedicated to reconstructing lives for children and adults through donated plastic surgery. Additionally, he was honored at the MDA's Gala fundraiser "Gift of Hope." He was also honored as "Humanitarian of the Year" by Sojourn Services for Battered Women and their Children, for donating reconstructive surgery to victims of domestic violence.
Dr. Niccole was selected by the Consumer's Research Council of America as one of the TOP PLASTIC SURGEONS IN AMERICA and included in the Guide to America's Top Plastic Surgeons. Due to his leadership, CosmetiCare was voted one of the Best Plastic Surgery Centers in Orange County (multiple times) by The Orange County Register's Peoples' Choice awards and published in its guide The Best of Orange County.
Thank you so much for joining us! Can you tell us a story about what brought you to this specific career path?
My interest in plastic surgery was piqued when I was a young man reading stories about reconstructive surgery performed on soldiers returning home from war. These men returned with horrific injuries and deformities to their faces and bodies. It was not only devastating to them physically, but emotionally as well. I was intrigued by the amazing reconstructive skills of famous plastic surgeons who helped put these men back together. Not only were these soldiers able to function more normally, but these gifted surgeons had empowered them to re-enter society and live their lives with confidence and pride. This experience was pivotal in my decision to specialize in plastic surgery.
Can you tell us a story about the hard times that you faced when you first started your journey?
When I first began as a plastic surgeon, I enjoyed very little free time outside of the office. I worked all the time, seven days a week. I spent my weekends at the hospital and anytime I was not working, I was studying.
As we started to build the practice and really grow, we would get extremely busy and the thought was always to open another location. It wasn't until later that I realized my time was best spent in the operating room, not on the road driving between two locations.
Where did you get the drive to continue even though things were so hard?
I derive my strength from my family's support, first and foremost. I'm a family man, so having my family work closely with me always helped through the hard times. Now, seeing my kids working as professionals here at CosmetiCare makes me so proud. I can see the value of their contributions, how their talents are being utilized and honed, and how they incorporate their values into their work.
So, how are things going today? How did grit and resilience lead to your eventual success?
It's hard to imagine that 35 years ago I opened the doors to my private practice with only a nurse and an office assistant. Within a short period of time, I was able to expand the practice into a multi-disciplinary plastic surgery center and medical spa that soon became home to five surgeons. Now, seeing where CosmetiCare is today, it's mind-boggling to realize how far we've come. This dream has taken me through the ups and downs of owning a business, while providing me with one of the most incredibly rewarding careers imaginable.
I love walking through the surgery center doors to greet my first patient of the morning. While for me it's the start of a transformation that may be completed in a couple of hours, for my patient, it can be the life-changing, confidence-boosting transformation they've dreamt of for years. It's incredibly gratifying to help people improve the way they look and feel about themselves. I don't just go to work every day — I absolutely LOVE going to work every day!
Can you share a story about the funniest mistake you made when you were first starting? Can you tell us what lesson you learned from that?
Taking out a half a million dollar loan and building the most beautiful office in Orange County, then realizing later how funny it was that I couldn't keep up with the payments for the first two years. Although it worked out for me in the end, looking back on it now, I think it's important to not overextend yourself in the early stages of starting a new business.
What do you think makes your company stand out? Can you share a story?
When CosmetiCare first opened, we broke down barriers, creating a household name and a true brand in the plastic surgery and medical spa market. Our brand is a tangible expression of what we believe in, what our patients can expect from us and what differentiates us. When hiring our care providers, we use the highest scrutiny. We look at their bedside manner, training, education, cultural alignment and overall medical and surgical outcomes. These high standards are what have put CosmetiCare on the map for an extraordinary patient experience and as a trusted MedSpa in Orange County and throughout the nation.
Which tips would you recommend to your colleagues in your industry to help them to thrive and not "burn out"?
Be patient; it's a tough world out there and it's tough to get started. Pay your dues, work hard, work with some of the older, more experienced plastic surgeons in your area and deliver great patient care. Even though you are hungry and may want to take on every case, practice discretion. If someone is not a good candidate for a procedure they want, be honest — and if you have to, turn them away. It's in the best interest of both the patient, and yourself.
Know that other surgeons might feel threatened when you first start practicing or move to a new area, but don't let them discourage you. Follow your dreams; and go into practice where you want to be and where you can see yourself long-term.
None of us are able to achieve success without some help along the way. Is there a person who you are grateful towards who helped get you to where you are? Can you share a story?
My wife, Penny, has stuck by me through it all and my "work wife," Melani Hurwitz, helped me build my practice and was there for me through thick and thin.
How have you used your success to bring goodness to the world?
Early on in my career, I had the privilege of traveling to Mexico and South America to provide reconstructive surgery to hundreds of children and adults with traumatic and/or congenital deformities. Not only was it critical to repair deformities for functional reasons, it was equally important for these patients to live a more normal life; unashamed of their physical appearance. The generosity and appreciation displayed by those villagers who received surgery was overwhelming to me and the entire surgical team. It was these trips to third-world countries that inspired me to help children and adults here in the United States. This led to the creation of my non-profit, the Magic Mirror Foundation.
What are your "5 things I wish someone told me before I started leading my company" and why.
Take some business classes! Be extremely patient, especially during financially difficult times. Don't say yes to surgery for every patient that walks through your door. Sometimes we are not only acting as a plastic surgeon, but in a roundabout way, also as a psychiatrist. It's crucial to have a full understanding of your patient's needs, desires and expectations (which are sometimes unrealistic.) If this is the case, it behooves you to say no. Join a group instead of trying to operate solo, because it is truly a financial burden for about the first four years of opening a private practice, and you can potentially learn a lot from senior surgeons. Never stop learning regardless of how old you are and how much you think you know. The industry will always continue to change, and you have to keep up with new technology to continue to be the best.
You are a person of great influence. If you could start a movement that would bring the most amount of good to the most amount of people, what would that be? You never know what your idea can trigger.
Giving back and paying it forward are so important, which is why I founded the Magic Mirror Foundation. There are so many people whose physical appearance negatively affects their self-image. Helping these people can have a profound and life-changing impact. In only a couple hours at a time, I've literally changed someone's life — physically and mentally. There's no better feeling in the world. In the end, I'm the lucky one. If everyone could realize the amazing benefits of giving back and using their talents for good, I believe our world would be a much better place.
How can our readers follow you on social media?
Instagram: @cosmeticare_
Facebook: @cosmeticare
Twitter: @cosmeticare
This article was originally posted by Carly Martinetti in Authority Magazine on April 29, 2020.