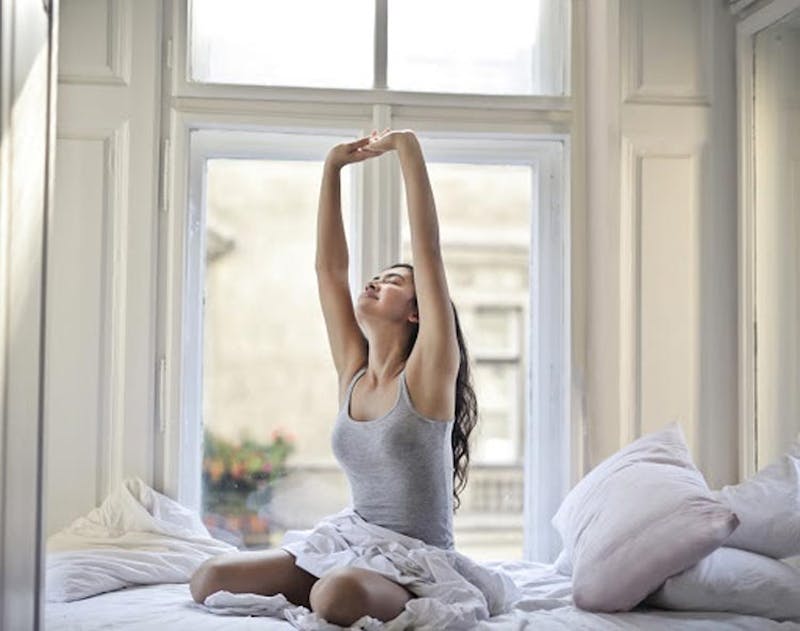 "When can I start working out again?" – This is one of the most common questions plastic surgeons get when their patients choose to undergo breast augmentation and receive breast implants. It's a good question to ask and it's important to follow your doctor's instructions carefully to ensure proper healing and avoid complications. Read on to learn more about exercise after breast augmentation and our tips for a smooth recovery.
Why Exercise Is Important
Exercising after breast augmentation can help some patients get back into the swing of things, including normal daily activities. It may also help in regaining a full range of movement. While healing from your surgery will take time, exercise can help keep your blood moving, which may help you heal more quickly.
It's important to begin with gentle exercises and gradually build to full movement over a set period of weeks. Your board-certified plastic surgeon will help you come to an understanding of what exercises you should be doing and when.
Always remember that you know your body better than anyone else. If you feel tired, it's okay to slow things down and resume exercise later. If you're feeling any pain, it's best to take a break. If pain persists, call your surgeon immediately.
Exercises for the First Two Weeks Post-Op
During the first few weeks, it's typically important to keep your shoulder and arm from getting stiff. For your skin and tissue to heal correctly, focus on maintaining an aligned posture before, during, and after exercise.
Your surgeon will likely advise that you may engage in gentle physical activity, like walking, to help build back up your strength; however, this is not the time for rigorous cardio.
Below are some exercises your surgeon may recommend for the first two weeks after your breast implant surgery.
Shoulder Shrugs
Shoulder shrugs can help prevent stiffness in your arms and shoulders.
How to Do Shoulder Shrugs:
Sit or stand erect with your head facing forward and shoulders in a neutral position.
Lift both shoulders toward your ears gently, as if in a slow, shrugging motion.
Do not duck your head to lower your ears; keep your head facing straight ahead.
Slowly relax your shoulders back down.
Arm Swings
Like shoulder shrugs, arm swings may help you avoid stiffness in the arms and shoulders, as well as help improve circulation.
How to Do Arm Swings:
Stand or sit erect with your head facing forward and your shoulders in a neutral position.
Let your arms hang at your sides, hands pointing downwards.
Moving both arms at the same time, draw imaginary circles with your hands on the floor. Keep the movements symmetrical.
Slowly increase the size of the circles as it feels comfortable.
Body Turns
Body turns can prevent your shoulders and torso from stiffening, and may improve circulation during the healing process.
How to Do Body Turns:
Stand or sit erect, head facing forward and shoulders in a neutral position.
Cross your arms gently across your body, with your hands placed on the opposite shoulders.
Moving your whole torso, slowly turn and look to the left.
Return to the starting position.
Repeat the movement, facing the right side.
Other Activities
During the first two weeks, you will likely be able to use your arms normally, but only up to shoulder height in light activities. You can wash your face, brush your hair, and eat; however, you should try to avoid lifting your arm above your shoulder as much as possible.
It's often advised to get moving as soon as possible after your plastic surgery. Walking can help you maintain your fitness level, hasten healing by improving circulation, and feel less lethargic. As always, consult with your surgeon and find out what's best for your individual case immediately after surgery.
What NOT to Do in the First Two Weeks
During the first two weeks after surgery, there are a few activities you should likely avoid, such as:
Lifting your arms above your shoulder
Stretching your arms behind your back
Carrying heavy objects
Pushing yourself up from floor or bed
Pushing or pulling heavy items
By avoiding these activities, your muscles will recover faster during the crucial two-week post-op recovery period.
It's also important to note that depending on your medical history and how fast you're healing, your surgeon may suggest a different time frame than we have listed here.
Exercises at Three Weeks Post-Op
Beyond the two-week mark, your plastic surgeon may recommend a different time table, so it's important to discuss your exercise and daily routines with them before proceeding.
Three weeks after your surgical procedure, you'll want to continue with the exercises you've been doing up until this point. You can now start doing more exercises geared toward helping you fully rotate your shoulder.
It's normal to still have bruising and tightness around your chest. The minor discomfort you feel may be relieved by continuing your stretches and exercises. If you feel extreme discomfort, make sure to stop your exercises and call your surgeon.
You may now be able to add these into the mix:
Beach Pose
After three weeks, you'll likely be ready to start range-of-motion exercises for your arms. Doing the beach pose will help you continue to improve your upper body's range of motion.
How to Do the Beach Pose:
Lie on your back.
Touch your fingers to your ears with your elbows pointing out on either side of you.
Point your elbows toward the ceiling.
Let your elbows fall slowly back down. This pose should look and feel like you're lying on the beach!
Chest Stretch
This exercise can help relieve some of the lingering discomfort and tightness in your chest.
How to Do Chest Stretches:
Stand up
Keep your arms relaxed by your side
Slowly take your arms behind you
Try to touch your hands together
If you still can't touch your hands together, don't force it. Try as far as you can to feel a good stretch that's not uncomfortable.
Other Activities
Around this time period, you can start getting back into the swing of things. Now that you can lift your arms above your head again, activities like self-care and housework can be accomplished much more easily. You can also start to drive again, as long as you have adequate range of motion back.
Exercises at Four to Six Weeks Post-Op
In between four and six weeks, most patients are able to go back to doing normal activities. However, it's still not advised to do any heavy lifting. If you are having a hard time building your strength back up after weeks of rest, you may need to talk to your plastic surgeon about additional exercises that can help you.
During this time period, you should continue to improve your fitness level. Continue walking and increase the distance and pace as much as you can while being comfortable.
What else do you want to know about breast augmentation surgery recovery? Let us know in the comments!