Shannon Beador pledged earlier this month to set aside some self-care time to pamper her skin, and after trying dermaplaning, she's now focusing on something a lot of us forget to moisturize: the neck. The Real Housewives of Orange County fitness fan went under the laser yesterday at Orange County's Cosmeticare (the same spot where pal Kelly Dodd tried CoolSculpting).
Shannon wrote on Instagram: "I just tried another procedure called ClearLift on my neck @cosmeticare_ I'm pretty excited with the results and it only took 15 minutes! These are not professional or precise pictures, but check out my story to see the 'before' pic…"
Here are photos of Shannon's neck before and after the skin resurfacing laser procedure, which CosmetiCare says can help with problems like sun damage, wrinkles, acne, and blotchiness without any downtime.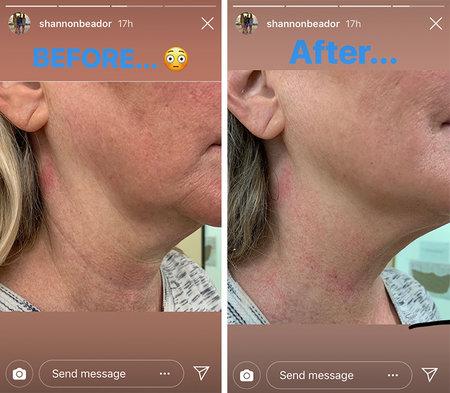 Credit: Shannon Beador/Instagram
Shannon snapped a selfie video of the ClearLift laser in action, too.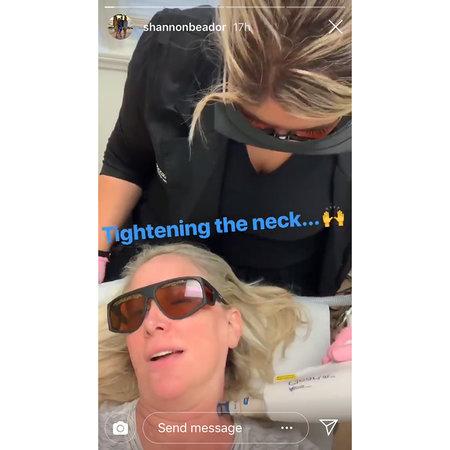 Credit: Shannon Beador/Instagram
Shannon smiled and talked throughout the procedure on her Instagram Stories as the laser flashed, so she didn't seem too uncomfortable. CosmetiCare's tech talked up the virtues of ClearLift as she chatted with Shannon in the video. "It helps with the crepiness, it helps with the pigmentation, it just gives it a nice lift," she said.
"Perfect," Shannon said, joking: "We need it for the reunion!"