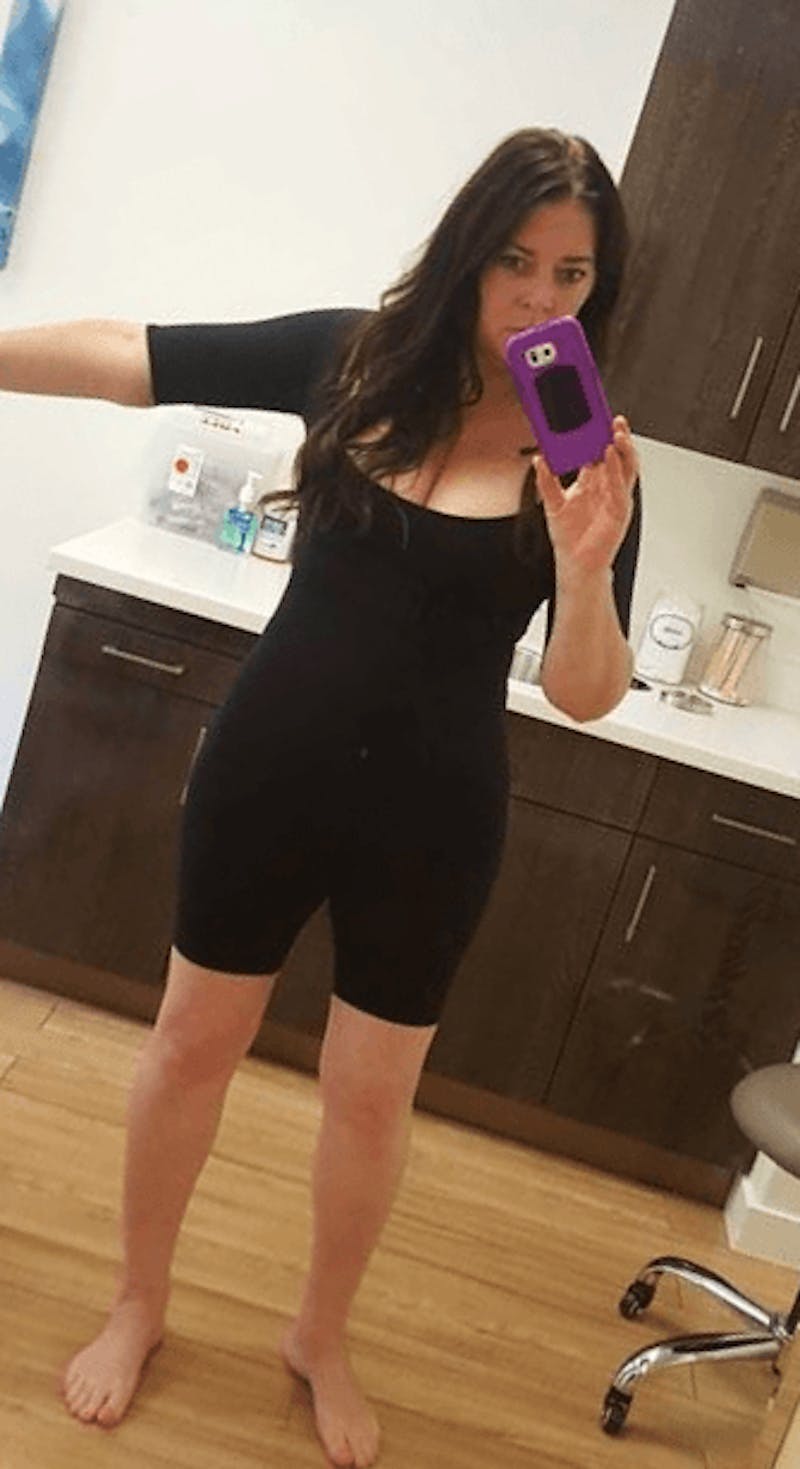 What to Expect Post Liposuction
If you have ever been curious about undergoing liposuction, I encourage you to do your research before, during and after surgery to increase the likelihood of healing your body properly. I recently had liposuction at CosmetiCare and am sharing my experience 3 weeks post surgery for anyone who has questions or concerns about this procedure.

I did it! Now what happens? Rest, rest, rest! I tackled several areas of unwanted fat including by back, neck, arms, chin, and stomach, so I can say if you are considering anything less will be much easier to undergo. Curious to know what to expect after getting lipo, I'm sharing my honest opinion and experience here to this point (3 weeks post surgery).
Undergoing Liposuction
Anesthesia: I had a bit of a rough time shaking the anesthesia, nothing out of the norm I would assume but it still felt super blah! I woke up right away but the taste in my mouth was a bitch to shake. I had no saliva and trying to eat even one cracker to take my meds with was almost impossible. If you have never been under before, you can't drink much of anything after you wake up, just baby sips…. well I forgot…. end result was I threw up. Lesson learned and from there on out I was fine. After 24 hours I was back to "normal". My appetite didn't come back for a few days though so I really struggled with eating, everything tasted off. This is why it is important to have several things on hand to eat with your meds, yogurts, soups, things that are soft and that go down easy.
I purchased this Post-Surgical Arm Compression Vest with Posture Corrector- Leonisa for my arms as well as the back. I use it in conjunction with a body sculptor.
Your new best friend, compression garments: You will have a love-hate relationship with them at first, as they will feel a bit confining and uncomfortable. Their purpose, to help your body conform to it's newly sculpted shape and help define your end results. TIP: I would go out and get a spare set or two before your procedure, they will need to be laundered often and trust me you will not want to be without your support while waiting for them to wash, it's a super strange sensation you will have in the areas treated. You will be wearing the garments for 2 months, buy them a bit snug as you will be decreasing in size little by little as the swelling subsides.
It can get a little messy: You will have a drain most likely if doing your tummy. I had zero issues with it but you will need to keep track of the amount that is coming out and it will remain for at least 3-4 days to help drain the lymphatic system of the fluids and excess blood that comes with the process. This is where a spouse can really help, especially the first 24 hours emptying and recording the info. Besides that, it's really not bad. TIP: Have several loose fitting pull up pants on hand too so you are not washing all the time.
>Showering, not an issue and is highly promoted. I was able to shower on my own the next day after surgery. You will be very sore and depending on how medicated you are due to any pain, you might want some assistance depending on the extent of liposuction procedure you had done. I took the pain medication for 1 day, after that I needed nothing, not even over the counter stuff. My recommendation take the least amount possible and get off it as soon as you can. Rest is important so if it helps, by all means, use it but the sooner you start moving around the better.
Dietary Changes After Surgery
Diet: Drink lots of fluids, eat high fiber foods because constipation is a real thing post surgery from the meds and can "weigh" you down all the more. TIP: I started drinking alkaline water a week before and after my lipo to help with hydration. I didn't drink coffee for several days after, no sweetened fruit juice, just water, lots of water, to help flush my systems out.
Sleep: My bed sits very high making it difficult to get into and out of. Have a good place you can rest at any time of the day, several places if you need it. TIP: Pillows are your friend! Have 6 or so at your disposal to prop yourself if you had several areas addressed. Line the sleeping area in plastic or be sure to have a waterproof mattress cover for when you leak out because you will (at the point of the drain tube).
Post surgery check up: Plan on returning to see your doctor the following day of surgery. You will feel super blah, weak and tired but it's a quick checkup. The drains will remain for a few more days and the stitches for another 7-10 after that.
Body compression suit with arm/back piece 2 weeks post surgery check up getting stitches removed.
My thoughts to date. I am three weeks in post surgery and just started lymphatic massage to speed my recovery, I will share more on that in my next post. I would say the hardest part besides not being able to be 100% for my daughter was the anesthesia, I did not like that feeling the first 24 hours. The pain was manageable after 12 hours and I stopped taking the pain meds after 1 day. Since I had multiple areas done it made moving and getting comfortable more challenging but I'm sleeping though now unlike the first pair of days. Would I recommend this to anyone struggling with areas of unwanted fat, absolutely!
Use my code CATHERYN100 for 10% off of Lipo or Botox, just mention the code on the phone or at your FREE consultation.