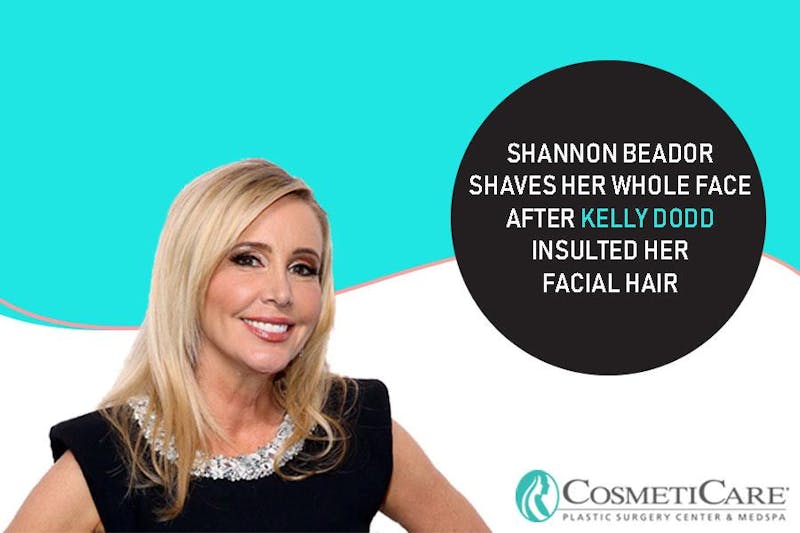 Shannon Beador Shaves Her Whole Face After Kelly Dodd Insulted Her Facial Hair
There are perks to having a glamorous gang of girlfriends. For example, Shannon Beador once got a hot tip about a platelet-rich plasma facial from her pal Tamra Judge. And Shannon's outspoken cast member Kelly Dodd has given her a memorable, erm, "beauty tip" as well. As you may recall, on one early morning in Ireland, Kelly suggested: "Why don't you start shaving your frickin' chin off, with all that hair on there?" (Relive the tiff in the clip above.)
Since that Irish scuffle, Kelly and Shannon have, of course, become close buds. But Shannon still jokes about the line — especially while she is, in fact, having her face shaved.
In a recent Instagram post, the Real for Real Cuisine founder filmed herself during a dermaplaning session. "Shannon back again with the cutest little white beard," joked her aesthetic nurse. "It's not cute," Shannon protested, but the nurse said: "It is so cute. We all have it; it's OK." Shannon said, grimly: "So now I'm a face shaver. I'm a dermaplaner."
In her caption, The Real Housewives of Orange County pal paid winking homage that infamous line from Kelly. "Who would have thought I would be thanking Kelly Dodd one day for pointing out that I had hair on my face…" she quipped.
Who would have thought, indeed? For more about Shannon's beauty routine, scroll down to see the contents of her beauty bag.