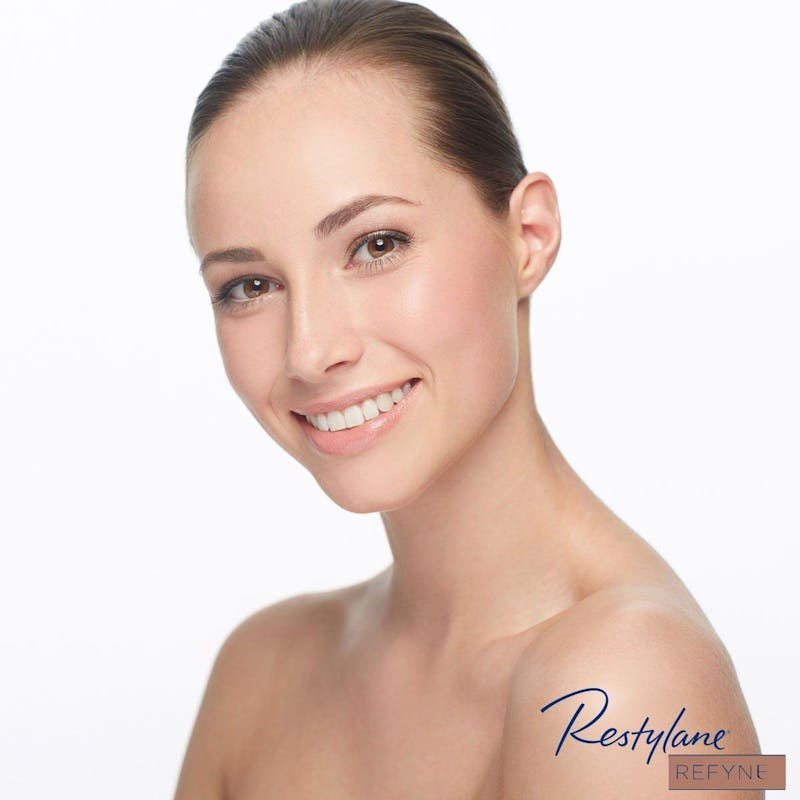 What is Restylane Refyne?
Restylane dermal fillers are a line of products that focus on smoothing out wrinkles and adding volume to your lips and cheek areas. Restylane Refyne is carefully crafted to improve the look of laugh lines (nasolabial folds and marionette lines) that often frame the nose and mouth during muscle movements. Restylane Refyne is similar to Restylane Defyne, however it is a bit subtler and requires less depth during injection. While both dermal fillers focus on alleviating deep laugh lines, Restylane Refyne provides less dramatic results and is often better suited to patients with slightly more superficial lines and folds.
How Does it Work?
The entire family of Restylane fillers utilize a type of naturally occurring sugar called Hyaluronic acid (HA). HA is one of your skin's best defenses against the effects of aging and sun damage as it works to provides hydration, nutrients, and cushioning support. As we age, we unfortunately start to lose our available HA and our skin begins to dry out and become less nutrient dense. This is one of the primary causes of the formation of wrinkles, folds, and lines.
Restylane Refyne uses a patented type of cross-linking within its HA-based gel solution called XpresHAn. This innovative and flexible gel technology is specifically designed to smooth out marionette lines and nasolabial folds without becoming a detriment to your ability to move facial muscles. The HA within the solution provides hydration, nutrients, and support by increasing volume within targeted areas. Patients are able to maintain a beautiful smile with a vast improvement to the visibility of their laugh lines.
Is it Right for Me?
As Restylane Defyne's less intensive partner, Restylane Refyne is perfect for all patients with moderate to severe laugh lines that desire a slightly toned-down outcome. As long as you are in relatively good health and have reasonable expectations for your results, then Restylane Refyne could be a great option for you. The results can last for up to 12 months, however repeat treatments and touch-ups may be necessary for minimal maintenance.
Restylane Refyne may only be injected into patients 21 years or older. While the results are practically immediate, some patients experience minor residual swelling or redness that should subside within 7 days. The rate at which your injection sites heal is mostly dependent on your overall health and lifestyle.
Like most dermal fillers, Restylane Refyne is commonly used in conjunction with other similar treatments such as Botox or even a facelift surgery to maximize your results. You should always consult with a licensed professional in order to properly devise a treatment plan that's right for you.
Call 949-386-2773 or request a consultation at our Orange County offices so that you can learn more about Restylane Refyne and determine if this dermal filler is right for you.