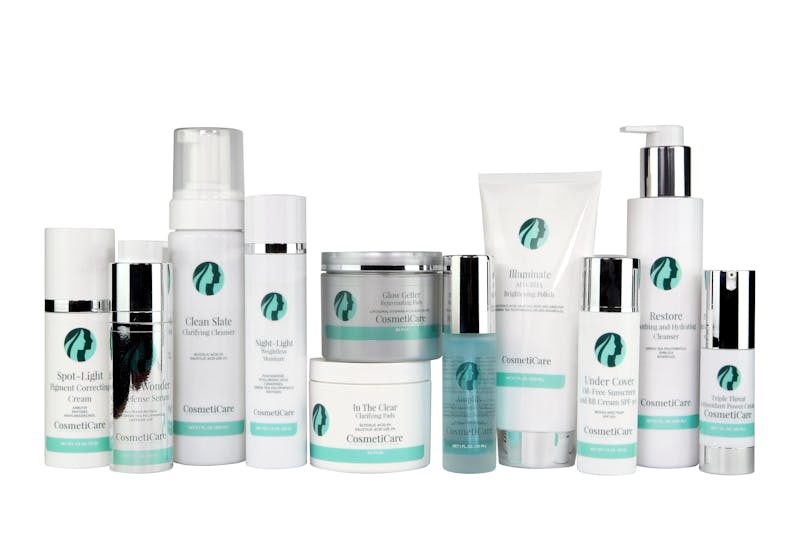 It's easy to love the skin you're in, whatever your skin type or age, thanks to CosmetiCare's medical-grade skincare line, which was developed by a team of board-certified plastic surgeons and industry-leading skincare experts.
The line works effectively across different skin types and can be used alone or together, complemented with in-office treatments to bolster the results of non-surgical aesthetic or cosmetic surgery procedures. Offering the highest quality ingredients and the most advanced technology, each product was custom designed as a powerful and effective solution to address the skincare concerns of CosmetiCare patients — so you're in expert care when you invest in CosmetiCare products.
We really love the Restore Soothing and Hydrating Cleanser for anti-aging. It's ideal for dry, dehydrated, aging, and sensitive skin. This enriched, antioxidant soap-free cleanser soothes & hydrates skin with green tea and vitamins A, C, E and Co-Q10 to restore moisture and healthier skin. Their moisturizers, serum, spot creams and more are ultra-effective.
Whether applied alone or as an aftercare regimen based on your procedure or unique skincare goals, all of the CosmetiCare products treat everything from anti-aging, to acne and pigmentation to reveal fresher, more youthful, glowing skin. Peruse the lineup and order your favorites here: CosmetiCare.com.
This post originally appeared on BeautyNewsNYC on February 22, 2020.