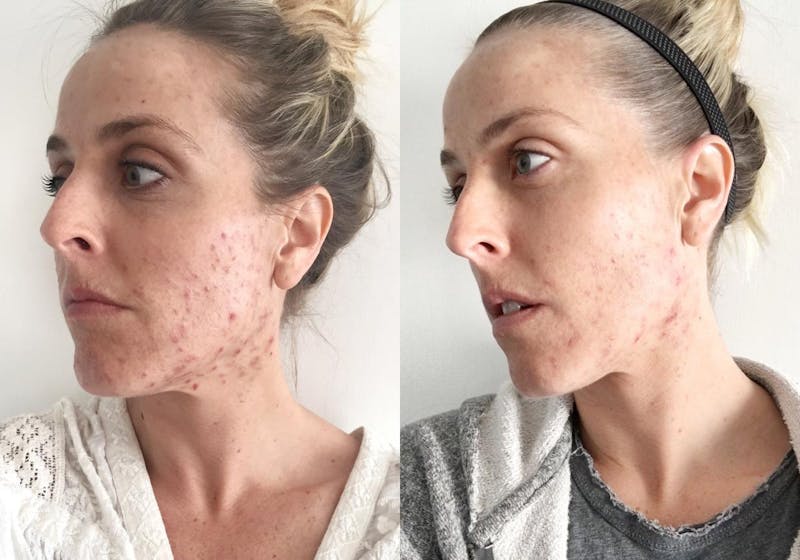 Working on Healing My Acne at CosmetiCare
By Beth Jones
Now that I'm done having kids and I've passed the year mark post-pregnancy, my skin has exploded again. UGH!!!

So.. let me tell you a little story.. a story about a girl who has dealt with acne on and off for twenty years. Normally, you hear about acne in the teen years.. and I was definitely one of those, but it carried through into my college years, my twenties and now even my thirties. It has been one of the most frustrating battles I've faced. I've been on every antibiotic, seen a dermatologist to the stars, been on accutane two times, eaten dairy-free, eaten paleo, tried oils.. you get the point. I've done it all. During both of my pregnancies and for about a year post-pregnancy.. my skin was clear. Now that I'm done having kids and I've passed the year mark post-pregnancy, my skin has exploded again. UGH!!! So, I'm on a new quest! A quest to rid myself of this annoying problem and find a solution. I will be taking you all through this journey, exposing the good and bad and hopefully crossing the finish line with CLEAR, GLOWING SKIN!!!
Helping My Skin at CosmetiCare
The first step I'm taking is to partner with Orange County's leading cosmetic surgery center and medspa, CosmetiCare, to consult with them on my skin and receive treatments to help the surface of my skin. The first treatment I received was a Hydrafacial, which I received last year (you can see more details about the treatment in that post). When I went in last time my skin was not that bad, so the treatment was more about plumping and refreshing. This time it was about talking with their expert esthetician and having her look at my skin, treat it and give me tools to take home. And that is just what she did! I can honestly say that being a week out from my facial, and hearing her thoughts my skin is better than it has been in months!! After looking at my problems areas, she recommended I take home two products, SkinMedica AHA/BHA Exfoliating Cleanser and iS Clinical Active Serum.
AHA/BHA Exfoliating Cleanser
iS Clinical Active Serum
After having one Hydrafacial and using these two products every day, I actually feel hope about my skin. I'm so excited to receive a few more of these and see even better results!
You Can Have Great Skin Too!
AND I'M HELPING YOU RECEIVE THIS TREATMENT FOR 10% OFF! Use the code BETH100 when you call to make your appointment at CosmetiCare via phone, online or in-person. Discount cannot be combined with any other offer.