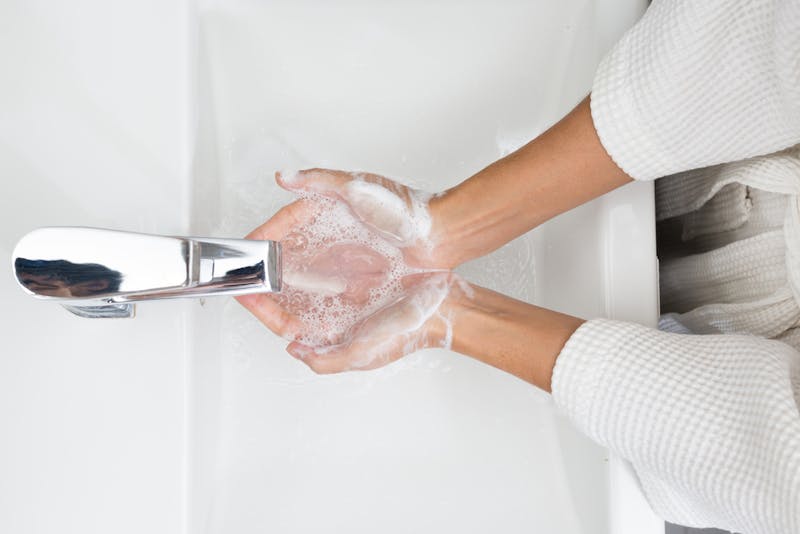 Washing your hands should already be a natural part of everyday life, but with the current flu season and concerns about Coronavirus (COVID-19), the focus on personal hygiene is greater than ever before. The emphasis on proper hand washing is a healthy reminder to lather up after touching surfaces in public places or encountering others. But, this precautious extra hand-washing can be harsh and damaging to your skin.
According to the Centers for Disease Control and Prevention (CDC), people should scrub their hands for at least 20 seconds to effectively reduce the spread of germs. As a secondary measure, alcohol-based hand sanitizers that contain at least 60 percent alcohol can also be used to rid your hands of germs, though it's important to note it's not as effective as soap and water. These healthy tips should be followed, as frequent hand-washing is a proven reliable way to ward off illness and maintain a healthy immune system. However, as mentioned, this can lead to and exacerbate dry skin issues.
In case your hands are suffering from extra scrubbing this season, our team at CosmetiCare Plastic Surgery Center and MedSpa would like to share some skin-saving tips to keep both your health and skin safe.
To protect your hands this season, here is our expert advice:
Watch the temperature of the water
; try to use lukewarm or warm water to avoid over-drying. Pat dry, don't rub dry. After washing your hands, gently pat your skin dry to better retain moisture. Use mild soaps and detergents; it's important to know that soaps that contain alcohol strip natural oils from your skin. Be sure to hydrate! Drink more water, because your skin also receives what comes from within. Give extra attention to your hands; hands show the effects of a dry environment more than any other body part, so be sure to apply a moisturizing product to keep them looking and feeling their best.
Our pro pick to help heal dry hands: Alastin Soothe Recovery Balm, a highly emollient formulation that hydrates dry and compromised skin, helps restore the barrier function of the skin and soothes irritated skin. We often recommend this product following cosmetic procedures because of it's incredible strength and efficacy. During these especially dry months and in this health climate, we've found it to also serve as a lifesaver for skin that is cracked and raw. The product is available for purchase and pick-up at our Newport Beach office. Please call ahead or email and we'll provide a pick-up time as we are operating with limited hours until further notice.
Get 30% OFF a purchase of 3 or more skincare products from CosmetiCare for a limited-time only!
Running low on skincare products? Want to improve your regimen? Purchase CosmetiCare private label skincare from our website and we'll ship directly to you! Developed by our team of board-certified plastic surgeons and leading skincare experts, our medical-grade line provides a powerful and effective solution for the most common skin concerns patients bring to us at CosmetiCare.
Can't wait? Need skincare help today? Skincare 911 Kits to the rescue! Give us a call or send us an email to place a local order. This new service to assist patients during COVID-19 concerns includes the CosmetiCare private label products, as well as Alastin and AlumierMD products. We'll confirm when your order is ready and provide a pick-up time (available Monday-Friday).
During this time and always, we're here for you!