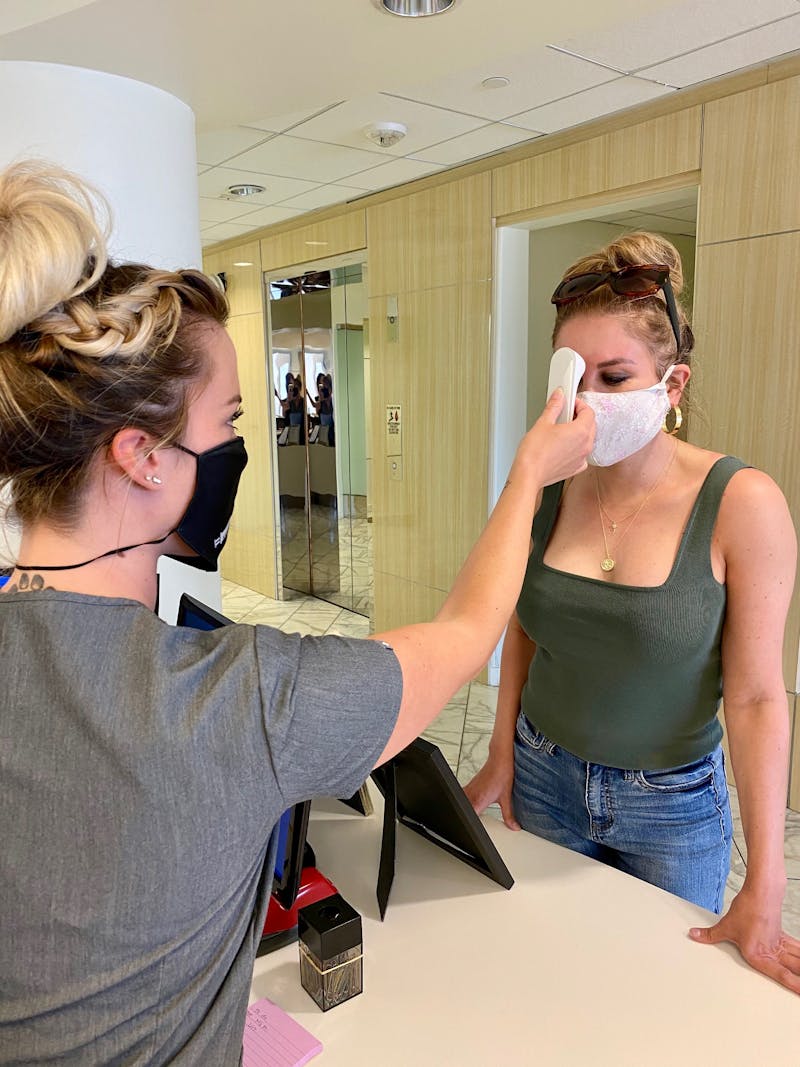 Staying Safe With CosmetiCare
On March 16, 2020 everything changed. It's the day that most businesses announced they were closing because of Covid-19. While it was rumored to only be two weeks, the shutdown lasted almost three months. That means any self-care that we were used to was gone. Bye bye, hair appointments, mani and pedis, waxing, and of course Botox. For me, it was tough because I literally planned on getting all of that done the week after the shutdown. I know it sounds dumb and maybe vain, but not having all those self-care treatments plus the stress of the quarantine really got to me. I felt gross and couldn't wait to get back to "normal" and get some stuff done.
First up was Botox at CosmetiCare.
Maybe it was all in my mind, but I feel like being quarantined aged me big time! I got more sleep than I ever have in my life and wore no makeup so my skin looked amazing, but I just also looked blah and I hadn't gotten Botox since November of 2019 so I needed it!
With the "new normal" any kind of service appointment was going to look different, but I was impressed immediately with the protocols that CosmetiCare put in place to make me feel safe.
When making my appointment over the phone, the CosmetiCare staff told me twice to please wear a mask and to come by myself. She also informed me that all staff would wear gloves, masks and stagger appointments for safety.
Upon arriving, donning my "shabby chic" style mask, my temperature was taken (anything over 100.4 is considered a fever by the CDC) and I headed to the waiting room that was set up for social distancing.
Jennifer Rosenfeld, who trained with Allergan Aesthetics, then led me to the room where she was going to administer the Botox. Before she did though, she double-masked, including the shield mask and cleaned my face with a medical and surgical grade cleanser to get rid of any germs. I also kept my own mask on the entire time.
If you have never gotten Botox, it is fabulous! It is seriously the best invention ever and if you do it right, it can stop the aging process while not making you look overdone. I get it every three months without fail, except for the quarantine, and I started when I was thirty. Everyone is different of course but getting it before you need it will prevent wrinkles from forming in the future. I love it because it makes me look more awake and fresher.
The big question that comes up with Botox is how many units do you get? I hate this question because it is different for everyone. The first time I got it I started with 60, which is a lot, but now I usually get 40 units per appointment. Again, the more times you get it, the less you will need in the long run.
After I finished, I headed to checkout where I noticed that the front desk staff was cleaning all of the pens, clipboards and anything else that came into contact with patients or staff and even had sanitized pens set aside for patients use.
My Botox looks amazing and I felt comfortable the entire time with the safety precautions that CosmetiCare put in place.
Check out all the services that CosmetiCare offers and call to learn about special Botox deals!
This article was originally posted on all things alison on June 8, 2020.